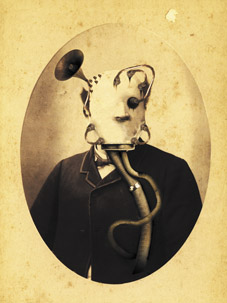 courtesy of the artist
Aurélien Police, Sir Ralph Witkins (2003)
SOMETIMES PERCEIVED AS THE LOVE CHILD OF CYBERPUNK—A DYSTOPIAN STEM OF FANTASY ESPOUSING CYBERNETICS AND REBELLION—STEAMPUNK FINDS ITS NICHE IN A PARALLEL WORLD WHERE STEAM-ERA TECHNOLOGY INVADES THE ULTRA SLICK DEVELOPMENTS OF THE MODERN WORLD. THINK COMPUTER KEYBOARDS MADE FROM OLD TYPEWRITER KEYS, VICTORIAN ERA FASHION AND DIRIGIBLES FLYING HIGH IN THE SKY. STEAMPUNK CROSSES GENRES WITH EASE, ENCOMPASSING LITERATURE, COMICS, FILM, MUSIC AND FASHION. IN ALL ITS FORMS, STEAMPUNK CAN BE GRITTY, INTELLIGENT AND DARKLY COMPLEX.
In an ambitious attempt to bring the genre to a contemporary art audience, Infinite Empire contemplates the wide-ranging creative impact of steampunk. Curated by Carole Hammond and developed under the annual CAST Curatorial Mentorship Program, the exhibition showcases seven artists working across the fields of video, sculpture, jewellery, fashion and digital illustration.
Transformed from the usual white cube into a shadowy cavern with black walls and heavily draped entrance, the CAST gallery momentarily becomes another world. Strange mechanical sounds fill the room, emanating from the Lycette Bros video projection, The Modern Compendium of Miniature Automata (2005). Comparable to a scratchy turn of the century zoological study, the video tracks tiny animals winging and squirming their way across the screen. Each preceded by a species card complete with Latin-inspired name, the creatures resemble microscopic marine life yet their bodies sprout tiny gears, twirling spirals and spinning propellers—the newfound species of a futuristic cesspool.
Intrigued by the techniques used in jewellery and taxidermy, Julia deVille creates Memento Mori imbued with elements of memory, death and resurrection. Clustered inside a glass case swathed in black satin is a series of diminutive trinkets. The trophy head of a diamond-encrusted mouse protrudes from a filigreed picture frame; a small bone and skull rest delicately inside a palm-sized coffin while a severed kingfisher wing longs mournfully for flight: each object echoes a distinctly Victorian fascination with the exotically morbid.
Reflecting on the 19th century devotion to function and mechanical grandeur, furniture maker James Vaughan looks to the guts of Tasmanian power stations, breweries and gas plants for inspiration. Layered with scrupulous detail, Vaughan's functional objects drip with polished brass and glinting copper. Honeycombed metal panels spread like pathways across the centre of The Brilliant Chamber (2005) while concrete and lead create the sturdy base of Art Gas (2005), a fantastically elegant homage to the architectural ideals of a distant era.
In a similar way, the work of Jon Williamson excels in superb attention to industrial detail. Innovatively exhibited on metal barrels lit from beneath, Williamson's meticulously crafted jewellery speaks of an aesthetic where beauty appears in a slice of twisted metal. Painstakingly constructed from old typewriter components and electric motors, the work transforms obsolete machinery into futuristic relics wrought with mystery and depth.
Victorian grandeur seeps into Sonia Heap's collection of pinched and cinched dominatrix-style dresses. More like sculptures than clothing, Heap's designs combine opulent fabrics, buckles, ribbons and perspex corsets to create a look that is expertly contained yet dangerously malevolent. Possessing a perverse beauty reminiscent of Hans Bellmer's twisted, eroticised dolls, Heap's work accentuates the feminine form while demonstrating an innate aggression through the vicious pull and fold of binding fabric.
Alongside the Manga inspired work of animator and illustrator Madeleine Rosca, French artist Aurélien Police relies on the creative scope of digital illustration to document his strange race of mechanical animals and humanoid beasts. Coupling anatomical sketches with yellowed 19th century portraits, Police traverses a futuristic landscape where animals travel on wheels and humans absorb machinery. Augmented by tubes, metal pipes and the rusted innards of industry, characters like Sir Ralph Witkins (2003) and Sybil (2005) exude an eerie familiarity—faintly whispering of what we might become.
Although steampunk has a well-defined style and dedicated fanbase, it is not often seen in art galleries. However, like comic art and graphic novels, steampunk persistently pushes its way into contemporary art. In Infinite Empire, like a prickly rash on the pristine skin of utopia, it's a satisfying itch to scratch.
Infinite Empire, curator Carole Hammond, CAST Gallery, Hobart, July 28-Aug 26
RealTime issue #81 Oct-Nov 2007 pg. 55
© Briony Downes; for permission to reproduce apply to realtime@realtimearts.net