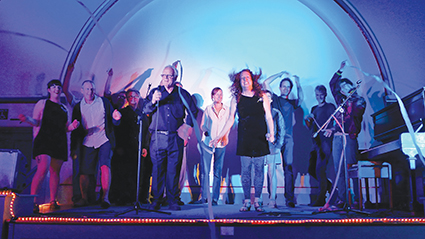 photo Megan Spencer
cast of The Dad Show
BRON BATTEN GETS AROUND. TESTING OUT NEW PERFORMANCE (MELBOURNE'S LAST TUESDAY SOCIETY), EMBODYING THE POWER OF HYPNOSIS (USE YOUR ILLUSION, RT123, P37), AND HERE SHE IS IN REGIONAL VICTORIA, WELCOMING US INTO THE BEAUTIFUL BLUESTONE OF ST MARY'S IN KYNETON—HALF WAY BETWEEN THE CULTURAL EPICENTRES OF MELBOURNE AND CASTLEMAINE—SEATING US WITH LOCAL FAMILIES KEEN TO SEE THEIR FATHERS' FIGHT OR FLIGHT RESPONSES LIVE ON STAGE. AS SPEAKERS BLARE ROLLING STONES (TO INFURIATE PUNTERS AFTER THE BAND'S CANCELLATION AT NEARBY HANGING ROCK), WE'RE READY NOW FOR THE DAD SHOW.
Bron (this show calls for first names) introduces herself and her dad James via slide show and poorly executed jokes (hers and his). For a previous show Sweet Child of Mine (2011) she tells us having spent a number of years on stage dressed as a humpback whale, she went around with a video camera to her parents' home to ask them, "What do you think I do for a living?" Soon realising they had no idea, she decided to help by bringing them on stage. Here, she continues the theme, asking various father-and-son/daughter combos to perform their roles, variety style.
After a 'real live dad' hands out hot, weak Milo (the taste of camping), Sarah and Robert read their relationship through email, exploring what memory looks like (plasticine), how hard it is to say you don't believe in God (when your father does) and how excruciating it is sitting in the front row watching The Vagina Monologues (when your daughter's starring in it). The dynamic between seasoned performer and novice is negotiated carefully (and this continues through all the acts): as Sarah projects, Robert reads shyly from his notes. It is his reticence that draws my attention. So too with Bob Snelling, who takes his son Wes on a sketchy fishing expedition—ritual for the modern male—a love/hate affair. As fish-out-of-water Wes turns the radio up loud and refuses to touch worms; Bob gently coaxes him into using the rod and pats his shoulder uncertainly when tears come; salt of the earth meets high camp.
Hal and Michael (guitarists and singer-songwriters, 20 years apart) play each other's songs for the first time together. One hipster-shaggy, the other baby-boomer-cool, they share a stance and straight-legged jeans, and as their shadows merge into one behind them, their acoustics throw off awkwardness and find comfort in convergence. The son's face becomes joy. Henry Vyhnal's face becomes grief as he plays his father's violin and revisits Antonin Dvorak's "Humoresque," a piece of music he played at his father's funeral. While father and son may share the language of music and moody phrasing, this act explores what's left when one of you is gone. Hannah and Bernie share a storytelling language too but their words don't quite relate. As Hannah reads from her journal about slowly starving to death, her father sings "Your looks are laughable, un-photographable" and dances in the moonlight; a tug-of-war between who most wants to be centre-stage.
While a loose framework of variety-hour connects the acts, The Dad Show doesn't quite hang together. Bron's patter before and after each performance doesn't add to the overall cohesion, but she does make you feel like you're hanging out with that try-hard relative who makes you cringe and want to escape the kiddies' table. A New-Faces-Frank-Sinatra duet with her dad, where he sings "Something Stupid" and she brings in contemporary dance, is a good place to end. But what's missing, given the show's family focus and the building we're sitting in, is a sense of Kyneton. I wish Bron's dad had done a snapshot history, a male-jokey narrative of the place and its people and how the dads of the show fit into it.
The most powerful dad moment of the night comes via video. Literally lost in translation, Christian is interviewing his father Barnabus and asks him to tell a joke. While father and son arrived from Hungary in 1980, Barnabus is now in a residential care facility with Parkinson's disease. On camera and up in bed drinking with a straw that occasionally sneaks up his nose (not an intended joke but funny nonetheless), Barnabus tries with difficulty to pull words and concepts together — running priest, minister, nurse—sometimes in English, mostly Hungarian, while the humour (tears stream down my face) comes from our imagining what the joke might be and exquisite if unintended timing. The punchline is irrelevant. When Christian asks his dad, Do you love me?" he answers, "I love you and all the other kids too." Off the side of the stage, Christian (tears stream down his face too) explains that before he made the video, he hadn't seen his father smiling or laughing for seven years. It took a dad joke to do it.
The Dad Show was developed and presented as part of Punctum's Seedpod Amplified extended residency program, encouraging performers to make new work in regional settings.
The Dad Show, Punctum Inc and The Last Tuesday Society, performer, curator Bron Batten, featuring Christian and Barnabus Bagin, James Batten, Hannah and Bernie Monagle, Hal and Michael Langley, Peter and Sarah Lockwood, Wes and Bob Snelling, Antonin and Henry Vynhal, St Mary's Hall, Kyneton, Victoria, 7-8 November.
RealTime issue #124 Dec-Jan 2014 pg. 46
© Kirsten Krauth; for permission to reproduce apply to realtime@realtimearts.net