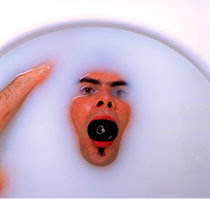 Christian Thompson, Show Me the Way to Go Hom
If Colony, with its angels winging spectacularly of the Victorian Arts Centre Spire was just too ethereal or kitschy an experience for you, Christian Thompson's Show Me the Way to Go Home, in the George Adams Gallery beneath the spire, provided a neccesary earth. Slide projections on 4 large screens right-angled against each other, fill the space. The slow pulse and dissolves of the screenings create a semi-cinematic space of recollection. Christian Bumbarra Thompson (Bidjara/Pitjara people, Carnarvon Gorge, south-west Queensland), resident in Melbourne since 1999, has re-enacted elements of his childhood on the land he grew up on and photographed them as a series of movements. A woman looks in a mirror as she applies makeup, lost in her reflection. We see her from various, intimate angles. A young Indigenous man in a military outfit stands to attention. He salutes. He looks into the distance. A woman, she appears to be white and is dressed as a nurse, watches Indigenous children at play. A large, handsome woman, brightly dressed and with flowers in her hair seems to sing in a darkened space, a club perhaps. These performances are inspired by photographs from the Thompson family album: "I guess you could say I am trying to recreate and savour the very elements of my past that have conditioned me to be the type of aboriginal person I am…I am a long way from my blaks Palace, from my country, but every day I try to be there spiritually…" (Catalogue dialogue.) According to a wall plaque, the soldier is based on Thompson's father and the nurse his mother. Show Me the Way to Go Home is a lyrical work, quietly, thoughtfully engaging and memorable.
–
Show Me the Way to Go Home, artist Christian Thompson, curator Kate Rhodes, George Adams Gallery, Victorian Arts Centre, Melbourne, Next Wave, May 18-July 14
RealTime-NextWave is part of the 2002 Next Wave Festival.
RealTime issue #49 June-July 2002 pg. 4
© Keith Gallasch; for permission to reproduce apply to realtime@realtimearts.net