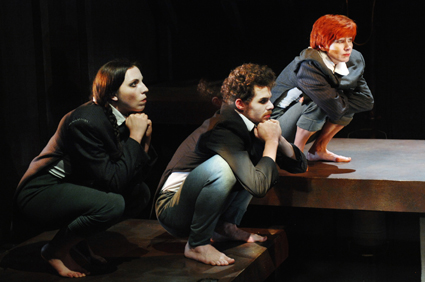 photo Jodie Hutchinson
Eurydice, Red Stitch
When a performance purports to speak to a reality outside of itself, it's fascinating how often we put absolute faith in that claim.
I'm not referring to the more profound ontological questions raised by philosophers and undergrad theatre alike, but the simple way in which we accept the honesty of an artist who apparently draws on experience, or presents something based on research, or includes found material, quotation or documentary. This is a good thing—think how much would be lost if we approached all art with paranoid suspicion—but it's also just one of the many, many clauses in the unwritten contract we tend to agree upon in the creative sphere.
Red Stitch, Eurydice
US playwright Sarah Ruhl's Eurydice maintains a very clear connection with a reality external to its fictional world. It retells the myth of Orpheus from the perspective of his wife, but in doing so also warps the story through an autobiographical lens. It's a compelling proposition—merging a form of writing in which fabrication is almost unforgivable with a mythology that works on symbolic, allegorical and fantastic levels. When Eurydice arrives in the Underworld she finds her dead father there, but while her memory of him has been washed away by the river Styx, his own recollections have been imperfectly removed and he is able to reawaken their relationship.
Ruhl's own father died of cancer in 1994 and the more effective elements of Eurydice deal with a similar loss. Nowhere in the play is explicit reference to the playwright's own life made clear, but it is difficult not to read as honest her focus on retrieving something of one's parent from the afterlife. This untenable quest is made possible by language, poetry, drama, imagination and, in the final telling, does not end well. Orpheus himself is mostly a supporting player in this retelling, and so it comes as no surprise that the reason Eurydice does not return with him to the waking world is here a result of her own actions. This is no soothing balm, of course, and to Ruhl's credit she ensures that the tale remains a tragedy.
Red Stitch's production brought out much of the work's nuance and was commendably performed, with Ngaire Dawn Fair and Alex Menglet offering especially fine turns as Eurydice and her father, respectively. But the show's strengths also highlighted its shortcomings, and were a reminder that this is a relatively early work in the playwright's career. A trio of stones acts as Chorus in a manner not much beyond what you'd find in a high school exercise, and Hades' earthly form as a "Nasty Interesting Man" suggests the way that rich and resonant mythology is made saccharine and twee here.
This is a recurrent characteristic of Ruhl's writing: the invocation of grand themes such as love or death before a retreat into cliché or convention. It's perhaps also why her works are so popular on mainstages around the world. They're not particularly challenging, and seem construed not to elicit soul-shaking emotion from audiences but to simply meet the criteria desired by this play's lord of the underworld—that of being "interesting…"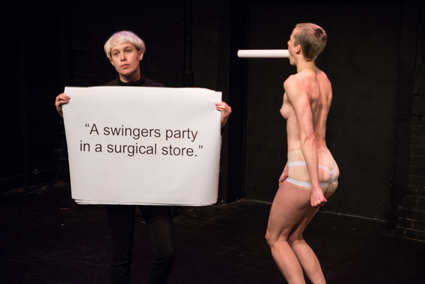 photo Theresa Harrison
Lara Thoms, Liz Dunn, The Last Tuesday Society
The YouTube Comment Orchestra
By some coincidence, the first ever comment made on YouTube was just that: the word "interesting…." (followed by that infuriating four-dotted ellipsis). That's if we're to take as truth the delicious monologue that opens The Last Tuesday Society's The YouTube Comment Orchestra. MC Richard Higgins walks us through the unexpectedly tortuous mystery of that first comment and its later disappearance, and the hilarious soliloquy is the perfect justification for a full 90 minutes dedicated to the truly bizarre phenomenon of online commentary.
What follows is a series of performances by a range of artists taking the notion of the online comment as a provocation. Last Tuesday co-creator Bron Batten herself enters into an online argument about a booty-shaking Nicki Minaj music video, interviews young people on the subject and finally presents an hilarious animal-suited dance routine. Post's Mish Grigor delivers an art therapy experience that turns weirdly erotic and gently uncovers the role of power in the commenter's relationship with her subject. Lara Thoms and Liz Dunn recreate notorious performance art videos and compare the responses of professional critics with those of confused or bemused online commenters.
These and other sequences don't add up to any coherent thesis; the Society's regular mission has always been to seek out polyphonic responses to a theme, rather than curating some kind of harmonic ensemble. There is a subversive overall effect to this otherwise light laughfest, however. Though we all know that a comments section is where good thoughts go to die, the comments themselves oddly emerge as the heroes of this work. For all the humour and odd-thinking these artists bring to the stage, many of the biggest laughs come from anonymous internet users mocking art in ways that are themselves wonderfully wry.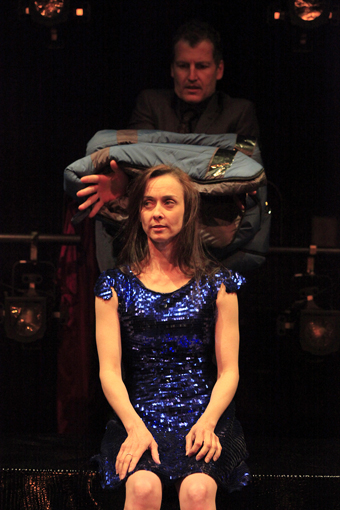 photo Rachel Roberts
Michelle Ryan, Vincent Crowley, Intimacy, Torque Show
Torque Show, Intimacy
Torque Show's Intimacy is another work that draws much of its power from a real-world circumstance given creative treatment. Dancer Michelle Ryan was diagnosed with multiple sclerosis at age 30, and this work makes viscerally apparent the effects of the condition on the dancer's own body. In solos and duets with Vincent Crowley, the exertion and focus Ryan requires in order to simply cross the traverse playing space is both painful to watch and impossible not to grasp. As with so many contemporary works that feature a performer with some kind of disability, this work is not 'about' that disability but also not able to exist without it.
Ryan relates humorous or dark dreams she may or may not have had; Emma Bathgate belts out sensational jazz numbers; duo Lavender vs Rose provide occasional accompaniment. The work, again, doesn't necessarily add up to a coherent whole, but Ryan's engaging presence and, especially, a number of stirring moments of what appears to be genuine intimacy are more than enough to keep this experience alive in the mind for some time to come.
Red Stitch Actors Theatre, Eurydice, writer Sarah Ruhl, director Luke Kerridge, performers Ngaire Dawn Fair, Olga Makeeva, Dion Mills, Johnathan Peck, Alexandra Aldrich, Sam Duncan, Alex Menglet, 3 Sept-4 Oct; Last Tuesday Society, The YouTube Comment Orchestra, co-curators, performers Richard Higgins, Bron Batten, performers Zoey Dawson, Nicola Gunn, Mish Grigor, Grit Theatre, The List Operators, Telia Nevile, Lara Thoms, Malthouse 17-27 Sept; Torque Show, Intimacy, by Michelle Ryan, Lavender v Rose, director, choreographer Ingrid Weisfelt with Ross Ganf, performers Michelle Ryan, Vincent Crowley, Emma Bathgate, Malthouse Theatre, Melbourne, 13-23 Aug
RealTime issue #123 Oct-Nov 2014 pg. 34
© John Bailey; for permission to reproduce apply to realtime@realtimearts.net