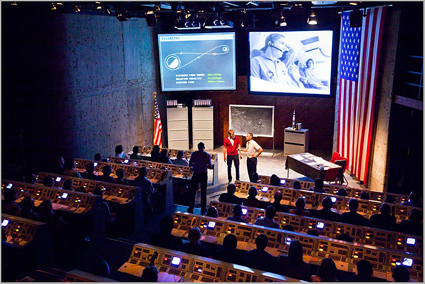 photo courtesy Brisbane Powerhouse
APOLLO 13: Mission Control, Hackman
IN THE POWERHOUSE FOYER FOR THE WORLD THEATRE FESTIVAL, A REALISTIC LOOKING SPACE MODULE BEARING THE INSIGNIA OF THE STARS AND STRIPES PROVIDES A BRIEF FRISSON FOR MEMBERS OF MY GENERATION.
Two apparently pregnant members of Chilean theatre company, Teatro en el Blanco, pour cascades of beans from burgeoning bellies onto a darkened stage at the finale of their play, Diciembre—a poignant, complex image encapsulating themes which inevitably bring up memories of past American interventions in that country.
In a foretaste of her project in development, Rramp, petite Lisa O'Neill en pointe pounds drumpads like an obsessed automaton creating a metronomic synergy of sound and movement. Guitar wielding, towering Goth-resplendent, Christine Johnson, inclines her Bride of Frankenstein bouffant condescendingly to enquire, "Do your feet hurt, dear?"
The hedonistic precinct of nearby Fortitude Valley at night was the location for a race to solicit someone willing to indulge in the chaste thrill of kissing a man in a rabbit mask, an innocuous fairytale recounted for us in a real-time version of the flicks by UK group Gobsquad (but no popcorn) in Super Night Shot.
Rats ran riot in a Polytoxic work-in-progress environment in the Turbine Hall, and the young performers of The Escapists inveigled us on a mystery tour culminating at the top of the Powerhouse in a breathtaking moment of pure jouissance. Distracted by a theatrical sleight of hand, we rummaged in boxes to release a flight of balloons (ho hum). Only when we looked over the balcony did we perceive the panorama of the forecourt below which at that time of day was a teeming thoroughfare. Bathed in a late afternoon glow, hordes of pedestrians, cyclists, joggers, mothers with strollers and children in hand, flaneurs of all kinds went about their business each holding a string with a balloon attached. A joyful flash of Seurat by the river. I thought I caught a glimpse of Jacques Tati bicycling through. And then in a gesture of detournement worthy of the Situationists, they insisted on giving us $2 back on the price of our ticket.
These random snapshots of the World Theatre Festival at the Brisbane Powerhouse in February might conjure pictures from any alternative (read niche marketing) festival anywhere in the world. What was so unique about WTF that I should sing its body electric? First let's clear the decks. WTF aimed to capture the imagination of younger generations by providing a saturated environment similar to events like The Big Night Out, accessible ticket pricing and answering its own question—WTF is theatre?—with exemplary pluralism. Some people complained that Gob Squad belonged in a film festival and was not pertinent to theatre. Gob Squad, of course, sits well in either format, and blurring the boundaries was a distinctive feature of WTF. But an ironic confusion of categories innocently appeared in locally produced Daniel Santangeli's participatory Room 328, a show I admire. (See review). Young women high on pheromones and other substances blithely performed themselves careening through the space, apparently oblivious to the abusive acts the young male performers were perpetrating on their symbolic sister: a rubber sex doll. Santangeli's forceful critique of clubland seemed cancelled out by WTF's wooing of the same.
There was an apparent groundswell of young people, but the anonymous admixture of audiences was more apparent on band nights that ran concurrently with the festival on Fridays and Saturdays; audiences in the theatre were by and large the affluent and aficionados. Perhaps management should have bussed in young people with less ease of access. I spoke with a young artist who'd travelled up from Melbourne and was surprised not to meet friends with whom she'd studied drama at Queensland University of Technology not so long ago. Changing culture is a long haul I know, and WTF should be credited with putting its money where its mouth is with progressive programming that supports equity, fairness and tolerance. I personally look forward to a potentially broader conflation of audiences in 2012.
Groundbreaking is an overused word nowadays (compared to whom? Beckett? Kantor? Pina Bausch?) and I didn't find any of the works earth shattering in this sense (except perhaps for the legitimate shock value inherent in the work in progress Black Queen Black King). So why was WTF so impressive? WTF promised a dialogue, and on this count it delivered. I was completely taken over by the conversation that took place between the shows (I mean the shows themselves were in conversation), something that captured a hopeful zeitgeist. Something that registered a seismic shift. Something with the colour of balloons. Something that restores to art its avant garde function as social antennae, pointing in the direction of new social imaginaries.
teatro en el blanco, diciembre
I interpreted the overall affirmative nature of this conversation as the tentative expression of an ethic of joy, previously postulated by Spinoza and Nietzsche, a joy that is not necessarily concerned with liberating mankind from pain and suffering (the American pursuit of happiness), but rather the living of a true life in this world. This ethic was given a voice in a final soliloquy by the politically uncommitted brother in the Chilean production of Diciembre who finds his personal discovery of love for men, whilst in the army, transcends opposing ideological imperatives represented by his two older sisters. Guillermo Calderon, the young award winning writer and director of Diciembre and representative of the generation who grew up under the fascist dictatorship of Pinochet, regrets the lack of any genuine attempt at a process of reconciliation in his country, but has been equally appalled by the so-called restoration of democracy in neo-liberal guise. His acidulous black comedy performed at breakneck speed by actors who doubled themselves in subsidiary roles in the blink of an eye, consummately, was a tour de force of round table discussions, especially as in the end the two sisters swap points of view, a not unlikely proposition evident from our own political comedy performed in Canberra.
art & egalitarianism
WTF keynote speaker Jude Kelly (artistic director of Southbank UK) in an inspiring extempore speech seemed to be groping towards articulating a political position that takes stock of the way power operates now, and that doesn't rely on violence and the hardening of attitudes along right and left lines to arbitrate outcomes. She also seemed, bless her, to endorse the notion of some kind of redistribution of cultural wealth, an idea that has become a shibboleth in the economic sphere. She cited successful educational schemes along these lines gleaned from her travels in South America that in no way compromise artistic standards of excellence and come close to the realisation of Felix Guattari's conception of an 'ethico-aesthetic politics'. Another panel discussion pursued egalitarianism along intergenerational lines set out by Lenine Bourke (artistic director of Contact Inc) and Mary Anne Hunter in their Currency House Platform Paper, Not Just an Audience: Young people Transforming our Theatre.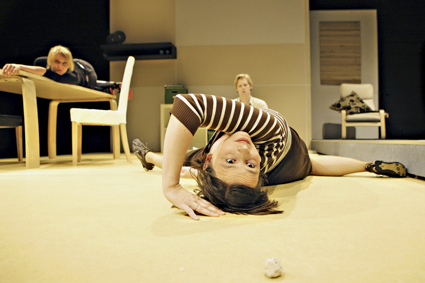 photo Prudence Upton
Good Cop Bad Cop, Kassys
kassys, good cop bad cop
Kassys in Good Cop Bad Cop presented a humorous, sharply observed and self-mocking observation of ourselves as we are, and how we embrace the media promulgated fabulising that allows us to invent and interpret these selves as our own. The video interviews that inter-cut the performance, are triumphs of banal, self dramatising content and sincere delivery. Their effortless stage playing style, by contrast, evoked the unsensationalised and natural behaviour of domestic animals with seeming spontaneity flowing into moments of pictorial stillness. I loved this unusual and quietly intelligent work both for what it said and left unsaid. (See also RT101.)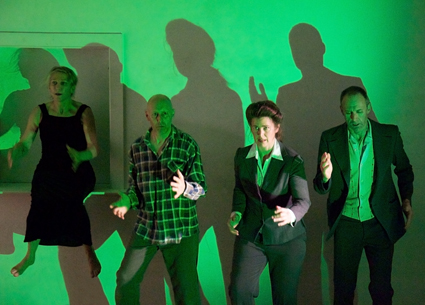 photo Leo Dale
Kate Hunter, Nick Papas, Carolyn Hanna, Andrew Gray, The Waiting Room, Born in a Taxi
born in a taxi, waiting room
I appreciate experiencing performers who are old in their craft. In Born in a Taxi and the Public Floor Project's The Waiting Room the physical ensemble improvisation felt like a surfeit of riches in poor theatre guise. The ability of the performers to almost telepathically fragment and re-cohere always followed a mysterious boundary line between order and chaos. Cognitive scientists describe a process in which original ideas crop up at random and then survive or fail in microseconds, depending on their fitness for rapidly changing electrochemical environments produced by surrounding brain activity. The Waiting Room was such an environment. It seemed to elicit, in its exits and entrances, sad human reflections such as Gauguin wrote on one of his Polynesian paintings: "Who are we, where do we come from, where are we going." In this way, the work was oddly moving. One room, one door, rows of chairs and ourselves as co-performers.
hackman, apollo 13: mission control
Apollo 13: Mission Control was a big flight of the imagination. However naive the New Zealand company Hackman might have appeared about Cold War politics and its involvement in the space race, it delivered a complex and immersive theatre environment which was impressive in its sheer enormity as a passable replica of the NASA control room of the period. Playing it was great fun for everybody. Narratively it followed a well-tried Hollywood formula about the grizzled veteran and the young nerd who eventually saves the day. However, this was played with credible verisimilitude and was really only background to our own involvement in bringing the boys home. They created a huge level of engagement leading to a crucial moment demanding that an audience member, in the absence of any one else—the actors having left the stage—spontaneously step into a performer's shoes to respond to increasingly panicky calls from the astronauts. The spear-carriers carried the day.
temporary distortion, american kamikaze
A transnational collaboration by US company Temporary Distortions, American Kamikaze's admittedly seductive pop aesthetic which, on the surface, appeared as a potent and congruent mix of art installation, video and live performance seemed nonetheless to be the odd man out at WTF. The set is a triptych of two human sized boxes with a vertical video screen between and slightly above them. The actors' mode of delivery is straight on to the audience, they never make eye contact with each other, never touch and barely move. Their lines only tangentially read as dialogue. The video projections are beautifully composed, and have a ravishing cinematic sensuousness, acting as a hell-mouth for eruption of repressed materials reproduced from Japanese Horror Films and Hollywood film noir. The overall mood is subdued, overcast, brooding and a non-linear story line fractures both time and identity. In its hallucinatory darkness, this set-up reminded me of a 19th century wax museum which, it has been suggested, is a kind of proto cinema. The show deconstructed men's phallic panic when confronted by women, the animal and death. However, women were portrayed as bereft, vacant objects of desire or else she-devils, and men remained either lone cowboys incapable of intimacy or else predatory beasts. Because we had no sense of characters, everything seemed reduced to a surface equivalence with no hope of change.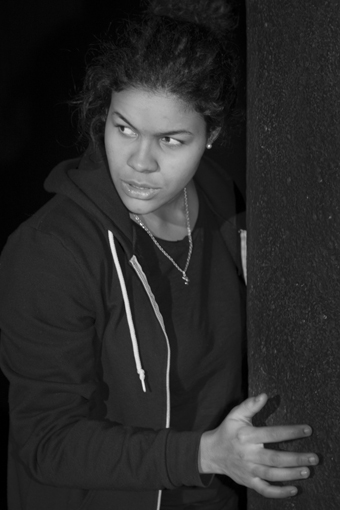 photo courtesy Brisbane Powerhouse
Zahra Newman, Random, Real TV
realtv, random; stephen oliver, black queen, black king
The lives of black minorities were examined in Real TV's premiere production in Australia of Random by English playwright debbie tucker green, and in the presentation of excerpts from a musical theatre work in progress, Black Queen Black King by Queensland's Steven Oliver. Random was a fresh and poignant one-woman show in the slice-of-life genre. Zahra Newman performed brilliant emotional riffs as she re-lived a day in the lives of a Jamaican working class family stricken out of the blue by the tragic death of their 15 year old son in a senseless street fight. In her role as older sister telling the story, Newman was by turns funky, cocky, caustically funny, magnificently sharp-tongued, sarcastic, sorrowing, angry and dignified. She slipped seamlessly in and out of multiple family and community roles. In a word, superb. Black Queen Black King was a confronting exposure of the lives of gay Indigenous men, as the play expressed it, "on the margins of the margin." The script was gutsy, graphic, funny and often tender. It dealt with issues that seemed as melodramatic as a revenge tragedy but are the real stuff of Indigenous experience. I'm glad that Powerhouse director Andrew Ross seemed to be taking it under his wing.
World Theatre Festival 2011, Hackman, APOLLO 13: Mission Control; co-creator, director Kip Chapman co-creator, designer Brad Knewstubb; Born in a Taxi and The Public Floor Project, Waiting Room, director Penny Baron; Kassys, Good Cop Bad Cop, deviser-performers Liesbeth Gritter, Esther Snelder, Ton Heijligers, Mette van der Sijs and Adriaan Beukema; Gob Squad, Super Night Shot; deviser-performers Johanna Freiburg, Sean Patten, Elyce Semenec, Berit Stumpf, Sarah Thom, Bastian Trost, Simon Will Mat Hand; Real TV, Random, writer debbie tucker green, actor Zahra Newman director Leticia Caceres; Temporary Distortion, Americana Kamikaze writer, director Kenneth Collins co-creator, video projection William Cusick; Teatro en el Blanco, Diciembre, writer, director Guillermo Calderon; SCRATCH SERIES: Polytoxic, The Rat Trap; Daniel Santangeli, Genevieve Trace, Room 328; Christine Johnston, Lisa O'Neill, Peter Nelson, RRAMP; Steven Oliver, Black Queen Black King; The Escapists, Elephant Gun; Brisbane Powerhouse, Feb 9-20
RealTime issue #102 April-May 2011 pg. 2-3
© Douglas Leonard; for permission to reproduce apply to realtime@realtimearts.net