In 2005, Asialink in partnership with the Dance Board of the Australia Council selected 5 Australian choreographers, including Jo Lloyd, to develop new collaborative works in Japan as part of the Asialink Japan Dance Exchange, Neon Rising. In May 2005, Lloyd, Melbourne designer Shio Otani and composer Duane Morrison visited Japan and collaborated with Off Nibroll members Mikuni Yanaihara and Keisuke Takahashi to create Public=Un+Public. Mikuni Yanaihara founded the art collective Nibroll in 1997, a company of 6 directors in the fields of film, dance, music, lighting and fashion producing works seen around the world. Off Nibroll's work focuses on the relationship between body and image. Public=Un+Public was presented at Yokohama BankART1929 and has now been seen in Melbourne where Lloyd is based and has been building a body of work including Not As Others, seen in the Adelaide Fringe Festival and Next Wave 2006. Eds.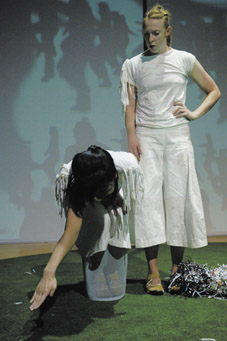 photo Rohan Young
Mikuni Yanaihara, Jo Lloyd, Public=Un+Public
Shown recently in Japan, Public=Un+Public's Melbourne incarnation was created inside Chunky Move's Melbourne studio, whose usual box-like dimensions were transformed by Shio Otani into a series of spaces, levels and screens. Two bedrooms at each end were connected by a central sphere, green and grasslike.
The work begins with Lloyd and Yanaihara at each end, in their respective rooms. The screens flanking each room reflect the activities of the other, thereby connecting the women. If this is private space, it's pretty sparse and depersonalized at best, an external view upon interiority. Perhaps the term 'un+public' suggests this, that the private is simply an inflexion of the public. After a series of activities, the women swap ends to continue their individual musings. They are not the same. Yanaihara's range of emotional textures highlights the secular nature of Lloyd's boisterous, bouncerly energies.
Takahashi's accompanying video images undergo simple but mesmeric transformations—silhouetted doorways, interiors framed and reframed; windows upon social, personal space. A crowd of small black figures explodes into what looks like a flock of birds pouring out of a diminishing human form, repeatedly blotting the screen in flying formation. At one point, the width of the room gives way to a single screen, the women leaving us to pay attention to the images. Some beautiful imagery combines with dancing text. Yanaihara was filmed on her bed in her flat (inspiration for the overall design?), the image contracting into the room's TV, a frame within a frame. A reminder that the realism of video is never more than virtual?
When they returned, Lloyd and Yanaihara interacted in the central space, back to back, back to front, tossing, lunging, swinging at each other, coming together, coming apart. Elements of domination or competition were suggested but nothing was made explicit. A menagerie of shredded newspaper balls were tossed about. Many qualities were explored in this duet, which canvassed a range of relational possibilities. This was the section of Public=Un+Public that appeared the most experimental, a place where the women could have taken the work into another space, beyond its initial dichotomies. My feeling is that more collaborative time is needed in order to fully develop this section, and to integrate it into the piece as a whole. Lloyd and Yanaihara are each strong performers with their own qualities and differences. They clearly have ideas about the work, along with Takahashi's video projections and Otani's design structures. If there is an element of cultural difference in the mix, there is also the question of kinaesthetic difference: how to produce joint movement by way of addressing the themes of the whole. This is about the work as performance, rather than installation. In other respects, Public=Un+Public felt very clear, Lloyd's aesthetic combining well with Off Nibroll's input and Duane Morrison's music to create a distinctive and enticing world.
Public=Un+Public, choreography and performance Jo Lloyd, Mikuni Yanaihara, video Keisuke Takahashi, music Duane Morrison with Yuki Kato+Sound Sleep, design Shio Otani; Chunky Move Studio, Melbourne, February 15-19
RealTime issue #72 April-May 2006 pg. 35
© Philipa Rothfield; for permission to reproduce apply to realtime@realtimearts.net