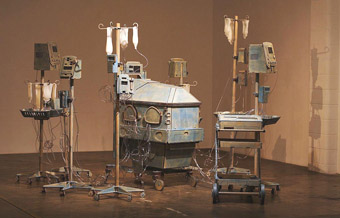 Peter Hennessey, My NICU
All the impulses of all the media were fed into the circuitry of my dreams. One thinks of echoes. One thinks of an image made in the image and likeness of images.
Don DeLillo, Americana, 1990
The art of Peter Hennessey has powerfully examined the media-saturated events and phenomena that have inscribed themselves upon his and our memories and dreams. Deploying the most commonplace of materials (plywood, galvanised steel hinge, canvas), Hennessey has produced bold, arresting and intricate sculptures based on subject matter which is familiar, even infamous, but physically inaccessible.
In exhibitions such as Repercussions (2004) in Adelaide, Proof (2004-05), My Moon Landing (2005) in Melbourne, and My Voyager (2005) in Perth, Hennessey has showcased stunning, life-size re-productions of military and aeronautic artefacts imbued with symbolic, historical and political resonance. My Ikara (2004), for example, is a 4-metre high plywood and steel rendition of an Ikara missile manufactured by the Australian military and tested at Woomera. The imposing, pistol-shaped sculpture is symbolic of both Woomera's troubled history and the broader anxieties surrounding national security. Conversely, the sprawling, satellite-dish-like structure of My Voyager is modelled on NASA's Voyager 2 space probe, which was launched in 1977 to contact extra-terrestrial life. Here, Hennessey adopts the theme of communicating with aliens in order to interrogate the treatment of foreigners in our own communities.The motivating force behind these and other works is Hennessey's ongoing fascination with what he calls "the 'physicalisation' of things that are only virtually accessible to us." Hence his preference for objects which "have a large presence in the world: they exist as memories of televised images or via a multitude of representations like the echoes of a clear, sharp sound." Accordingly, his structures are conceived with the purpose of enabling the viewer "to have a physical experience of the object while still being able to experience the absence of the thing."
These concerns are realised through a rigorous, labour-intensive aesthetic: the use of computer-design software, 3-dimensional models and laser cutting technology to painstakingly design and assemble a 1:1 scale version of objects that initially exist as images sourced from the internet.
Hennessey's austere aesthetic is elegantly honed and refined in muscular, mixed-media works such as My Mission Control (the act of observation changes the object observed) (2005), a sharp, clinical re-staging of the NASA control desk that monitored the flight and lunar activity of the Apollo 11 astronauts. However, rather than broadcasting the footage of that historic mission, the bulky, blocky buttons, stationary dials, corky controls and slim screens on Hennessey's control desk transmit footage of his own, studio-based, makeshift lunar-stroll, My Moonwalk (Fourteen Kilograms) (2005).
Watching the DVD recording of the artist as a gangly, gallivanting spaceman, my mind reverberates with sound bites and ballads affiliated with the Apollo 11 mission. I recall a legendary astronaut's crackled, metallic, lunar greeting, followed by the lachrymose lyrics of a certain star-dusted Space Oddity: "Houston, Tranquillity Base here, The Eagle has landed" (Armstrong); "Take your protein pills and put your helmet on/Ground Control to Major Tom" (Bowie).
Hennessey's slick, skilful synthesis of sculpture and simulation in My Mission Control… reinforces the ghostly, televisual character of the moon landing, and its political import as a globally broadcast spectacle. If the majority of Hennessey's works to date have been concerned with furnishing physical re-enactments of virtual phenomena, then the artist's most recent offering at Greenway Art Gallery entitled My NICU (I am always amazed how something so small can be so big) (2006), marks a subtle shift in perspective.
My NICU… – the acronym stands for Neonatal Intensive Care Unit – is Hennessey's answer to an environment which, he remarks, "one could possibly access but in truth would rather not." Indeed, from a distance, Hennessey's eerie, intimidating installation appears to have been prised from the grimy ward of some forsaken, contaminated clinic. In the centre of a confined gallery space, under a dim, dingy light, a Draeger incubator is flanked by, and affixed to, a plethora of infusion pumps, drips, ventilators and monitoring systems.
Conventionally, a Neonatal Intensive Care Unit is a considerably humid and highly controlled space, specifically calibrated to maintain the requisite skin and body temperature of prematurely-born infants, and to sustain their breathing and nutrition through the intravenous administration of oxygen, fluids and nutrients. In stark contrast, Hennessey's version of this synthetic, life-sustaining space-constructed from plywood, steel, graphite and silicone, then coated in wax is cold, ominous and unsettling. The bleak lighting, the cool, tomb-like setting, and the scumbled and scrawled surfaces of the installation evoke a formidable scene of abandonment, infirmity and trepidation: harsh, corroded and sinister. Hennessey is a new father. My NICU… is a haunting and disquieting interpretation of a profoundly emotive space which he believes "crystallises the anxiety and even fear that comes with anything precious."
Although considerably more intimate and poignant in tone and character, Hennessey's latest work is in keeping with his previous accomplishments in its ongoing commentary on the ironic character of contemporary existence: our unfounded faith in, and apprehensive reliance upon, the media, science and technology.
All quotations from artist statements in gallery catalogues.
Peter Hennessey, My NICU (I am always amazed how something so small can be so big), 2006, Greenaway Art Gallery, Adelaide, June 28-July 23
RealTime issue #75 Oct-Nov 2006 pg.
© Varga Hosseini; for permission to reproduce apply to realtime@realtimearts.net