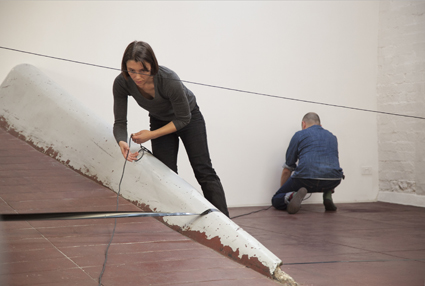 photo Laura May Grogan
Helen Grogan, Geoff Robinson, Three Performative Structures for Slopes (27/4/2014)
It is no accident that the Melbourne chapter of Liquid Architecture 2014 begins and ends with violence inflicted upon microphones, both conceptually and literally. "Helen Grogan's Concrete Room is the festival inauguration," explains Co-artistic Director Joel Stern. "Helen maps the room by dragging a microphone with a very long lead around the perimeter."
The Melbourne leg of the festival closes with Canadian artist, Christof Migone's Hit Parade: "Fifty people with 50 guitar amps banging 50 microphones on the floor a thousand times each," says Stern. "Christof's work destroys microphones."
You could say the Liquid Architecture festival is hitting its 'difficult teenage phase.' After 14 consecutive annual festivals focusing on sound art, the festival board put out a call for new blood and opened applications for festival curators. Stern and his long-time co-curator Danni Zuvela were awarded the position (since broadened to Artistic Directors). Liquid Architecture 2014 is set to be a more critical, confrontational and provocative festival.
"I'd like our audience to be angry, confused and critical," muses Stern. "To be divided…less consensus," adds Zuvela. "This year is a paradigm shift for Liquid Architecture."
From its humble beginnings in Melbourne's RMIT Student Union in 1998, Liquid Architecture has grown to become broadly recognised as Australia's premiere sound art festival. Sound art has recently become akin to the latest hip thing in international contemporary art circles: Susan Phillipz won the 2010 Turner Prize with a sound work and last year MOMA staged the Soundings exhibition. So is the time ripe for Liquid Architecture to cash in on its sound art cred?
"We're critical of the term," says Stern. "It's a curatorial shortcut to designate whole areas of practice that could be presented in a range of different ways, rather than just grouping them together as 'sound art.'" Experimental culture is of more interest to the pair. "The concept of 'experiment' is super important," says Zuvela. Stern agrees. "There is a broader experimental culture that crosses over questions of media."
Stern and Zuvela may be new kids on the Liquid Architecture block (although Stern has been involved in various roles previously), but both have been bastions of experimental art curation in Australia over the past decade. The two met in Brisbane as post-graduate students (Zuvela has a PhD in Australian expanded cinema) and with Sally Golding founded the OtherFilm festival in 2004. Stern also performs in the experimental band Sky Needle and co-curated the much-missed Overground festival in 2011.
OtherFilm began by presenting multi-media happenings centred on experimental cinema and was then developed into a festival, partnering with Brisbane's Institute of Modern Art. "In the early days of OtherFilm we were obsessed with film as a medium," Stern recalls. "We were extremely militant about 16mm and Super 8 film. We wouldn't show video." "Yet we always went beyond film," Zuvela adds. "There was always music, installation, food. We discussed dropping the name at one point; what if we didn't want to do film?"
"That's why we had the 'Other'," Stern says, grinning. "'Other' was a negative space where all these things could happen, but all in relation to film. That thinking mirrors how we address sound in Liquid Architecture. Where everything was film, we now see everything as sound."
Liquid Architecture takes place primarily over five days in Melbourne in late September, across a wide variety of venues and situations (shorter programs follow in Brisbane, Sydney, Perth and Singapore). The festival's theme is "The Ear is a Brain." "We want works to excite the brain as much as the ear," Stern explains. "It's okay to have beautiful music, but I want my brain to be excited, too."
"The program has some concert performance work, but there's also work literally engaged in dialogue," Zuvela says. West Space is hosting a daily series of readings and critical discussions led by visiting sound artists including Alessandro Bosetti and Christof Migone, and a program of 'talk-performance' lectures will take place at the National Gallery of Victoria. "The discursive aspects of the festival become a slippery slope between theory and practice." says Stern.
Robin Fox will also be presenting his new sound and light extravaganza RGB Laser, and Taiwanese artist Hong-Kai Wang will complete a month-long residency at Gertrude Contemporary developing her new work Conceptual Biography of Chris Mann, centring on her mentor and ex-pat Melbourne compositional linguist. "Hong-Kai is one artist who has a more radical, sharper edge," Zuvela says. "She's interested in letting go of her authorship. She's aware of composition as a political act." Wang's work will see transcripts of her interviews with Mann's contemporaries performed by actors to reading and listening groups, whose subsequent dialogues will also become part of the work.
The festival also travels to the dingier end of town at The Tote with a line-up of more underground-orientated acts and performance artists, with acts split between the iconic pub's stage and courtyard.
The 2014 Liquid Architecture program is varied in the performance contexts offered (from text-based works and lectures to pub gigs), but hovers consistently around concepts of sound through critical prisms. Stern and Zuvela aren't nervous about audiences reacting negatively to this new edge of the festival, but don't deny feeling some anxiety. "There's pressure to innovate an organisation with an important history in Australian sound culture, and knowing people will agree and disagree," Stern admits. "Sound is a subject of inquiry for almost every discipline. In the contemporary art world, sound is shaking up disciplinary boundaries. It's going to be a festival about the best ideas of sound, rather than just practices of sound. For us, that's what's at stake."
Liquid Architecture 2014: Melbourne 24-28 Sept, Brisbane 2 Oct, Sydney 4-5 Oct, Perth 6 Oct, Singapore 10-11 Oct. www.liquidarchitecture.org.au
RealTime issue #122 Aug-Sept 2014 pg. 49
© Clinton Green; for permission to reproduce apply to realtime@realtimearts.net