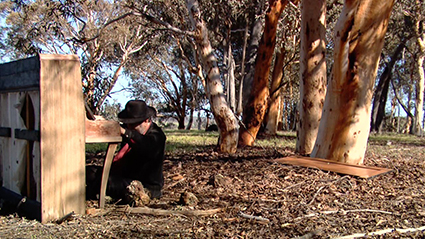 photo courtesy Totally Huge New Music Festival
Ross Bolleter
TOS MAHONEY, THE INDEFATIGABLE ARTISTIC DIRECTOR OF WESTERN AUSTRALIA'S TURA NEW MUSIC ("FOR THOSE WITH A SOUND APPETITE," QUIPS THE WEBSITE BANNER) HAS SPENT 25 YEARS NURTURING WA MUSIC AND HAS PRODUCED 12 TOTALLY HUGE NEW MUSIC FESTIVALS, FEATURING NEW MUSIC AND SOUND ART FROM ACROSS AUSTRALIA AND THE WORLD BUT ALWAYS WITH A WELL-WARRANTED COMMITMENT TO WA COMPOSERS.
Tura advocates for and produces new music as well as providing resources (playing a key archival role as you'll see below), operates Club Zho, Sounds Outback and regional and remote residency programs. It also produced the remarkable Crossing Roper Bar collaboration between the Australian Art Orchestra and the Young Wagilak Group from Ngukurr, Arnhem Land, for which it won the Outstanding Contribution to Australian Music in a Regional Area Award in the Australian Music Centre's 2009 Classical Music awards. A new tour of the project was staged by Tura in 2013.
Tura's Totally Huge New Music Festivals draw together an impressive range of composers, great players and diverse audiences. I met with an upbeat Mahoney is Sydney recently to discuss his 2015 program.
Do you have an overall theme or vision for this year's Totally Huge?

Vision but not theme—never theme. It's always amazing how connections end up happening. I'd be quite interested to write something at some stage about the synchronicity of opportunism. I mean opportunism in a positive sense, not in an exploitative or lazy way but effective managing of curating opportunities often ends up with really interesting both connections and juxtapositions that are sometimes, I think, not there when people start out with "Well, we're gonna have it all about theme X." So to a degree, if there's a theme to Totally Huge it's an ongoing one of eclecticism and juxtaposition.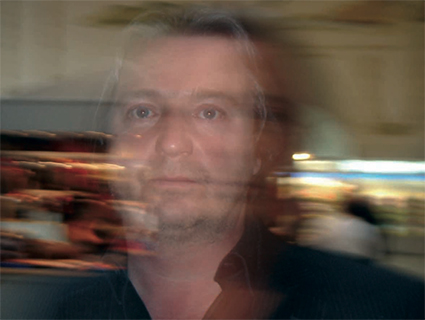 photo Stefan Fricke
Johannes Sistermanns
I see German artist Johannes S Sistermanns is your featured guest with an installation-performance-sound work, SpaceFolding SoundPlastic.

He'll come about four weeks before the festival, doing a residency at the PS Art Space, a fantastic newish independent art space in Fremantle. He'll make a series of sound and performance installations there. And Decibel has commissioned him to write a new work so they'll be collaborating with him. The performance will open the festival.
A young Perth composer and sound artist, Steve Paraskos, will curate Successor 2, a night of immersive works including his own and others by Kynan Tan, Cat Hope and Sam Gillies. That'll be in the foyer of the State Museum—the last event in that building before it closes for renovations over the next six or so years.
Another German artist, Friedrich Gauwerky, a great cellist who collaborated with Stockhausen, is doing a program of works by Stockhausen. There'll also be another new work by Sistermanns.
I see that London-based Australian piano virtuoso Zubin Kanga will be "exploring the potential for multiple identities, malevolent doppelgängers and mysterious landscapes in music that expands the sonic and visual capabilities of the piano."
Zubin's presenting Dark Twin at the Art Gallery of Western Australia featuring a new work commissioned from Cat Hope alongside works by Michel van der Aa, Peter Ablinger, Steve Reich and Australians Daniel Blinkhorn and Julian Day.
Alice Hui-Sheng Chang from Melbourne is a Taiwanese-Australian voice/sound artist. She uses extended vocal techniques with electronic treatments. One will involve a large group of people she'll be working with: it's site-specific and choral almost but not in any traditional sense. The last concert, Time Alone, will be from Sydney percussionist Claire Edwardes with locals Ashley Smith who's a clarinettist and Louise Devenish a percussionist with works by Lindberg, Muhly, Ligeti, Sydney's Michael Smetanin and Damien Rickertson and Perth's Christopher Tonkin.
The program also includes the launch of a significant archive.
We were partners in an ARC grant with Edith Cowan University as the principal and the State Library and also ABC Classic FM and the National Library to set up an online WA New Music Archive covering 1970 to the present. It's been a fraught couple of years but it's now exponentially on the way. So on the Wednesday night of the festival, we're going to launch the site. This will be a first draft almost but we want to get it online and get people feeding back. The site will have audio and video.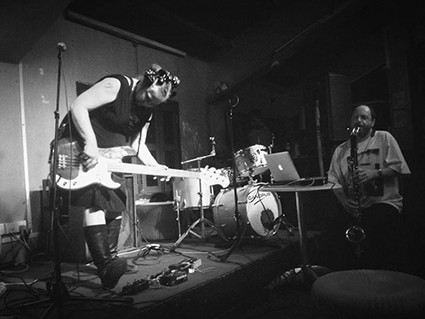 photo courtesy Totally Huge New Music Festival
Decibel
Who are some of the artists we'll find on the site?
Roger Smalley, Ross Bolleter, Alan Lamb, Cathie Travers, Lindsay Vickery, Iain Grandage, Cat Hope and lots, lots more.
A young composers night is a bit of a tradition within the festival. This year we have a whole new flock of composers basically out of the University of Western Australia (UWA) and the West Australian Academy of Performing Arts (WAAPA). I'm hopeful that we'll hear some exciting new work.
Another project that's been going on for a long time is one by filmmaker Robert Castiglione who has been documenting ruined piano artist Ross Bolleter's work over 12 years ("I found myself filming and recording pianos in an incredible variety of locations – on roof tops, in a dam, in a lonely field or perched precariously on a granite outcrop!). "We'll be presenting the premiere of Invitation to Ruin at Totally Huge.
On Thursday there'll be a symposium connected to the Archive Launch around WA art music from 1970 to now—pretty broad but making connections.
What kind of role, for those of us outside WA, have Tura New Music and Totally Huge played in sustaining an audience for the kind of work you support?
Oh, pretty essential really. Even within what you'd regard as a niche area of practice there are all these different areas—within that broad church that is new music. Even within the program we've discussed, there are different audiences. The Steve Paraskos night, for example, that's a different audience, a younger one than the Zubin Kanga, whom you can market to the classical or the hip classical crowd. And the Sistermanns event is one that might attract more of the visual art/performance crowd.
But to answer your question, because there's been a continuing line, the Tura line, there are a lot of people who stay in touch, who don't necessarily come to everything but who stay connected and who'd be the first to say that the information flow, the connection with the area of practice is is through Tura and if they didn't have that, they wouldn't know what was going on.
For reviews of the 2011 and 2013 Totally Huge New Music Festivals go to www.realtimearts.net/features
Tura New Music, 2015 Totally Huge New Music Festival, 15-24 May, Registrations for Symposium due 15 April.
RealTime issue #125 Feb-March 2015 pg. online
© Keith Gallasch; for permission to reproduce apply to realtime@realtimearts.net