soundcapsule #1 features sound works from Germ Studies (Clare Cooper and Chris Abrahams), Joel Stern, Adam Simmons, Ernie Althoff, Mark Cauvin, Topology, Rice&#23630Corpse, James Rushford, Cat Hope, Clocked Out, Jason Sweeney, and a video composition by Brigid Burke.
You may choose to download single tracks or the entire collection as a zip file. (Note for Dec 18 – if you have difficulties with the downloading the 320bps files – they may still be coming online – please come back tomorrow to find them complete.)
(right click or control click for download)
Download Sound Capsule 1 complete 192bps (faster) – ZIP file (161Mb)
Download Sound Capsule 1 complete 320bps – ZIP file (237Mb)
———————-
Germ Studies – Clare Cooper & Chris Abrahams
Germ Studies is a unique duo comprising Clare Cooper on guzheng and Chris Abrahams on DX7. Both accomplished improvisers, their collaboration is about an investigation into the essence of their contrasting instruments. Chris Reid describes Germ Studies, their double CD, consisting of 198 tracks with accompanying illustrations:
"It is…a deep exploration of musical language. Rather than producing longer, more self-contained compositions, Cooper (guzheng) and Abrahams (DX7) have created a series of sonic moments that flit through conscious awareness, sharply distinguished from each other by the nature of the sound, the sum of which creates a substantial and engrossing oeuvre."
www.realtimearts.net/feature/Earbash/9619
As Germ Studies tracks are quite short the artists have offered 3 pieces.
Bells Before Breakfast (2009, 0:19) – download 192bps – 448k; <a href="download 320bps – 748k
Hungarian Earthquake (2009, 1:14) – download 192bps – 1.7Mb; download 320bps – 2.8Mb
Knee Liquor (2009, 3:51) – download 192bps – 5.3Mb; download 320bps – 8.8Mb
By Clare Cooper and Chris Abrahams
Copyright Status: © Clare Cooper and Chris Abrahams, all rights reserved
From the CD Germ Studies released on Splitrec
www.splitrec.com/
———————-
Joel Stern & Leighton Craig
Stern has appeared in the pages of RealTime for many years, as a writer, co-director of the OtherFilm Festival and as composer/sound artist. In 2009 his CD Objects, Masks, Props was featured in earbash, reviewed by Gail Priest:
"Objects, Masks, Props is perhaps most interesting because rather than the field recordings grounding us in the 'real world', serving as markers of concrete space, Stern's manipulations and combinations create a kind of lucid-dreaming…"
www.realtimearts.net/feature/Earbash/9437
Stern also collaborated with Elision Contemporary Music Ensemble on heliocentric. See
www.realtimearts.net/article/issue88/9254
Brisbane resident Leighton Craig has been experimenting and composing with keyboard, synthesizer and all manner of instruments since the mid-90s, both solo and in groups including The Deadnotes, and The Lost Domain. He runs the label Kindling Records.
This collaborative piece is part of a larger unreleased suite of improvisations recorded one scorching hot morning in 2006 at Toohey Forest, just south of Brisbane, surrounded by lorikeets, tawny frogmouths and possums.
Toohey Forest (2006, 9:15)
download 192bps – 12.7Mb; download 320bps – 21.2Mb
By Joel Stern and Leighton Craig
Recorded early morning in Toohey Forest, QLD circa 2006 and includes keyboard, thumb piano, feedback, bugs, wind, heat
Copyright Status: Creative Commons
www.abjectleader.org
www.kindlingrecords.com
——————–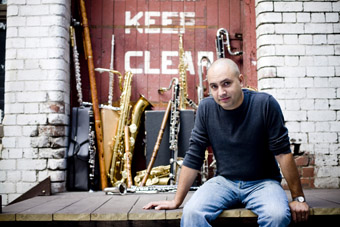 photo Mark Chew
Adam Simmons
Adam Simmons
Adam Simmons is a multi-instrumentalist who first made an appearance in RealTime's earbash with his 2002 CD Adam Simmons' Toy Band, Happy Jacket. In RT94 RealTime-Aphids writer in residence Simon Charles offered a profile of Simmons current work:
"Simmons' creativity and talent for collaboration make him one of the most in demand musicians on the Melbourne scene. His involvement with groups such as Embers, The Australian Art Orchestra, Bennett's Lane Big Band, New Blood and Bucketrider (to name a few), testifies to his versatility as a performer. This is no more apparent than in his live shows which incorporate an arsenal of wind instruments and creative approaches to composition and improvisation."
www.realtimearts.net/article/issue94/9669
Out of nothing…and back again (2009, 7:30)
download 192bs – 10.3Mb; download 320bps 17.2Mb
Composer/perfomer Adam Simmons (shakuhachi), recorded, mixed & mastered by Myles Mumford –
Released on self-titled solo CD 2009
Copyright Status: © Adam Simmons, all rights reserved
www.adamsimmons.com
————————–
Ernie Althoff
Ernie Althoff's approach to kinetic art, sound installation and music making has been an inspiration to many younger artists practicing today. Chris Reid wrote on Althoff's major installation The Middle Eight, as part of the exhibition The Freedom of Angels, Sculpture in a Century of Upheaval, Geelong Gallery, 2009:
"Althoff's work sets sound free from its metal and timber constructions. Through the twin catalysing forces of electrical power and the composer's design, sound is now encouraged to flow from musical and unmusical objects. The listener can experience and understand familiar ambient sounds anew, and better understand what it is to engage in the act of making sound or music".
www.realtimearts.net/article/issue91/9497
Althoff also performed as part of Decibel's Tape It! Concert.
www.realtimearts.net/article/issue94/9674
David and Frederick (2000, 6:50)
download 192pbs – 9.4Mb; download 320bps – 15.6Mb
Composed and performed by Ernie Althoff
"This is an excerpt from a 40-minute solo performance at the Musicians' Club, Melbourne on May 14 2000 as part of the Hard Listening concert series. The instrumentation consists of five machines that roll glass marbles in various ways, a slow-speed cassette player, a metal tray used as a gong, and two long square-section metal tracks with marbles, tilted up and down by the performer so the marbles roll from end to end."
Copyright Status: © Ernie Althoff, all rights reserved
ww.antboymusic.com
———————–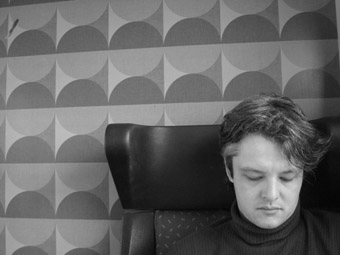 Mark Cauvin
Mark Cauvin
Mark Cauvin made his first appearance in RealTime with Chris Reid's earbash review of the debut CD Transfigurations:
"[T]he more you listen, the more you appreciate the immense stamina and concentration required to realise these works at the necessary level of perfection. Cauvin's Transfiguration leads us to a new appreciation of the musical possibilities of the double bass…"
www.realtimearts.net/feature/search/9286
He also impressed Gail Priest with his performance as part of the New Music Network Solo Perspective 2 concert:
"Musician and instrument seem to be in an intense symbiotic relationship as Cauvin summons extraordinary sounds, the correlation of gesture and sound absolutely pure, non-theatrical, yet utterly engaging."
www.realtimearts.net/article/issue93/9606
Valentine (1969) for Solo Contrabass (2008, 9:46)
download 192pbs – 13.4Mb; download 320bps – 22.4Mb
Composition Jacob Druckman, contrabass Mark Cauvin
"The work is one of the most difficult ever written for the contrabass and demands that the player attack the instrument with bow, timpani stick, both hands alternating percussive tapping on the body of the instrument with pizzicato harmonics, while the voice sustains tones, sings counterpoint and punctuates accents. All of this necessitates the player's assaulting the instrument with an almost de Sade-like concentration (hence the title)." Jacob Druckman
Copyright: © Mark Cauvin, all rights reserved
www.markcauvin.com
—————————
Topology
As one of Australia's long standing and leading new music ensembles, Topology have appeared many times in the pages of RealTime. Keith Gallasch writes of their versatility in recent performance at Sydney's Sound Lounge:
"Brisbane-based Topology's east coast tour gave us a live, working band with a casually theatrical and jazzy spontaneity…Hoey's viola improvisation on Davidson's Exteriors (a response to Southern Indian temple architecture) ranged through meditative warblings to passionate flourishes supported by tabla-ish taps on Davidson's double bass. Babbage's witty arrangement of Cold Chisel's Cheap Wine starts out 50s cool jazz and then proves Topology can rock."
www.realtimearts.net/article/issue93/9609
Tyalgum – concise version (1999, 10:11)
download 192bps – 14Mb; download 320bps – 32.3Mb
Composed by Robert Davidson, performed by John Babbage (baritone
saxophone), Christa Powell (violin), Bernard Hoey (viola), Robert Davidson
(double bass), Kylie Davidson (piano)
"The small village of Tyalgum is nestled in a spectacular landscape dominated by Wollumbin (Mt Warning)—the first place on the Australian mainland lit by the sun each day, and the core of an ancient, enormous volcano. Commissioned by the village's wonderful music festival, I spent a week there composing and found my resistance to landscape-inspired music stood little chance against the inspiring forms around me. The piece is a kind of personal mythology in response to the land, ending with a reflection of the intense quiet I often experienced there." Robert Davidson
Copyright Status: Creative Commons Attribution Non-Commercial
http://www.topologymusic.com/
——————-
Rice&#23630Corpse
Along with a review of Mrs Rice, the debut CD by Rice&#23630Corpse, Lucas Abela's latest ensemble, RealTime also featured an article where Dan Edwards spoke with the Chinese musicians Yang Yang (drums) and Li Zenghui (piano) in Beijing and Gail Priest talked to Abela (glass) in Sydney. A longer version of the interview with Abela was also published.
"Abela: Always when I play, I have this imaginary rhythm section in my head. I think I aurally hallucinate because I'm hearing all sorts of things. In this instance I got this band, and they're outwardly influencing me as well and I'm hearing them and I'm following a rhythm or following a change of theirs. It added new elements to my playing. And I think it really shows on the album because it's completely different to anything I've done before."
www.realtimearts.net/article/issue92/9510
Earbash review – <a href="http://www.realtimearts.net/article/issue92/9504www.realtimearts.net/feature/search/9504
Full interview – www.realtimearts.net/article/issue92/9556
No Penis (2008, 7:08)
download 192bps – 9.8Mb; download 320bps – 16.3Mb
Lucas Abela (glass), Yang Yang (drums), Li Zenghui (piano)
Copyright Status: © Rice&#23630Corpse, all rights reserved
http://dualplover.com/justice.htm
—————-
James Rushford
Chris Reid was thoroughly impressed with James Rushford's Vellus. He writes
"This is a cracker of a CD, one of the best sound art releases I have heard…Rushford's are well crafted compositions, where 'resolution' can be found structurally and timbrally. What works particularly well is his juxtaposition of electronic and acoustic instruments."
http://www.realtimearts.net/feature/Earbash/9438
Rushford also appeared with his trio Golden Fur as part of the New Music Network series. Gail Priest writes of his performance of Alvin Lucier's Music for Piano with Slow Sweep Oscillators (1992):
"As piano resonances cut through the pure sine tone to produce swirling and beating effects, the sound becomes thick and tangible. Rushford's touch is gentle and evocative allowing the beauty and meditative nature of the piece to come to the fore.
www.realtimearts.net/article/issue93/9606
La Madre (2008, 9:55)
download 192bps – 13.6Mb; download 320bps – 22.7Mb
Composed by James Rushford, performed by Jessica Aszodi and Deborah Kayser (voices), Josephine Vains (cello), Eugene Ughetti, Nat Grant (percussion), James Rushford (electronics). Text by Gabriela Mistral.
From album Vellus (Cajid Media 2008)
Copyright Status: © James Rushford 2008, all rights reserved
www.jamesrushford.com
——————-

photo K.Ford
Decibel
Cat Hope
Cat Hope—composer, musician, academic and tireless advocate for exploratory music in Western Australia—recently launched Decibel, an ensemble of musicians defined by Hope as exploring the "nexus of acoustic and electronic instruments." Jonathan Marshall reflected on ideas about sound and music suggested by the the Tape It! concert, the ensemble's first appearance, as part of the Totally Huge Music Festival:
"Hope and her peers…continue to argue that noise art, concrete approaches to sound and to the sample, together with instrumental composition, graphic scores and rules-based ideas, are not incompatible…Just as Cat Hope's own approach favours the unresolved, so the combination of ideas and processes here might favour an endless, irresolvable dialogue, rather than a new condition of musical interpretation."
www.realtimearts.net/article/issue94/9674
Abe Sada: Sada Abe 1936 (composed 2006, recorded 2009, 7:38)
download 192bps – 10.5Mb; download 320bps – 17.5Mb
Composed by Cat Hope, performed by Decibel – Lindsay Vickery (contra bass clarinet), Tristan Parr (electric cello), Cat Hope & Malcolm Riddoch (bass guitars)
"This piece is performed under the seating in a theatre; the audience sits above, listening and sensing the vibrations. This recording was made live at the DECIBEL concert 'Somacoustica' in November 2009."
Copyright Status – © Cat Hope & Abe Sada (2009), all rights reserved
www.cathope.com
http://decibel.waapamusic.com
———————
Clocked Out
Clocked Out, directed by Erik Griswold and Vanessa Tomlinson, have been extremely busy in 2009. Keith Gallasch describes their Wide Alley concert at the Sydney Opera House Studio this year:
"Clocked Out's approach displays a meeting of forms across cultures and musical languages but also allows the musics of Sichuan enough time-space to stand on their own: in the presentation of traditional works, in re-framings of native classics and in wilder experimental fusions where traditional instrumentalists reveal how they can transplant their virtuosity to new terrains."
www.realtimearts.net/article/issue90/9442
Clocked Out also presented a concert at Brisbane Powerhouse of Stockhausen: A Message from Sirius. See Greg Hooper's response:
www.realtimearts.net/article/issue91/9489
Most recently, Erik Griswold also co-created The States (with Sarah Pirrie, Craig Foltz). See Greg Hooper's review
www.realtimearts.net/article/94/9672
Foreign Objects 1 (2008, 4:47)
download 192bps – 6.1Mb; download 320bps – 10.2Mb
Clocked Out Duo – Erik Griswold, prepared piano, Vanessa Tomlinson, percussion
Engineered by Paul Draper, mastered by Daniel Fournier
In "Foreign Objects," Clocked Out construct a carefully tuned meta-instrument out of prepared piano, bowls, tiles, bottles and recycled materials. Their sonic explorations range from stochastic improvisations to intricate polyrhythmic patterns and their trademark bent grooves.
Copyright Status: © Erik Griswold and Vanessa Tomlinson, all rights reserved
http://www.clockedout.org/
———————–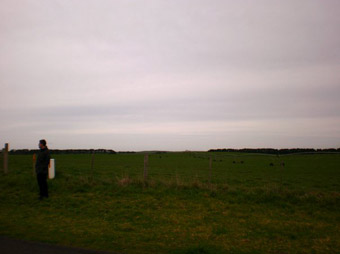 Panoptique Electrical
Jason Sweeney
Jason Sweeny is a composer with multiple pseudonyms. Most recently he has been releasing and performing as Panoptique Electrical, a project which brings together elements of compositions he has made to accompany performance works by artists and companies such as Version 1.0, Victoria Spence and the PVI Collective. Sweeney is also one of the driving forces behind the hybrid performance group Unreasonable Adults. In an interview with Sweeney, Keith Gallasch described the music as:
"…contemplative and dreamy, never soporific… [T]he album [is] neither predictably 'spacey' nor mindlessly ambient, although late night listening can yield the relief of high quality distraction and the curious comfort of a free-floating melancholy that Let The Darkness At You generates.
www.realtimearts.net/article/issue88/9255
The Heath (2009, 5:22)
download 192bps – 7.4Mb; download 320bps – 12.3Mb
Panoptique Electrical (composer – Jason Sweeney)
Copyright Status: © Panoptique Electrical, Jason Sweeney, all rights reserved
http://www.panoptiqueelectrical.com
———————-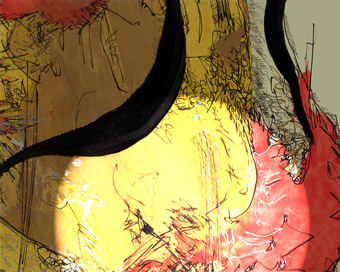 Brigid Burke, Strings
Brigid Burke
(video excerpt)
While there are many artist who combine video with laptop music, there are very few who also add an instrument into the mix making composer, clarinetist, visual artist Brigid Burke unique. On her performance in Solo Perspectives 2 presented by the New Music Network Gail Priest wrote:
"The final two pieces, Roses will Scream (2007) and Scratching (2009), incorporate live video in a more essential way, overlaying live feeds to affect textures and transparencies on pre-recorded material, both photographic and hand drawn—an impressive feat of multi-tasking. Both pieces for bass clarinet explore the rich range of the instrument, finding an elasticity to its tone and timbre but with an agile, melodic touch."
www.realtimearts.net/article/issue93/9606
Strings (2006)
download Video excerpt – 46.7Mb
Visual and sound by Brigid Burke
"The concept of Strings was to transform the acoustic prepared piano to another timbral plane of textural colours. The sounds and transformations came from images of strings, wiring systems that connect urban cities and how strings and manifestations of these communication systems connect our lives. The visuals are heavily manipulated in various ways to create surreal imagery [from the] density of these wiring systems. The source of these images is a series of silkscreen prints I created in 2006 based on the wiring systems of Inchigaya in Tokyo Japan. The aim of the transformation of the sounds is to match timbres to reflect a rich canvas of sonorities around similar pitches and rhythms. Also by exploring sounds at different dynamic and room placement, they accentuate the changes occurring within the piece."
Copyright Status: © Brigid Burke 2006, all rights reserved
www.brigid.com.au
___________________
Our thanks to the artists for generously allowing us to present their work to you free of charge.
Copyright status is indicated for each work—we ask that you respect the legal terms of these conditions.