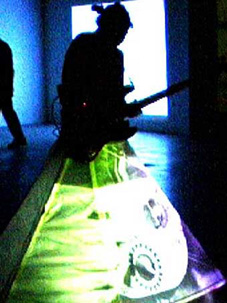 Cat Hope, DACS-BEAP 2002
What is 'Sound Art'? For many, it refers to sound-based art work (or at least art work where the principal focus is on sound) across the broad gamut of performance, installation and broadcast contexts, which departs from both traditional musical instrumentation and notational methods and frequently employs electronic media. Others may see it as an intersecting space with roots in post-Cageian music practice, or indeed 'post-phonographic' music practice, and installation art. Artists labelled under this term perform in local warehouse, gallery and club performance series such as; impermanent audio, Disorientation, 1/4inch, Club Zho, Make it Up Club, Small Black Box, and Fabrique; and at festivals such as Liquid Architecture, What Is Music?, Now Now, Electrofringe, BEAP, SoundCulture and REV. Despite questions over its status as a discrete discipline, it is clear that practitioners feel a strong sense of community and share artistic and political concerns which are distinct from the western classical music and visual arts traditions. For example, performance is rarely separated from composition, developments in electronic media and communications technologies heavily influence practice, and traditional instrumental/notational practices are either not privileged or have been superseded by other forms of electronic notation and sound production.
Against the backdrop of this diverse and evolving contemporary practice are the universities, conservatoria and art schools offering postgraduate study and research training which, more often than not, takes the form of advanced creative practice. Strong competition in the marketplace has forced these institutions to orientate themselves in specific directions, especially tertiary music schools and conservatoria. The emerging pattern has been that conservatoria have remained orientated towards instrumental training in the western classical tradition, whilst many tertiary music schools have chosen to focus on more contemporary aspects of musical production, developing areas of research strength around contemporary, or 'non-heritage' practices. It is in the latter institutions, that the strongest support exists for sound art and electronic music at postgraduate level. These institutions include (but are not limited to) the music and sound areas at QUT (Queensland University of Technology), University of Western Sydney and the University of Wollongong, joined by some significant players with media and communication arts strengths such as Royal Melbourne Institute of Technology (RMIT) and (University of Technology Sydney (UTS).
Other institutions may provide some support via individual staff, but the majority of practitioners tend to gravitate to one of the above institutions for research degrees in this area, with some choosing to study at a distance. This may be due to the fact that these institutions have identified this area as one of focus and have made a substantial investment in a number of academic and research staff to support that. A number of these institutions also hold ARC research grants in the field, some within specific research concentrations, thus bolstering their capacity to support a strong research training agenda. Not surprisingly, staff profiles and research track records seem to be critical ingredients in attracting high quality research students. Perhaps 10 or 15 years ago, a major attractor might have been access to advanced facilities, but since the increase in speed of home computers, most artists who work at this level maintain relatively powerful home studios, allowing them to undertake a great deal (although often not all) of their production work off-campus.
Motivators
To probe the issues around postgraduate research in this field, I spoke to a number of established and emerging artists who have completed, or are currently undertaking, research degrees. First off, the reasons for enrolling were many and varied. According to artist/musician Dave Noyze (Burraston), currently undertaking research in generative music and cellular automata at the Creativity and Cognition Studios at UTS, it was a necessary qualification. Aspiring to full time research work at academic institutions in the UK he said, "the response…was always the same: you need a PhD before we will be interested." For emerging artist Mark Havryliv, whose postgraduate research at the University of Wollongong involves the development of original software to explore gaming devices as musical instruments, it was a desire for input from supervisors, a formal framework and an opportunity for cross-disciplinary interaction. Havryliv was also attracted to opportunities to gain teaching experience. For artist/curator Philip Samartzis, who undertook practice-led research in surround sound performance, installation and publication via a PhD at RMIT, it was "worthwhile to work within a structured learning program in order to introduce rigour and ongoing critical analysis into my working methodology." By way of contrast, sound artist/sculptor Nigel Helyer, who enrolled after a long period of arts practice, said "my arm [was] slowly twisted" through a number of offers from various institutions over the course of time, which led to being a "guinea pig candidate" in a new DCA (Doctorate of Creative Arts) program at UTS.
Habitats
On the issue of locating appropriate institutions and supervisors, a wide variety of views were expressed. While some found the choice of institution and supervisor a simple or natural process, the majority were presented with few choices, experiencing some difficulty locating both a suitable supervisor and a concentration of research students in relevant areas. Some had unsatisfactory experiences in prior undergraduate or Masters degrees and sought a more supportive environment for doctoral work. The composer/performer Lindsay Vickery, who is undertaking a practice-led doctorate at QUT on new structural models for solo interactive multimedia works, undertook his first postgraduate degree at another institution prior to the 'creative practice as research' era. He says, "the suggestion that I theorize my own work was actually dismissed as 'not academic'…My folio and thesis were sent for examination to experts only in the area of my thesis, resulting in pages of notes about the Stockhausen [content] and about a paragraph of comment on the folio works that were supposed to comprise the bulk of the submission." Herein lies a clear example of the once strong hold that traditional musicology had over the postgraduate area in many 'older-style' music departments. It was a somewhat curious phenomenon, given the significant push from key figures in European modernism to place composition at the centre of research culture in music. Whilst it might be tempting to think that the almost universal uptake of European modernism in universities was a good thing for 'sound artists', much of the discourse was very 'notation-centric', ironically privileging score-based instrumental music over much of the important musical experimentation in which so-called 'sound art' has its roots. Are we seeing an argument for 'sound art' yet?
Community
From a student perspective, the choice of institution seems to be driven by both the staffing profile (potential supervisors) and the existing student cohort, suggesting that there is a desire for a sense of community. Cat Hope, bass player, noise artist and lecturer at Western Australian Academy of Performing Arts (WAAPA) has recently enrolled in practice-led research towards a doctorate through Media Arts at RMIT. Although provided with encouragement by her academic employer, she felt "on my own in Perth—there are no other PhD sound researchers there." By contrast, she felt "very at home when amongst the students in Melbourne." Mark Havryliv feels the benefits include "support from a group of other students, not necessarily music students, to work with and hold my ideas accountable to", suggesting a desire to interact with other students to test ideas in cross-disciplinary contexts.
The projects
The types of projects undertaken in this field are predominantly practice-led, consisting of a folio of works accompanied by a contextualizing exegesis. It is not uncommon for the research to take the form of original software and in some cases, hardware, with a number of such projects underway in various institutions. Whether the projects are practice-led, soft/hardware based or theoretical, however, there seems to be an interest from all artists to examine their work and processes within a more rigorous conceptual framework, often revealing or consolidating important aspects or, in the case of emerging artists, assisting in developing a notion of informed and focused practice. Peter Blamey, the well-known no-input mixing board performer/improviser, is undertaking a PhD by thesis (a less common choice for artists) at UWS, researching the history of the sine tone and simple acoustic phenomena in experimental compositional practice. Although a theoretical investigation, observers of Blamey's work will note an intimate connection arising from his strong interest in pure minimalism and the American experimental music tradition. "Delving into the work of artists I admire is in part examining the history behind some of what I do artistically, whether I have consciously acknowledged it before or not." According to Philip Samartzis, "over the course of the research program…I became more confident about my field of investigation…I felt I could clearly articulate my findings." Lindsay Vickery is finding the process of theorizing his work a very rich experience: "the theoretical frameworks for the work specific to the degree seem to have spread outwards towards areas of my practice that I didn't initially see as connected…It brings a certain focus to the work and importantly forces one to consider seriously the opinions of others…which is not necessarily most artists' strong suit." Nigel Helyer, on the other hand, felt that he commenced his research degree with a strong sense of theorised practice, but expressed concern that the institution "simply could not 'get' the concept that a practice was in itself (or embodied) a 'thesis'…the administration possessed a peculiar 'default' setting that had difficulties with the notion of practice as valid research."
Many artists feel natural synergies between their research and other aspects of their creative careers. Dave Noyze enthuses over a recent completion of new music track based on cellular automata: "the final production and mixing was done by Australian electronic music legend Garry Bradbury (ex Severed Heads)…Tom Ellard (current Severed Heads) told me it was played on Triple-J last Sunday." If the broadcast of PhD folio work on Triple-J is seen as an amusing and somewhat unexpected benefit of the doctoral experience, Helyer notes dryly, "being a Dr. lets me park my car [illegally], sometimes gains an upgrade on planes, and makes suited academics uneasy!"
RealTime issue #68 Aug-Sept 2005 pg. 15
© Julian Knowles; for permission to reproduce apply to realtime@realtimearts.net