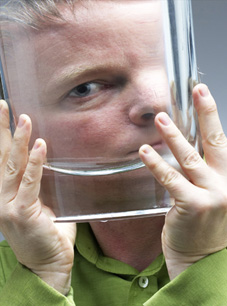 photo John Tsiavos
David Chesworth
Although he's been hard at it with music theatre (Cosmonaut RT64, p37, and the forthcoming revival of Recital for Malthouse) and sound installations (through Wax Media, his partnership with Sonia Leiber), it's been a long time between recordings for composer David Chesworth. Badlands, a tautly constructed exploration of theme (inspired by the Terence Malick film of the same name and its use of the music of Carl Orff) and the distinctive instrumental palette of the David Chesworth Ensemble, appeared in 1998. Now the composer is releasing 2 CDS, one of new works for his ensemble, Music to see through, with a bonus disk of experimental pieces, and the other a collection of miniatures from 1978: 50 synthesizer greats.
In Music to see through long compositions alternate with short more or less ambient creations. It's the larger works that grab attention, sustained compositions with that characterful Chesworth ensemble sound. The immersive, gentle 9-minute Panopticon conjures something organic for which growth is eternally incremental, building on itself over and over like something out of Chaos theory. The title doesn't seem to fit, unless it's something to do with the circularity of vision and the quiet insistence of the piece. In the engaging Passage des panoramas the trombone alternates between droning and hitting the high short notes against a piano-led rhythm section. A second theme cuts loose from the formal pacing of the first section with lyrical piano moments and a cello-violin exhange against a marimba pulse. Eventually, the string duo sing their way out on their own. The opening steady piano line of Floating Worlds breaks into hesitancy which, with strings, becomes the second strand of the work, then alternating with the first theme. A gorgeously sighing violin dances in counterpoint with the marimba, and then takes off with the cello in a wonderfully sustained reverie. Then it's back to the lone piano and we float off again. Will is markedly less lyrical, comprising short, chugging phrases from piano, metal percussion, strings and trombone. The discrete units come together and break apart before a long violin line briefly takes over from the beat and against a substratum of liquid piano and watery electronics before the return to propulsion.
Among the shorter works are 2 songs (not to my taste) and tracks with a movie soundtrack feel. Persuade kicks off like a thriller score with strings riffing briskly before settling into something more mellow as violin, cello and trombone take alternate leads. The drum-driven Perpetual presence is textured with odd shufflings, creakings and seems to have nowhere to go until its riffs run together in a mad, accelerating rush to a conclusion. The shortest works generate quiet ambience with spare, bell-like percussion against warbling strings, or a low pulse against vibraphone musings. Or they suggest something a little more urgent as in Soft skin tutti which alternates delicate moments with outbursts of rapid drumming, mad piano, cymbal clashes and high violin cries. Surveillance evokes an aural world built from grinding strings, bell crashes and an eerily indeterminate sonic substratum.
The album concludes with the dancey Bland flaneur: classic Chesworth ensemble sound, trombone leading; and Wait a while: vibes and piano against a muttering sound bed before the arrival of a langorously cool Hot Club violin. It's a good album for programming into the order you prefer.
The bonus album, The Disk of Idioms, is also blessed with some fine tracks and some intriguing electronics, although with much less sense of ensemble. The 12-minute Oceanography is a consumate sound world inhabited by data flow, electronic twitterings and distant rumblings and overlaid with a delicate vibraphone reverie that almost resolves into the deepest of its notes. In the droll Aspirational, a voice trills and then races against a fast electronic shuffle and acoustic rattlings. There are snatches of song, gasps, wheezes and an exhausting dash. Funeral sentence is a fascinatingly distorted 5-minute choral piece, male and female voices and phrases stretched and sucked away against a clanking of chains and a shifting stream of electronic noise. Music to see through reaches many high points, best experienced in its major compositions, but encountered here and there in works of intriguing brevity.
David Chesworth Ensemble, Music to see through, w.minc, distributed by Shock, WMINCCD034
RealTime issue #68 Aug-Sept 2005 pg. 51
© Keith Gallasch; for permission to reproduce apply to realtime@realtimearts.net