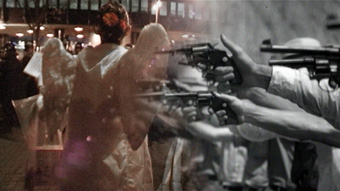 Simon Pummell, Bodysong
Micronations
On September 2, 1967 Ex-Major Paddy Roy Bates decided to occupy an ex-World War II military sea fort just off the East Coast of England and have it declared a separate nation state. The principality of Sealand was born. Thirty seven years later Prince Roy, as he proclaimed himself, has handed over the throne to his son Michael and managed to gain de facto recognition of its sovereignty from a number of European countries. Over 25 years, lobbying the UN for nation state status has so far proved unsuccessful.
Sounds fanciful but it's all true. The Principality of Sealand is today considered one of the leaders of what is often referred to as the micronations movement. Micronations are countries which have been declared independent by individuals or small groups. In many cases such claims have been made on pieces of land, usually tiny islands. Since the internet got into full swing the traditional concept of micronations has evolved into cyber and digitally programmed territories too.
The principality of Sealand was the fruit of an error in judgement on behalf of the UK government. It had designed Roughs Tower (the sea fort) approximately 7 nautical miles from the coast, more than double the then applicable 3-mile range of territorial waters. Basically it had unwittingly located it in the international waters of the North Sea. While Roy Bates' experience has been perhaps the best known (he's fought off invaders from Germany and landed himself in a court case for fighting against the British navy—and won), his Sealand functions like many other micronations in that it has its own constitution, issues its own currency and provides its own passport.
Such is the evolution of the micronations movement and its growing popularity amongst a number of artists and musicians that the Sonar Advanced Music and Multi Media festival has this year decided to run the very first Universal Exhibition of Micronations.
Holding an exhibition of micronations would seem in keeping with a return to the festival's roots—Sonar has always enjoyed positive critical and public responses when it's dared to be at its most cutting edge. And in the case of micronations you might even say, eccentric.
Sealands' micronation will be on display along with 4 quite different examples of the phenomena—Barcelona therapist Evru's Evrugo Mental State, the multilayered kingdom of Elgaland-Vargaland, State of Sabotage from the creative label of the same name and NSK, A State in Time from the Slovenian industrial music collective Laibach.
Multimedias
Now in its 11th year, Sonar has over a decade grown from a small, almost underground electronic music festival with a few strands of multimedia thrown in to become one of Europe's most prestigious multimedia events. Its music programming has in recent times attracted criticism for its growing commercial and conservative choices and the organisers appear to have listened by focusing this year's line-up around the explosion of hip hop both in and out of Spain.
The festival's multimedia arm though has strengthened considerably over the past 4 or 5 years and according to Andy Davies, the curator of Sonarcinema, that might very well reflect a changing of the guard between the mediums. "I certainly feel there's a shift in the electronic music/electronic image thing," says Davies. "It seems to me that there's more interesting new things happening in the image side than the music side. And that's a technological thing—now the technology is becoming more available for the image and quicker and cheaper—all the things that happened in the music. So there's a whole lot of people coming to work in video that wouldn't previously have had access to equipment. And for the same reason there's this explosion of work that was originally there in the 90s in electronic music."
The Sonarama section of this year's festival as usual will put on show some of the latest developments in new sound and audiovisual creations, installations, software presentations and audiovisual concerts. A highlight this year is Thomas Koner's Banlieue du Vide, at once a critique of the repressive possibilities of internet technology and a reflection on the passing of time. Koner's work recently won the prestigious Ars Electronica's Golden Nica award in the digital music category.
Switzerland's Hektor, a suitcase containing among other things 2 electric motors, a spray can holder and a circuit board, and Canada's Artificiel's light installation Bulbes are also eagerly anticipated. Along with the media lab presentations displaying software and sound combinations, Sonar importantly continues to give a space to new creators.
Oscar Abril, Sonar's Multimedia coordinator, says the event is still making a place for itself internationally: "Sonar is most definitely the main festival of its type in Spain and it certainly plays a defining role overseas even though you couldn't classify it as an arts electronic festival. Nevertheless, it still retains that independent streak and belongs to a movement within a global movement."
Like Abril, Sonarcinema's Andy Davies has this year conjured up a film festival from a wide range of sources. It's a neat mix of the original—Simon Pummell's unscripted and wordless Bodysong documentary (with a soundtrack from Radiohead's Johnny Greenwood) to the hysterical—Shynola's computer animated adverts—to the retrospective—a showing of Ramon Coppola's music videos that include Fatboy Slim's Gangsta Trippin', Moby's Honey, Air's Playground Love and Daft Punk's Revolution 909.
In amongst that lot there will be a session on one of the pioneers of digital animation, Lillian Schwartz, and a menu of low budget electronic short films. To round it off there's some very contemporary documentary takes on the hip hop scene in Venezuela as well as the punk and rap movements in Japan, China and India.
It's this kind of visual social commentarist role that festivals like Sonar crucially play. "For me there's places which produce a lot of interesting work and it's surprising that should be so and I don't really understand why it is," ponders Davies. "Austria for example has fantastic video and visuals. Britain as well, there's a lot of interesting stuff happening there, quite particular… Japan has a very particular take image-wise, especially graphically, so a lot of work that comes from there stands out. And I also think Finland is a very curious place. We show a lot of things from Finland!"
Davies believes it's hard to get good local work to be shown in Sonar. He attributes that to a combination of cultural factors and a lack of investment from television and the state in experimental work or, for that matter, independent record companies who tend to finance low budget filmmakers in other parts of Europe. "One thing's for sure. What makes a good public isn't necessarily what makes a good creative environment."
Sonar, Barcelona, June 17-19 www.sonar.es
RealTime issue #61 June-July 2004 pg. 51
© Michael Kessler; for permission to reproduce apply to realtime@realtimearts.net