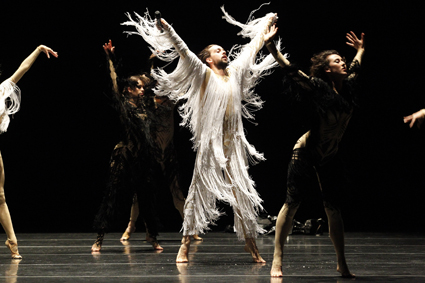 photo Jeff Busby
There's definitely a prince involved, Gideon Obarzanek
INFINITY KICKS OFF THE AUSTRALIAN BALLET'S GOLDEN JUBILEE CELEBRATIONS WITH A TRIPLE BILL ENCAPSULATING OUR COUNTRY'S CONTEMPORARY DANCE CULTURE. FROM ABSTRACT BALLET TO PULLING THE FEATHERS FROM SWAN LAKE TO A COLLABORATION WITH BANGARRA DANCE THEATRE, INFINITY EMBRACES POSTMODERN DECONSTRUCTION AND ENDS ON A SOULFUL HIGH NOTE. THE THREE PIECES ARE VASTLY DIFFERENT BOTH VISUALLY AND THEMATICALLY, YET STRIVE TO SHARE A UNIQUELY AUSTRALIAN POINT OF VIEW OF BALLET.
Graeme Murphy's The Narrative of Nothing shuns conventional storylines and is inspired by the score, Brett Dean's sometimes extraordinary and, some might say difficult or even discordant, Fire Music. Murphy handpicked his favourite dancers, some of whom caught his eye in his production of Romeo & Juliet. His choreography explores the human impulse to create stories from abstract work; in lieu of an actual narrative, we thread together our own. Boxes of stage lights, almost unisex costumes and Dean's score give the performance a kind of dystopian feel. Dancer Adam Bull stands beneath a single globe that sways in an expanding circle; lit from above, he's a perfect, anonymous figure: a living, breathing Oscar statue. Where the score clangs like construction workers on a skyscraper, the dancers are all speed and strength, either angular and hard or fluid, like molten steel. In this science-fiction world (my ballet date thought Space Odyssey, whereas I leant towards Metropolis) there are flashes of competitiveness or struggle, an unsupported head-hold of Lana Jones in a pas de deux and male-only groupings that occasionally threaten to spill into affray. Though it can be a daunting task to sustain audience interest in non-narrative performance, Murphy overcomes this with original, exciting choreography.
In There's definitely a prince involved, Gideon Obarzanek deconstructs Swan Lake. Underscoring it with dialogue, initially as a dig at our lack of knowledge of the (seemingly ridiculous) plot of the world's best known ballet, he too questions the role of narrative in ballet. The dialogue is less effective when it deals with the Swan's theme of idealised romantic love via dancers' confessions. In revisiting and pulling apart the choreography of Swan Lake (1877; but most versions derive from the1895 version), we see how potent the source is as cultural fodder (Black Swan, anyone?) and as arguably the pinnacle of narrative ballet. Obarzanek isn't wringing the Swan's neck but rather asking the audience to reconsider what ballet is. There were laughs at the image of a prince bringing a swan home as a date, and how irrelevant plot digressions allow the dancers to display their technical prowess in brilliant sautes. In a tribute to the dance of the cygnets, the splendour of the original is highlighted by stellar performances. Madeline Estoe is magnetic as a deconstructed Odette.
There are several complex ideas here. The fussy, satin court costumes are at odds with designer Alexi Freeman's incredibly free-flowing, tasselled and almost naked costumes, which dancers use to full effect. This demonstrates a disjuncture between classic and contemporary ballet—the reliance on narrative, the heavy weight of the past, particularly on borrowed European notions. Freed of these, dance can be stripped bare to pure movement. Amid all these questions, Obarzanek shows us he can pull together a satisfying ballet.
The closing work, Waramuk—in the dark of night, marks the third collaboration between Bangarra Dance Theatre and The Australian Ballet, and is a fitting close to Infinity with its melancholy beauty and visual romance. Choreographer Stephen Page has been reinvigorating traditional storytelling for two decades with Bangarra, yet here ballet is the beneficiary of a new breath of life. The stories of the Yolngu of Arnhem Land speak of the link between spirituality and the land: in this ballet, the creation stories centre on the moon and constellations, myths which may be millennia old but are largely unknown to most audiences.
Rich in symbolism—a rope connects the sky and earth, or the spirit world and reality—and, informed by a dance language that borrows from Indigenous movement, Waramuk confidently avoids stereotypes. As the Evening Star, Vivenne Wong is heart-achingly graceful in bridging two genres of dance, while Elma Kris brings strength and emotion to her role as a Mother Earth figure. David Page's haunting score of recorded voice and orchestral music, combined with the shimmering, shifting backdrops by Jacob Nash, transfix us. There were definitely goosebumps involved.
Infinity plays at the Sydney Opera House, April 5-25
–
Australian Ballet, Infinity, The Narrative of Nothing, choreography Graeme Murphy, creative associate Janet Vernon, composer Brett Dean, stage and lighting design Damien Cooper, costumes Jennifer Irwin, sound Bob Scott; There's definitely a prince involved, choreography Gideon Obarzanek after Marius Petipa and Lev Ivanov, music Stefan Gregory after Piotr Illyich Tchaikovsky, costumes Alexi Freeman with Caroline Dickinson, stage concept Benjamin Cisterne, Gideon Obarzanek, lighting Benjamin Cisterne, original sets Hugh Colman; Waramuk—In the Dark Night, choreography Stephen Page, music David Page, costumes Jennifer Irwin, set design Jacob Nash, lighting Padraig O Suilleabhain, sound design Bob Scott; Orchestra Victoria; Arts Centre, State Theatre, Melbourne, Feb 26-March 6
RealTime issue #108 April-May 2012 pg. 24
© Varia Karipoff; for permission to reproduce apply to realtime@realtimearts.net