Ignition is Australian Dance Theatre's in-house season where company dancers and guest artists present short works. For its 6th season, artistic director Garry Stewart provided the choreographers with a creative constraint, a stage just 2 metres square. The 9 short works presented at Ignition 6: The World's Smallest Stage could be taken as an indication of future directions for Australian dance. Yet like a collection of short films at a graduating show, the works are not about tomorrow. They project instead the experiences of becoming artists today.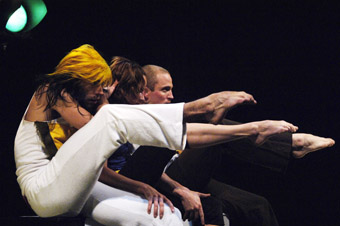 photo Chris Herzfeld
F-Lash
Fashion, sport and popular music feature strongly; feelings, romance and memories are recurrent themes. A layered look—arising from the artists' versatility with medium if not form—is a hallmark of the collection. Emboldened by the techniques of cut-and-paste production, these artists are skilled compositeurs; wrangling movement, moving image, spoken text, sound track and lighting effect to layer-up their work. They are also storytellers, entertainers in the arts of recognition, re-possessors of movement cultures and distillers of bodily abstraction.
Two artists took the opportunity to tell stories of heterosexual romance, that staple narrative of theatrical dance. Timothy Ohl's Broken Departed charts a love story of loss with slacker charm. Dancers Shannon Anderson and Kristina Chan perform a duet under duress as their plane goes down. Ohl in hard hat and work boots taps out a message on wired-for-sound tiles. Exposed to the elements in underwear, Chan is washed up by the wind. Ohl scatters sand on the floor and, singing, whistling, shuffles his way through a children's song or two.
Returning to ADT as a guest, Lina Limosani locates her love story, The Penny Drops, in the office of a crazed relationship counsellor, performed with cartoon obviousness by Paul Zivkovich. The work scores a romance of histrionic emotions to a scrolling radio dial soundtrack of love songs. Students from the dance program at Adelaide Institute of TAFE play the girl, the boy and a couch. The girl is confident and assertive; the boy is nervous and anxious—alone, at one point, he cries profusely on the couch. As in Ohl's Broken Departed, it's the male emotional trajectory that enjoys the choreographer's attention. The Penny Drops closes the evening with audience favour. It is recognisably comic, technically proficient and enjoyably banal.
Only one stage work threatens to exceed the obligatory spatial constraint. Theatre director Sam Haren makes his dance debut with The Game Is Not Over. Created with dancers Shannon Anderson and Ohl (and Larissa McGowan in rehearsal), Haren finds choreographic daring in the aerial moves of Australian Rules football. Kicks, marks, handpasses and those distinctive umpire gestures that signal the scoring of a goal are 'mashed' together with the grand jeté and port de bras of ballet. The compression of so much energetic extension on such a small stage is—to use the sporting lingo—awesome.
Daniel Jaber's The World's Smallest Stage: Invaded! compresses action drawn from the catwalk of high fashion. As in other works, Jaber uses entrances and exits to readily discharge the spatial limitation. Yet without a catwalk for progression the 9 dancers in this fashion show do little more than enter, present a pose, retreat, repeat. They are, however, appreciably costumed in fashionable strangeness by Jaber himself.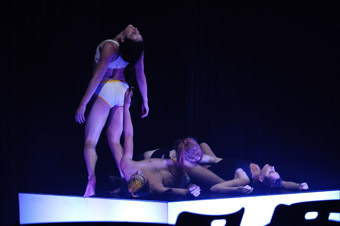 photo Chris Herzfeld
Slack
Two video works are included in the program. Paul Zivkovich's Then Remember When evokes memories of the freedom and mobility of childhood. A playground becomes a site of contemplation for the constraints of adulthood; an album and its photos, a pile of books and a chair act as metaphors of stasis and containment. Guest artist Michael Carter's awkwardly titled Intimate/dation also focuses on the choreography of feeling. Yet, in this work of closely cropped and over-exposed shots set in slow motion and repetition, the composition seemed determined more by the sound track's progression than the choreographic interest of the movement.
The distillation of feelings and experience into abstraction is more compelling on the stage. Xiao Xuan Yang's lively F-Lash, danced by Anderson, Jaber and Riannon Maclean, uses the changing colours of traffic lights to articulate the transition of emotional states "that people deal with while they are traffic." The choreography of Lamenting Equipoise by Glen McCurley and Slack by Larissa McGowan is derived from even simpler grounds. McCurley's is a choreography of breath, danced with grieving sensitivity by McGowan, Jaber and Laura Trevor. McGowan's is a beautiful study in suspension, danced—with loosely swinging limbs and Jaber's striking hair extensions—by Trevor, Megan Sullivan and the choreographer herself.
ADT, Ignition 6: The World's Smallest Stage, curator Garry Stewart, ADT studios, Adelaide, Aug 15-18
RealTime issue #75 Oct-Nov 2006 pg. 40
© Jonathan Bollen; for permission to reproduce apply to realtime@realtimearts.net