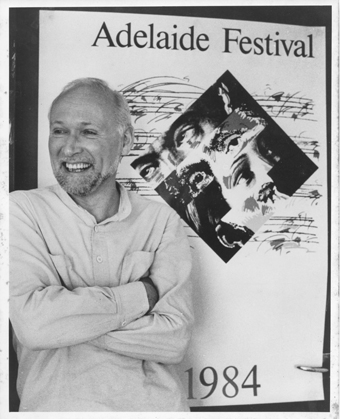 courtesy Wakefield Press
Anthony Steel with Adelaide Festival poster 1984
ANTHONY STEEL'S "ANECDOTAL MEMOIR," PAINFUL IN DAILY DOSES, IS ANYTHING BUT TORTUOUS. SWERVING ENTERTAININGLY BETWEEN ESSAY, DIARY, AUTOBIOGRAPHY AND HISTORY, VIVIDLY EVOKING EVENTS, PERSONALITIES AND PRODUCTIONS, THE MEMOIR RECOUNTS THE INCIDENTAL MAKING OF AN ARTS FESTIVAL DIRECTOR, FROM CHILDHOOD TO THE 60S IN THE UK AND THE SUBSEQUENT REALISATION OF A DISTINCTIVE CAREER IN AUSTRALIA IN THE 70S, REACHING ITS PROUD APOTHEOSIS FOR STEEL IN THE ADELAIDE FESTIVAL OF 1986 AND THE BRISBANE BIENNIAL INTERNATIONAL MUSIC FESTIVAL IN 1993.
Painful in Daily Doses is a cosmopolitan, picaresque romp of a book replete with the requisite ingredients: food, drink, sex, a life on the road and in the air, heroes and villains, epic travel, dead-ends, sackings and successes—fate largely dealing the man a very good hand. And it's often funny. Above all it celebrates the art that Steel has resolutely and passionately championed, broadening and deepening Australian engagement through bold programming, commissioning and sheer force of personality. But what kind of personality is revealed in this memoir?
Steel was the first director of the Adelaide Festival Centre (a product of the Dunstan Enlightenment), subsequently artistic director of five Adelaide Festivals in their golden age, director of the first Brisbane Biennial International Music Festival and other events as well as playing an advisory or instigatory role for other important festivals (and not a few that never manifested), setting up his own business, Anthony Steel & Associates, and sitting on Boards of the Australia Council for the Arts.
The book's title comes from Bruce Macklin, Chair of the Adelaide Festival Board at the time of Steel's departure in 1978: "When asked what it had been like working with me he replied, 'Like a shot in the arm; stimulating, but painful in daily doses.'" The book's voice is animated, opinionated and frank, mildly confessional and, at times, dismissive (a barely introduced figure can be declared 'a crashing bore' and is gone in a sentence; productions are dealt fatal judgements in a few words). But the overall tone is benignly authoritative rather than authoritarian—before he came to Australia Steel had to suffer autocratic bosses who not only treated him like a glorified office boy but, he admits, could scare him. He would be different. In a stint in his family's erstwhile steel manufacturing business he had learned to delegate to much better informed employees.
Other kinds of authority figures would later beleaguer Steel: politicians, board members, sponsors, critics and the vocal wowsers Adelaide has long given undue attention, but Steel himself comes across as a team-player, developing camaraderie in the new Adelaide Festival Centre and reliant, across the decades, on the skills and enduring loyalty of employees and associates like Marguerite Pepper, Rob Brookman and others. There are moments, for example in the late 70s when he's going through a rough patch (work, drink, a belated sexual revolution) when he is surprised to hear that he might not have had the loyalty of his Festival Centre lieutenants, but these are exceptions.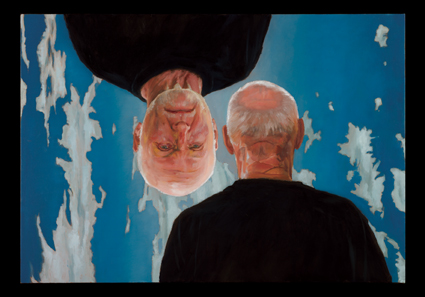 Ian North, Anthony Steel, 2007
Doubtless Steel's opinions and strength of purpose could and did irk on a daily basis: his one-line putdowns when defending his festivals, contemporary art, artists and colleagues against recurrent charges of elitism, or waste or obscenity (what's new?) could keep parochial journalists and other complainants busy for weeks. In an ABC TV interview he declared, "Of course the festival is not for the people in the same way a cricket match is not for me." At one point a short-lived 'festival action group' demanded a festival comprising a ball, a mardi gras and a full racing week. Much to his relief, Steel was once banned by Adelaide journalists from being interviewed for a month. He aptly calls himself "a proseletysing modernist"—his festivals were evidence of that and we revelled across two decades in first Australian appearances by John Cage, Phillip Glass, Molissa Fenley, Merce Cunnigham Dance Company, The Wooster Group, Billie Whitelaw doing Beckett, Spalding Gray, the Rustaveli Theatre Company, Cricot 2, the Shostakovich Quartet, Tenkei Gekijo, the Bread and Puppet Theatre, Jan Fabre, music of 20th century American and Australian composers including commissions, a string of modern operas and music theatre works and much more.
Relative to the terseness of Steel's opinions, Painful in Daily Doses is positively garrulous, not a trait I'd associate with the man, who has always struck me as somewhat shy. He writes, "Every considerable drinker has his or her sound reason (at least in their own eyes) for the habit. Mine was my painful shyness in the company of all but those whom I know very well." Elsewhere he turns to a few drinks for the "dutch courage" with which to face the Sydney Festival Board, is non compos on several important occasions in the 70s and is obliged in Georgia by the wonderful Rustaveli Theatre Company to consume large amounts of alcohol, a form of negotiation sometimes endemic to his job. What's interesting is not the alcohol, so much as evidence of an intrinsically shy personality who might blurt out an opinion, deeply felt but, on occasion, quite untimely and inadvertantly suggesting a dominating personality. Curiously, on first meeting Don Dunstan he is non-plussed by the man's inability to make small talk. Like many an artist, Steel appears to be of the introvert-extrovert mix, but in Painful in Daily Doses he's very much at ease and we feel like he knows us all very well.
Part of the book's charm is manifest in Steel's openness to life and chance. He mentions several times that his career moves were unpremeditated. In his account of his evolution into famed festival director, he often seems to have been in the right place at the right time and destined to mix with seriously talented artists. His family loved music. His sisters and their spouses were professional musicians. As a child he played clarinet with Dame Myra Hess at the piano, as school choir leader he chatted with composer Ralph Vaughan Williams, at Oxford he sang in a choir conducted by Sir Thomas Beecham and in concert versions of Mozart operas conducted by young Colin Davis. He never stops singing, in university and rural choral groups, in the London Philharmonia under Klemperer and Guilini, at the opening of the Adelaide Festival Centre—Steel sees Prime Minister Whitlam to his seat and "duck[s] back to join the tenors in the chorus" for Beethoven's Choral Symphony. If unhappy with his bosses at the London Mozart Players and the London Symphony Orchestra (doubtless learning that autocrats can be their own worst enemies) he met great artists and learned much, especially as "right-hand man" to Daniel Barenboim who was curating the adventurous Southbank Summer Music program in the late 60s, just before Steel was lured to Adelaide.
If these experiences and his love for music served him well, so did another love—of language. Steel learnt to speak Russian during a stint in national service in the Cold War 50s. It proved an invaluable asset for the future festival director, alongside his French and an ear for dialects and inventive obscenities. There's a rich vein of linguistic observation in the book. Steel recounts that when he moved to Adelaide in 1971, ASIO attempted to enlist him to monitor entrepreneur Michael Edgley's dealings with Russian artists: "I showed them the door."
What is fascinating is how Steel, on a quite unpredictable journey, rapidly expands his practice from assistant manager in London music organisations to artistic director of a new arts centre and then a major festival in Adelaide, fuelled by his love of music and the remarkable flourishing of the arts he'd witnessed in 60s London, and making the most of connections he'd made in the UK and beyond. Steel's accounts of the opening of the centre, of its internal politics, his remarkable 70s festivals (a blessing for us young Adelaideans), his stepping in to take over Elijah Moshinsky's "unnaffordable" 1984 festival, and the triumph that was the 1986 festival are all vividly conveyed, warts and all.
What follows is a search for work around the world, the wrong job with the Los Angeles Philharmonic Orchestra (alleviated by a Ford Mustang, soul food and Zubin Mehta's concerts in black churches), back to Australia, The International Theatre Season, the National Australian Theatre Festival in Canberra, the World Expo 88 On Stage, the 5th Festival of Pacific Arts (the diary account of a dash around the South Pacific is worth reading in itself), the Brisbane Biennial International Music Festival, where his love of music could fully flower, and the Sydney Festival. Sadly too many of these innovative festivals were cut off before their potential could be realised—some of the cultural gaps remain. As Steel writes of the National Theatre Festival, "it fell by the wayside with the typically Australian malady of political cowardice and underfunding."
For those of us who lived through the period of the book, it's a wonderful reminder of the riches and intricacies of the development of the arts and particularly of festivals in this country. For emerging festival directors it's a superb manual on how to handle, or (instructively) not, boards of management, the occasional outrageous demands of artists (see the wickedly funny account of Tadeusz Kantor's visit), censorious sponsors, uninformed critics and the growing "fundamentalism of the bottom line" (Steel quoting the prophetic Donald Horne). It's also an enjoyable piece of travel writing: Steel makes it clear that works have to be seen before they're programmed or disaster ensures (and it did), and this took him, and often Brookman and Pepper, around the world. There's also a strong chapter on arts politics which among other things unhappily reminds us that "Australian political parties do not properly value the arts as a vital part of a country's liberal democracy."
Painful in Daily Doses is, in the end, nothing less than an autobiography, if a loosely constructed one, hence 'memoir,' conversational, hence 'anecdotal,' and unapologetically without an index (a pity) and at times only broadly chronological as Steel loops back and forth at will like a dinner table raconteur riding on a wave of associations. Many will relish the book as the welcome rarity it is, a substantial slice of cultural history in a country loath to document its artistic life, especially in the performing arts. Above all it celebrates the creative life of an idiosyncratic personality, brave, sometimes necessarily foolhardy: "In the mad, risky game of running festivals, there is always that constant tension between two virtually irreconcilable goals"—excellent work that "provides an experience out of the ordinary" and a balanced budget. Despite modest losses on his two best festivals, Steel resolutely believes that "the director's foremost duty is to the program." And this belief, acted on, has been well and truly to our benefit.
Anthony Steel, Painful in Daily Doses: An Anecdotal Memoir, Wakefield Press, 2010, ISBN 978 1 86245 875 6
RealTime issue #99 Oct-Nov 2010 pg. 34
© Keith Gallasch; for permission to reproduce apply to realtime@realtimearts.net