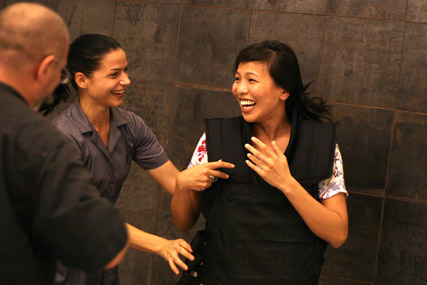 photo Jason Wee
Ana Prvacki, The Leap of Faith
WITH A BUDGET OF $SING10 MILLION, 95 ARTISTS AND COLLECTIVES AND 198 ARTWORKS, THE FIRST SINGAPORE BIENNALE IS THE BIGGEST CULTURAL EVENT EVER STAGED ON THE ISLAND STATE. With THE AUDACIOUS AIMS OF PUMPING LARGE AMOUNTS OF MONEY INTO CONTEMPORARY SINGAPOREAN ART AND ITS RELATED INFRASTRUCTURE, THE NATIONAL ARTS COUNCIL OF SINGAPORE is ATTEMPTING TO TRANSFORM NATIONAL MENTALITY AND INTERNATIONAL STEREOTYPING.
The desire is pragmatic: to move to an innovation-based economy by encouraging its citizens to be more creative, and present Singapore as an open-minded culturally sophisticated city—to show Singapore's "softer side", as a representative put it. Despite Singapore's notorious limits on free speech, the Biennale is presented as an opportunity for Singaporeans "to view diversity in art, new ideas and expressions". (The National Arts Council's vision statement is titled "Creative People, Gracious Community, Connected Singapore.") More instrumental goals for the support of contemporary art are hard to imagine, but few are complaining when arts funding in Singapore has increased tenfold in the past decade. This Biennale, long on the cards, represents the culmination of efforts to cultivate the semblance of a thriving local visual arts scene worthy of international recognition. And of course the government's desire to present Singapore as the cultural, as well as investment, hub of the region coincides perfectly with Singaporean artists' understandable eagerness to carve out international careers.
Support for such a large event was secured by the Biennale's position as the "anchor cultural event" for "Singapore 2006: Global City. A World of Opportunities"—designed to "highlight Singapore as a dynamic, well-connected and entrepreneurial economy", and focused around the hosting of the annual meetings of the International Monetary Fund and the World Bank. These meetings brought with them 16,000 international delegates. Part of the Biennale was closed for delegates only and public protests were forbidden (one indoor venue was provided to protestors who registered in advance). All of this provided me with a starting point for understanding and appreciating this biennale. In some ways this transparency of the links between art, commerce and politics was refreshing—with the rhetoric of the National Arts Council almost another artwork in itself—and it focused attention on what the curators and the artists actually did under these uniquely Singaporean circumstances.
Veteran Japanese curator Fumio Nanjo was brought in as Artistic Director of the Biennale and enlisted a team of young curators: Roger McDonald (Japan), Sharmini Pereira (Sri Lanka/UK), Eugene Tan (Singapore). Together they fleshed out the curatorial theme of 'Belief', alluding to the violent clash of faiths in the world today as much as a general crisis of personal and collective values. Although far from exclusively sacred, the theme involved seven major religious sites, all in use by the Singaporean public. This was part of a strategy to utilise the existing architecture of the city in new ways and offered various layers of experience—the terms 'interface' and 'encounter' were frequently used—accessible for "multiple levels of audience." Take the opening, a spectacular public event situated on a central grass square (the Padang), which managed to support both a swank invite-only marquee attended by the Prime Minister, as well as an open public party. It combined the pure spectacle of a 60-metre high floating sculpture of helium-filled balloons each with LEDs inside—Open Burble (2006) by Usman Haque—and Jenny Holzer's scrolling text projection on the walls of Singapore's former City Hall.
The artists in the Singapore Biennale hailed from 38 countries scattered across the world. More than half were from Asia, with 12 from Singapore (with Amanda Heng and Brian Gothong Tan gently parodying the biennale as a tourist event). Most of the artists were under 40, but the range extended to Japanese artist Yayoi Kusama. Her Ladder to Heaven (2006), glowing fibre-optic cables with mirrors attached above and below, shown at a Hindu temple, suggested a religious universality. In a critically self-reflexive vein at one of the Catholic churches, Cristina Lucas' My Struggle (2004) depicts a street preacher raving about art. Similarly fused with pathos, Lucas' More Light (2003), shown elsewhere, recorded the artist's confessional session with a priest, asking why the Church has abandoned its support of contemporary art. Meanwhile, on the banks of the river a 'miracle tree' rained periodically through the day as if by magic, in a poetic public installation by the Dutch artist known as IEPE. Everything in this biennale was precisely calculated for maximum impact.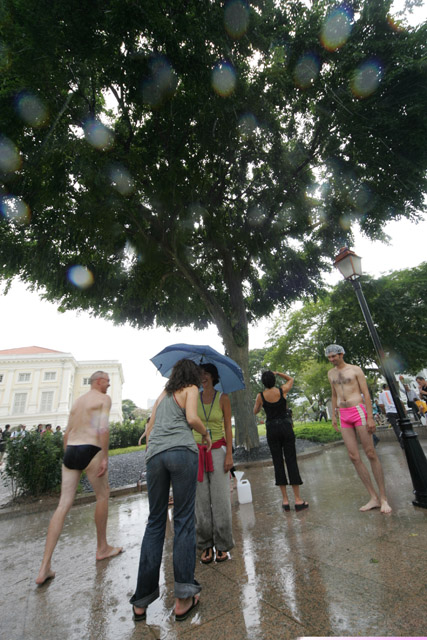 photo Jason Wee
Iepe, Singapore Miracle Tree
The Biennale also gave public access to some of Singapore's historic buildings for the first time (the event was co-organised by the National Heritage Board). One of the key venues, City Hall—the former Supreme Court building—was ceremonially opened by New Zealand artist Daniel Malone's Steal this Smile! :), a reenactment of a 1967 peace demonstration by Abbie Hoffman. Curators, artists, schoolkids and anyone else in the vicinity were provided with red and white netball-style singlets and held hands to 'levitate' the building (and by extension the Biennale itself). Inside, over 30 artists made installations in the former courtrooms, often responding to the almost overbearing site, with many pointing to the theme of justice. High points included Singapore artist Ho Tzu Nyen's The Bohemian Rhapsody Project (2006), an elaborately staged soap opera based on the lyrics of the Queen song, and South African Jane Alexander's bizarre installation featuring human-animal hybrids, red rubber gloves scattered over the floor and three hooded figures on trial for some unknown crime.
There was event as well as site specificity, with some artists responding to the coming IMF meeting. The Finnish collective YKON's M8 Summit of Micronations, Singapore (2006) directly parodied such meetings, with a video of 'leaders' laughing hysterically around a huge oval table. More earnestly, Tomás Ochoa's video installation, The Myth of Sysyphus (2006), showed people on the street in Morocco and Switzerland responding to the question "What are the last thoughts of a suicide bomber?"—with surprisingly tender insights. In the centre of the building, Rashid Rana's Departure Lounge (2006), a massive six-screen video installation simulating the view of the sky from a jumbo jet, suggested the paradoxical forces of mobility and stagnation within global events.
At the newly refurbished National Museum of Singapore Mariko Mori and Carsten Nicolai headlined a high-tech section of the Biennale. Nicolai's space-ship like sculpture, synchron (2005), combines architecture, light and sound; entering it is to experience space sonically. Mori presented a glowing glass tomb adjacent to a curatorial cluster that included a video, The Last Supper (2005), by Swedish artists Bigert and Bergström. This elaborate if heavy-handed documentary—featuring a chef recreating the last meals of prisoners on Death Row—was compelling in this context. Together with Japanese artist Makoto Aida's gory ritual suicide painting, Harikari School Girls, Jonathan Allen's beheaded Salome photograph, and Hiroshi Sugimoto's Last Supper photographs, this whole section came to be about execution—needless to say, a hot topic around Singapore. The inevitable question of whether works in the Biennale had been subject to censorship had been raised in the press launch (apparently there was some 'negotiation'), but here was proof of curatorial freedom—and of the apparently non-threatening nature of symbolic resistance.
The third key venue was Tanglin Camp, a maze of colonial buildings used for military training of both British and Singaporeans. This site featured a number of 'interactive' works such as Ana Prvacki's The Leap of Faith (2006), which required visitors to wear a strap-on magnet outfit and approach a metal wall, with predictable results. Otto Karvnen's Belief Board (2006) simply asked visitors to write down their fantasies and 'solutions' in an open exchange. Philip Brophy, officially the only Australian artist, didn't know the theme was 'belief' until he arrived to install his work—but his glam performance video Fluorescent (2004) looked and sounded spectacular. Another favourite here was Makoto Aido's hilarious The Video of a Man Calling Himself Binladen Staying in Japan (2005) in which the artist plays the terrorist leader drunk on sake. Meanwhile, fellow Japanese artist Takashi Kuribayashi provided some child-friendly magic, with works that involved putting your head up through a fishbowl to discover a view inside an aquarium.
There were Biennale experiences to be had almost everywhere on the island, from Hermès boutiques to housing blocks. Simryn Gill, listed as Malaysian, proved once again what a subtle artist she is, with a personal intervention into Tanjong Pagar Railway Station (an outpost of Malaysian territory in Singapore), producing a small publication for sale in a newsagency documenting the history of the site and its extraordinary colonial mural, combined with photographs of contemporary travellers.
While international curators and the well-heeled could take advantage of the series of Asian Biennales promoted in September (the Singapore-Gwangju-Shanghai package), the most important audience for the Singapore Biennale are of course the locals. With taxis plastered with advertising, and Kusama's huge red and white dots wrapped around the trees along the main shopping avenue (Orchard Road), the 4 million residents of the small island nation were certainly targeted. The Straits Times featured daily coverage, full page ads, editorial features and more. Australian artists and curators could only dream of such blanket positive coverage. I later learnt that the newspaper is part managed by the state and runs a 'non-adversarial' policy towards the government (one wonders which is worse: such a uniformly positive view of society, or Murdoch papers and their bigot columnists). In any case, breathless articles about the security measures for the IMF meeting ("fun facts") and the spectacle of the Singapore Biennale jostled side by side. In Australia we tend to conveniently forget the proximity of arts and culture to government propaganda, here politics and spectacle are one. And, not to forget shopping, an ancillary event revealed eight large sculptural commissions at Singapore's biggest new shopping complex, Vivo City.
If the Singapore Biennale was impressive as cultural policy, the overall quality of the art was nevertheless high. The world hardly needs another biennale, but who is to deny Singaporeans the pleasure of joining the circuit? Of course the notion of the biennale promises recurrence, and one of the talking points in Singapore was whether this will be an isolated event (remember the Melbourne Biennial), or an 'occasionale.' One hopes it will be judged an official success, "stimulat[ing] broader demand for visual arts in Singaporeans, further cultivating and elevating [local] appreciation for contemporary art and enhancing Singapore's cultural image as a progressive and attractive cosmopolitan city to live, work and play in." Even if we're uncertain about some of the hype, we can always believe in the art.
RealTime issue #76 Dec-Jan 2006 pg. 52-
© Daniel Palmer; for permission to reproduce apply to realtime@realtimearts.net