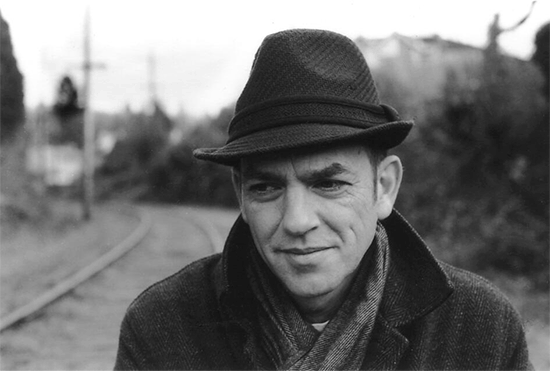 Flipbook sequence from Portraits in Motion, Adelaide Festival of Arts 2017, Volker Gerling
Pre-performance, Volker Gerling paces the width of the Radford Auditorium. Perhaps the distance covered here will be added to the 3,500 kms Gerling has already walked, mainly in Germany, every summer commencing in 2003. Over this time, and at the "leisurely pace of a walker" he has assembled a series of black and white photographic portraits of people he's met along the way, gradually turning the images into small flipbooks. He subsequently assembled them into an exhibition of what he calls "flipbook thumb cinema" and now into a stage show, Portraits in Motion. Gerling is a film scholar so I guess the documentary is not far off.
Gerling moves to a microphone; a tall table stands alongside holding his flipbooks and a small video camera positioned to project the images onto a large screen centrestage. He's affable and precise in his delivery and, in the manner of much work matching personal photographic images with solo narration, his performance is undramatic. The power of the work emerges slowly as he lovingly selects and animates each of his flipbooks, often more than once and at varied pace, at the same time sharing casually intimate details of the encounter between photographer and subject.
Gerling tells us that the people he chooses for his "documentary portraits" are generally not expecting the 12 seconds it takes to capture them in his lens, nor the 36 frames that will later constitute a tiny analogue film and therefore they "react spontaneously." These reactions range from amusement to mild embarrassment and occasionally suggest some secret thought or desire. At a time when people are well and truly rehearsed in their responses to the ubiquitous camera, even an unconventional one, whether this candour can be read as "true and real" as claimed in the program notes is less certain.
Some encounters are clearly more charged than others. Among many charming portraits is one of a mother and daughter. What Gerling has captured in this "document" is suggested only on a second viewing of the sequence once we've heard Gerling's account of a conversation with the two in which the older woman confesses concern for her adventurous daughter's future.
photo Franz Ritschel
Volker Gerling, Portraits in Motion, Adelaide Festival of Arts 2017
In other series, a spontaneous action on the part of the subject turns the tables. A woman sitting in a bar defiantly removes her top. Two teenagers steal a kiss while a third looks disconcerted by it. I was especially taken with the series featuring two young boys sitting beside a river holding fishing poles, who remained disconcertingly motionless as the pages flipped. All that moved was the grass behind them.
Finally, Gerling moves on to some more familiar lapse experiments: the moon moving across the night sky; a new candle illuminating a café customer extinguished in 12 seconds; the high speed choreography of men in a public urinal, all keeping their distance.
More intriguing than claims of documenting reality is Gerling's suggestion that his technique heightens the sense of time as flexible and that the gaps between images add to his subject's fleeting gestures an undefinable power. "What we see," he says, "comes from what we do not see."
This year's Adelaide Festival featured works of grandeur (Saul, Richard III) alongside challenging intimate pieces such as Portraits in Motion. Later the same day, Silvia Calderoni's startling solo, MDLSX combining personal and fictional tales of transgenderism, fusing family video with DJ-ing and an unguarded performance presence, managed to bridge that divide.
–
Adelaide Festival, Portraits in Motion, Volker Gerling, Radford Auditorium, 11 March
RealTime issue #137 Feb-March 2017
© Virginia Baxter; for permission to reproduce apply to realtime@realtimearts.net