Thinking twice about seeing Manifesto? Just another time-devouring video work? I think it's a should-see, not just for Cate Blanchett's virtuosic rendition of multiple roles in multiple guises; not just for its deeply ironic juxtaposition of 20th century art idealism and deep-seated 21st century cynicism; but also for Julian Rosefeldt and collaborators' dexterous filmmaking, from intimate scenarios to the vast sweep of the camera work, synthesising a photographic and cinematographic vision while realising an effective, syncopated screen installation.
Experience tells you that, attracted to a screen work shown in a gallery space, you might stay with it for a while, possibly engrossed, but eventually wonder just how long it will play. The back tires, there's no seating. You lean against a wall. You squat. You drift to the information plaque, one eye still on the screen, and sigh as you read "30 minutes" or gasp at "70." And where are you anyway—at the halfway mark, near the end? Can you afford to wait for the beginning in order to make sense of the whole, knowing that non-narrative works have other kinds of organic cohesion. If you encounter a series of short works—10, 15, 20 minutes—how many can you attend to and jockey for space to see clearly amid the casual comings and goings of those not immediately seduced?
If you commit to Manifesto at the Art Gallery of New South Wales, knowing in advance (I'm telling you now) that you'll need some two hours to take it in, you might just be convinced that the showing of video art and film in gallery spaces can work. Here, with 13 large screens spread across four spacious rooms, the length of each film, at 10 minutes, feels just right and the interplay of sound magical at certain key junctures. There are benches and well-illuminated, concise information panels. Few gallery-goers dash through; most seem to slow to the pulse of the films.
Blanchett realises her characters with incredible specificity, for example her exquisite manipulating of a puppet made in her own image—to her voiceover of Andre Breton's First Surrealist Manifesto of 1924—in a room full of beautifully crafted puppets (puppet master Suse Wächter) of many of the world's most famous people. Elsewhere she appears to drive the machinery in a massive indoor waste facility with convincing ease. There's also humour when Blanchett doubles as newscaster and weather reporter or plays an elegantly obnoxious old-school 20th century choreographer to a 21st century dance work featuring a Busby Berkely-ish cast of glittering female aliens. Most chilling is her portrayal of a dictatorial middle class mother reining in her family over the dinner table while transforming a light-hearted 1961 manifesto from Claes Oldenburg into dogma.
Manifesto's cinematography is special. In vast locations—the garbage tip, a stock market, an industrial wasteland—fixed shots, slow pans and tilts recall the breadth of vision of photographer Andreas Gursky. A huge, golden anechoic chamber and a vertiginous, pastel-tinted circular ramp feature in settings with an ominous futuristic feel. Others are banal—a bourgeois home, a humble worker's apartment, tellingly no different from their 20th century incarnations.
Initially, competition between the soundtracks is distracting but the spatial design is such that proximity to each screen provides clear focus while allowing the mass of manifestos to burble in the background like a 20th century art crowd. There's a wonderful moment in each room when—often with Blanchett directly facing viewers—three or four voices fall into synch with their own words but beating together like a song from a Robert Ashley opera. It's as if there's a sudden choral unanimity of passion, belief and intention, summing up an era before each manifesto returns to its idiosyncratic preoccupations.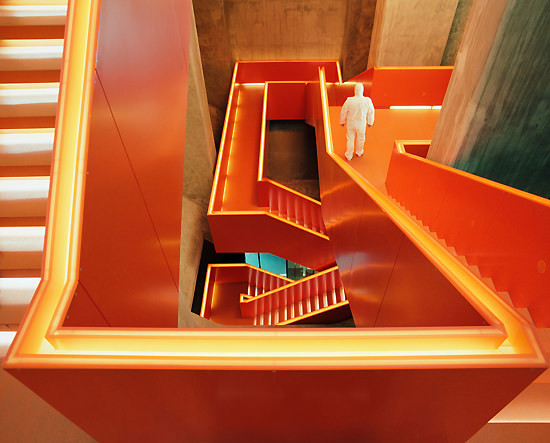 Manifesto
Recalling Manifesto is like having seen a movie, its episodes coalescing into an affecting totality. Like many a feature film it has scale and a huge number of credited artists, collaborators and co-producers (largely European plus ACMI and AGNSW). Some of you might find it sleek, overblown, more cinema than video art and politically vague. You can read Andrew Fuhrmann's ultimately disapproving review for RealTime or the many others available online including Christopher Allen's response for The Australian which pinpoints the way in which the power of 20th century art manifestos (some wonderful, some bizarre) is undercut by scenarios of 21st century sterility and danger. At the end of an interview (with excerpts from Manifesto), Julian Rosefeldt declares that artists need once again to be politically active. Presumably he sees Manifesto as a call to action, revealing passions that have been lost or, if barely still with us, unlikely to survive environmental and financial disasters and cultural dumbing down. Clearly, Manifesto is not intended to be simply a celebration of braver times than our own; rather it stands as witness to substantial differences in attitude to the arts between the centuries and to the challenges that now confront the making of pervasively political art.
In an interview with ACMI curators, Rosefeldt sees the art manifesto's of the 20th century as enduring:
"…not just relevant, but also visionary. Art history is a derivation of history and we learn from history. Artists, as well as writers, philosophers and scientists, have always been the ones who have dared to formulate thoughts and visions whose consistency had yet to be proven. The John Reed Club of New York—named after the American communist and journalist John Reed—of which many artists and writers were members, published a Draft Manifesto in 1932, in which a scenario of a capitalist world order run out of control is described. It reads as if it were written yesterday. We're well advised, therefore, to read artist manifestos as seismographs of their age."
–
Manifesto, artist Julian Rosefeldt, Art Gallery of New South Wales, Sydney, 28 May-13 Nov
RealTime issue #133 June-July 2016
© Keith Gallasch; for permission to reproduce apply to realtime@realtimearts.net