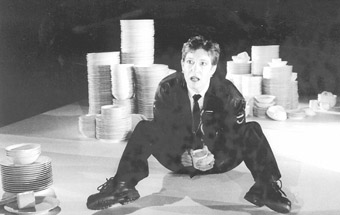 photo Eric Algra
Kate Roberts, Jennifer in Security
Australia's national women's theatre company has taken a leaf out of Chekhov's dramaturgy. Like one of his monologues it delivers its satire with puns, outbursts of mania and direct address. There is also a simple but effective suspense. Instead of a gun being introduced in the first act and begging to be fired by the third, it tempts the audience with a set constructed of hundreds of gleaming, neatly piled, fragile pieces of china. Jennifer may work in a shopping mall and be in Security, as her phallic uniform proclaims. But she is the bull in that china shop as well as the toreador. By the time she has manifested a body of personalities ranging from members of her nagging family to Indian shopkeepers and advisors on the political situation in Dubai, she is ready to swing her baton and let fly. The audience at the performance I attended was so delighted that they asked her to do it again.
Director Catherine Fitzgerald has brought the company a long way towards intimacy with spectators and their environment. Noëlle Janaczewska's inventive text, for example, was originally written with a Sydney backdrop. At the company's base in the Port and now in the old Odeon cinema at Norwood, it resonates with Adelaide references. Fifty metres down the street are shopping malls overflowing with crockery, alive with the teenagers and pensioners who might be from Jennifer's own neighbourhood. There's even a tortoise in the petshop. Her ingenious movement into the play provoked giggles of wonder.
There were many special dimensions to this performance. Kate Roberts slides into the script as if it were written for her (it was). Like a medium, her skill lies in giving each new character an immediately identifiable indicator to demonstrate his or her presence, the swing of a key-chain, the tug of a coat. Because a large section of the auditorium was filled with Auslan users, a signer gracefully stood behind Roberts and shadowed her entire text. The set took its cue from the kitchenware, a serviceable white square whose corners and intersections marked Jennifer's pursuits and excursions beyond the mall.
The forum afterwards was a relaxed epilogue that allowed the audience's curiosity to be satisfied and the company to cement their presence in this precinct of temporarily gathered shoppers. Insecurity may be allowed to peep through the imaginary characters. As theatre the company has its feet surely planted on the ground.
Holy Day comes after, and obliterates, any notion of a happy Silent Night. Rosalba Clemente's production forcefully justifies her program of lengthy Theatre Lab workshopping. With a cast of 8, and growing confidence in pace and blocking, she plays Andrew Bovell's ambitious text from silence to crescendo. It is always a pleasure to hear an authentic new voice in the theatre, and Bovell's is already responsible for several fine scripts, including the film Lantana. Here he writes with a genuine sense of mystery and tragedy. Rather than reciting the plot, therefore, I can best serve this work by attempting to give some idea of its atmosphere.
In a mid-19th century travellers' refuge on the edge of the desert, 2 white and 2 Aboriginal Australians tell their conflicting and equally atrocious stories. Isn't this, after all, what constitutes history and the attempt to represent it? Even the best playwrights use metaphors, cadences and journeyman entrance/exit speeches that refuse to come alive until pushed to their limits. Not all the actors are strong enough to bear the weight of their lines, though Kerry Walker's Nora and Rachel Maza's Linda succeed with the economy and timing of a chronometer. Polemic and metaphysical, the play is rarely a sermon. Its questions are too painful. Rather than setting up a hierarchy of good and evil, Bovell should have left them that way. This production has brought out elements that make some words and actions unnecessary. The author might wisely consider cutting or rearranging them.
Cath Cantlon's set is stark and classic. The single raked floor curls just slightly where it meets the horizon line. With the cyclorama descending but never quite touching, it suggests a vast chart. Downstage action is confined to the thrust, where Cantlon's typical frugality creates the pub's interior with chests, and benches that look as if they have supported outback Europeans for a century of storms and desert dusks.
Though the space seems empty, boundaries have subliminally been traced. TERRA NULLIUS appears in copperplate letters, and the ground is marked like the ghost of an ordinance survey with a deluded name: FinePlains. Clemente seizes this map to establish the shifting boundaries of the stories. Blackfella's land becomes fenced. The only waterhole is cut off. Christianity threatens animism, replacing the Southern Cross with a blazing crucifix. In hoc signo…what? Shall you conquer or be like a child lost in the wilderness? The perennial national doubt is shot through with Bernie Lynch's eerie soundscape, fading a human scream into the cawing of a crow. The enforced communality of different people trapped in a single environment has always been the stuff of great tragedy. The House of Bernarda Alba and Riders to the Sea show how electrifying this condensation can be. It is greatly to Bovell's and the State Theatre Company's credit that they have entered this area instead of remaining safely with comedy, irony or melodrama. There are moments when you might indeed be in the Abbey with Synge or with La Barracca and Lorca. Australia has fought shy of depicting tragedy except in painting, poetry and the novella. Differences overwhelm us, differences between men and women, black and white, straight and queer, convict and free. If Bovell hasn't yet managed to open these states into a continent, this excellent production remains a vision of it.
Jennifer in Security, Vitalstatistix, writer Noëlle Janaceszewska, director Catherine Fitzgerald, Norwood Odeon, Aug 21 – Sept 8; Holy Day, State Theatre Company of SA, writer Andrew Bovell, director Rosalbe Clemente, Adelaide Festival Centre, Adelaide, Aug 21- Sept 5
RealTime issue #45 Oct-Nov 2001 pg. 37
© Noel Purdon; for permission to reproduce apply to realtime@realtimearts.net