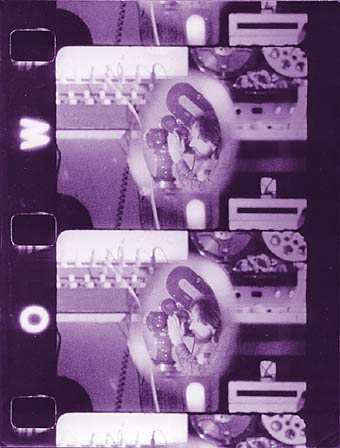 Crosswaite, The Man with the Movie Camera
The insertion of a major retrospective of experimental films from the U.K., Shoot! Shoot! Shoot! into the Melbourne and Brisbane In International Film Festivals brings into focus the way marginalised work is received and perceived here, how it relates to our own history and also triggers current concerns about technical resources.
Mark Webber, freelance film curator and writer (and guitarist with British band Pulp) sifted through hundreds of 60s and 70s 16mm films from the London Filmmaker's Co-operative (LFMC) to curate Shoot!…. After taking 2 years to assemble, the films were initially screened at the Tate Modern in May this year. Webber was a guest at both Australian festivals.
The selection, he stated, is by no means definitive but does fairly represent the period. Some of the better known works have been overlooked in favour of the rarely seen. Those of us starved of access to films from this era from the National Library of Australia's National Film and Video Collection (once accessible, for example, through the National Cinematheque and Experimenta screenings, and those organised and researched by Peter Mudie over the years) certainly appreciated this approach. In Melbourne, where I saw Shoot…, Experimenta presented the single screen films at Greater Union Russell Street as part of MIFF and the Multi-Screen Events at gammaSPACE in Flinders Lane.
Though some of us were re-visiting this subversive artist-centred era of cinematic practice, the bulk of the audience seemed to come to this work for the first time. Hopefully, for them, the program put some of the current concerns in new media about speed, repetition, structure and collage within an historical perspective.
gammaSPACE most closely replicated the intimate and transient spaces where such works first surfaced. There the audience responded disarmingly and directly to Anthony McCall's Line Describing a Cone (1973 30min b&w silent). This film was simply a white circle drawn slowly over 30 minutes on a black background and projected through a smoke generating machine. The cone which thus materialized was touched, broken, examined and delicately interacted with by the audience, enveloping them into the film's performance.
There was also a panel discussion at the MIFF Festival Club where Webber was joined by Simon Field, Director of the Rotterdam International Film Festival, and Simon Gammell, Director of The British Council (Australia). Talk was nostalgically centred around the empowering energy of independence, its politics and the artist-based nature of the self-contained LFMC which incorporated production, distribution and exhibition under the one roof.
The rigour of the Marxist theoretical stance emanating mainly from the writings of Le Grice and Gidal, the oppositional, formalist and conceptual nature of the work was at one point described reverently as Anti-Film. Such a comment underscores how "film" continues to be defined from the theatrical /story-telling end of the filmmaking spectrum, its dominant entertainment arm. It is worth looking at ES Small's Direct Theory: Experimental Film/Video As Major Genre (Carbondale, Southern Illinois Univ. Press, 1994 ) for an argument that such marginal experimental filmmaking is a form of theorizing in and of itself. Even more important is looking at the films themselves, given that so much has been written about them over the years.
Even the films presented in the section entitled "Structuralist/Materialist" were experienced as quite unassuming, delicate, playful, open and inviting. Unlike the theoretical/political discussions around them these films do not in themselves deliver any sense of ranting rhetoric. The program delivered a sense of a vulnerable human conversation between equals.
Shoot… allowed me to re-experience the pull of that film community, that international yet local film project. Each film in this program was like a sentence about film made in conversation with the surrounding work. Artists were talking to each other and their audience about film through film: as texture, flicker, material, repetition, crackle, time, landscape, dance, diary, multimedia, performance and so on.
This was a conversation into which many of us coming into film at that time felt unassumingly drawn. Many Australian filmmakers including Corinne and Arthur Cantrill, James Clayden, Marcus Bergner, John Dunkley-Smith and Albie Thoms were marked by such an impact and in their travels their work has found its way to a screening at the LFMC. While in London Dunkley-Smith collaborated with Guy Sherwin (represented in Shoot… by At the Academy (1974, b/w sound 5min). More needs to be made of such connections when importing blockbuster programs from overseas. Sure, this LFMC film work is outside the main game but here in Australia the local work experiences the schizophrenic reality of being outside the outside. Perhaps this is no different to those who came after this acclaimed "golden age" at the LFMC itself. As former transitional Londoner Paul Rodgers pointed out to me, that group has had to fight for the survival of the co-op itself as they watch their own work get marginalised even further.
My experience of the program was positive, though there were disappointments. Mark Webber himself was understandably affected by some of the unfortunate technical incidents that occurred during the Melbourne screenings. This culminated at gammaSPACE with him withdrawing David Larcher's Mare's Tail (1969, colour, sound 143 min) from the program after the projector's take-up reel failed. It was a pity because the only other screening in Melbourne of this film had been in the mid 70s at a seminal screening of British Avant Garde film at the Melbourne Filmmaker's Co-op in Lygon Street (yes, we used to have an artist run film co-op here too). Experimenta's Executive Producer Fabienne Nicholas pointed out that it was a hard decision to cancel the screening but given the difficulty of sourcing acceptable film equipment it was prudent to not risk damage to a precious, stretched 30 year old film print.
We are indebted to BIFF for getting such a demanding and satisfying program to Australia, and to Experimenta and MIFF for getting it to Melbourne. Yes, it is disappointing that technical issues relating to projecting film in gallery settings remains an issue here. This is despite film's growing importance within fine art communities internationally. It should be a solvable issue given the growing technical complexity of new media performance and installation amply evident at Prototype, an exhibition of New Media installations at another successful Experimenta presentation (see Lisa Gye).
Nor was the MIFF immune with some of the films in the final Diversifications section of Shoot… having to be shown silent because of equipment failure. It is hoped that Festival Director James Hewison, who has delivered a very successful festival, will show the leadership necessary and persevere in screening experimental work. As the festival discussion panel on 'Global Film Culture' noted, experimentation and the retrospective could be 2 of the stated cultural objectives of a progressive film festival.
Shoot! Shoot! Shoot! ,Brisbane International Film Festival; Experimenta, Melbourne International Film Festival & gammaSPACE, July 2002.
RealTime issue #51 Oct-Nov 2002 pg. 33
© Dirk de Bruyn; for permission to reproduce apply to realtime@realtimearts.net