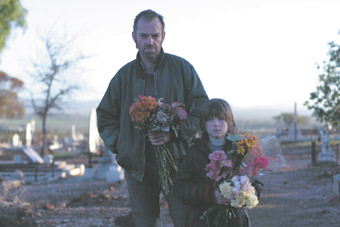 Hugo Weaving, Tom Russell, Last Ride
GLENDYN IVIN'S FIRST FEATURE LAST RIDE, WHICH PREMIERED AT THIS YEAR'S ADELAIDE FILM FESTIVAL, CATCHES THE WAVE OF HIS EARLIER EXPLOSIVE SHORT FILMS. HIS DARK LITTLE DRAMA, CRACKER BAG, SOARED TO THE GREATEST HEIGHTS A SHORT FILM CAN GO, WINNING THE PALME D'OR AT CANNES, A SPECIAL MENTION IN BERLIN AND DENDY AND AFI AWARDS. HIS FOLLOW-UP, THE DESERT, WAS ALSO NOMINATED FOR AN AFI AWARD.
Last Ride (based on the NSW Premier's Award-winning novel by Denise Young) is a road trip through some unusual and majestically isolated South Australian landscapes, featuring a rough-as-guts Hugo Weaving as father Kev, on the run with his naive but on-the-cusp 10-year-old son Chook (Tom Russell), who just wants to stay put, longing for some sense of stability in his fragmented life.
From the opening scene—an industrial landscape of broken cars, where a lanky-haired kid in a too-big cap plays hide-and-seek with a gun—Ivin delves into the legacy of violence passed down the generations between fathers and sons, his film joining a recent spate of Australian features exploring the internalisation of male aggression: The Square, Ten Empty and Three Blind Mice. Kev is the victim of his own father's neglect and rage. Although he tries to control it, he revisits the damage on his own son. Ivin's exploration of this is sensitive and tender. Kev is doing his best with limited resources. The film cleverly holds back key information that will turn our judgement of Kev on its head. Central to this, and revealed in flashbacks, is Chook's ambiguous relationship with Max (a memorably subtle performance by John Brumpton). Max gives the boy a toy car he always carries, bathes him at night, takes on a more caring father-figure role (or so we think).
But as the film starts to reveal cracks in the landscape, our heart aches for Chook, such a beguiling and sweet boy, as we imagine him hardened by adult betrayals, adjusting to deal with the cruelties and contradictions of the situations he is negotiating daily. As Ivin intends, we wonder how boys like him will end up. But for now, Chook is prepared to ask the hard questions of any adult he finds, to "roll on [his] back and float" when the going gets tough. We hope he stays in that place. But as the landscape becomes more and more impenetrable, we doubt it.
Rolling out languidly, the film sustains great dramatic tension alongside piercing beauty, with gently jangling guitar strings, particularly reminiscent of Wim Wenders' work, especially the lingering pathos of Paris, Texas where characters drift through landscapes. There are continual reminders of nomadic lives: Kev claims to have Afghani and Aboriginal blood; he and Chook squat overnight in an Afghani museum where the boy steals a 'magic' vest for protection; Chook wakes up to a camel licking the front windscreen. Ivin has the confidence to use just the necessary words, the silences cleverly capturing a child's view of a world he doesn't completely understand. I'm reminded of Streeton's Golden Summer painting and Frederick McCubbin's Lost as the pair camp by a river surrounded by glorious, dead stringybark trees (a seething white mass sculpted to the sky) that dwarf boy and father, becoming a disenchanted forest.
The film's pivotal moment, where Chook is abandoned in the middle of a lake containing just a few centimetres of water, trudging in an eternal shimmer to the horizon, is truly frightening and visually breathtaking, and makes you want to eat up the landscape whole. All of it reminds us of bigger issues too, the rivers and lakebeds drying up, a planet running out of water. But Greig Fraser's unique cinematographic vision (and clever use of pull-focus) never distracts from the characters' escalating tension; it becomes a true part of them. As Ivin notes: "I had already looked in Queensland, and we had been to Broken Hill and beyond on a writing trip, but everything I saw in South Australia just blew me away so we adapted the film to work around this new terrain. A little like how you might develop and rewrite characters after rehearsal, I would go out and find locations and then come back and work them into the script with Mac [Gudgeon]. In this way the script remained quite open and organic right to the very end."
Working with the same tight-knit creative team as on his short films, Glendyn Ivin has unveiled an exquisitely crafted first feature with all the elements expertly woven and taut performances by Hugo Weaving and first-timer Tom Russell. It should be a hit on the international festival circuit. Let's hope Ivin doesn't join the rank of talented filmmakers taking too long to get a second film up and running (like Cate Shortland and Ivan Sen, to name just two of many).
Last Ride, director Glendyn Ivin, producers Nicholas Cole, Antonia Barnard, screenplay Mac Gudgeon, director of photography Greig Fraser, production designer Jo Ford, editor Jack Hutchings, composer Paul Charlier; opens nationally July 2
RealTime issue #91 June-July 2009 pg. 24
© Kirsten Krauth; for permission to reproduce apply to realtime@realtimearts.net