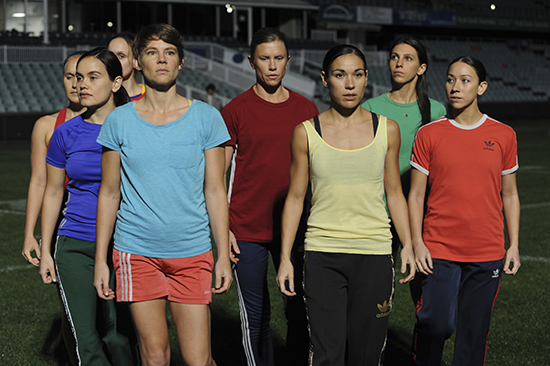 photo Heidrun Löhr
Cast of Champions, FORM Dance Projects
An opening confession: this writer knows nothing about sport and often finds the very sound of sports commentary mildly repellant. However, like many sports-obsessed art lovers, Champions choreographer Martin del Amo is betwixt and between. He tells me, "When I open the newspaper, I am torn between the sports pages and the arts entertainment section. Then of course there is the gossip column that probes the ins and outs of both worlds."
Celebrity gossip—titillating hearsay and tall tales—is an important facet of the public's attraction to sport, according to del Amo. He notes that a professional sporting match begins with the 'before hype,' involving scrutiny of the players and coaches, their recent form, performance record and in some cases their personal lives. By spinning conjecture and multiple predictions, the spectator's interest is snared long before they even book their tickets to the match. The speculative dissection of a player's reputation, and of course the heightened physical stakes of the game itself, an almost 'life and death' aspect, as del Amo emphasises, are integral to making sport accessible to a diverse public.
Bolstered by increased arts funding in Western Sydney and aware of arts/sport disparity, Champions' producer, FORM Dance Projects, is keen to participate in an outreach type program to cross-fertilise between different groups, such as a highly visible football club and a burgeoning dance community. FORM approached del Amo in 2015 with the hybrid concept for Champions already in the incubation stage. What followed was the assembling of an unbeatable crack squad of fellow artists, designers and consultants.
The team
For the creation of Champions for the 2017 Sydney Festival del Amo has gathered an impressive line-up of 11 dancers, an all-female cast who are in their prime and at the top of their game (excuse the football analogy). The size of the cast alone is a rare feat for a local dance work and these dancers bring with them a diverse and complementary range of experience and expertise. The ace team will be graced with a mystery mascot, and they have received advice and coaching from some of Sydney's top sporting players—the women from Western Wanderers W-League. Even some members of the Matildas dropped in to deliver a pre-match pep talk. (For those who, like me, are less than sporty, the Matildas are our national women's football squad).
Del Amo particularly picked up on their professional sports psychology advice on the concept of 'winning the moment' and he sees this approach can be usefully applied to a dancer's focus on being 'in the now.' Onstage, as on the field, each play, each move, requires full attention and it is important to see that each and every moment is as strategically important as any other.
Moves & strategies
The building of a new gestural or choreographic vocabulary can be a choreographer's holy grail, and there are a few unique ingredients in the formulation of the Champions' lexicon. Apart from del Amo's evident interest in the sporting world, this sport/dance crossover undoubtedly had its origins in his exchange with soccer playing performer Ahilan Ratnamohan, who is the project's training consultant. (His 2009 groundbreaking work Football Diaries, made with Lee Wilson and UTP, brought Ratnamohan's story and deft dance-like moves to the attention of the contemporary performance scene.) In 2011 in the lead-up to their collaboration, Mountains Never Meet, del Amo and Ratnamohan traded moves and training methodologies. While Ratnamohan offered the agile footwork and swift direction-changes of soccer, del Amo countered with Body Weather's MB (muscle and bone/mind and body) practice. Coincidentally, many MB moves are derived from Body Weather founder Tanaka Min's basketball training.
photo Heidrun Löhr
Cast of Champions, FORM Dance Projects
Woven into the mix, influenced by European conceptual dance artists such as Xavier le Roy and Jerome Bel, is del Amo's ongoing exploration of 'reduced' movement, where choreographies are often created by simply walking at different speeds combined with a grammar of spare repeated gestures which reconfigure—in the space and the audience's imagination—through patterns built over time into a kinetic composition of accumulation and palimpsest. Like his other choreographic heroes Pina Bausch and Alain Platel, del Amo is interested in exits and entrances, overlapping actions and multifocal points of action and attention. "Now at last I have a group large enough to play with these strategies," he says. Bringing his usual cool cerebral approach together with the blood-pumping character of the sports arena promises a potent confluence. With the luxury of 11 high-powered dancers and the gathering force of some excellent collaborators there is the potential for composition that slides between minimalism, populism and post-postmodern complexity. I just hope the in-game sports commentator, Seven Network sports presenter Mel McLaughlin, can keep up!
Extremes and agonies
Del Amo and I ruminate further on where the edges blur between 'elite' athletes and 'elite' dancers, particularly in their cultivation of essential modes of preparation for the body and for the mind. Both groups train their bodies intensively, both take direction from outside experts (coach, director, health professionals), both are likely to suffer performance anxiety or pre-match nerves, both engage in physical and psychological warm-ups, both require intense dedication to their chosen pursuit. Dancers, like athletes often push their bodies to extremes and are liable to sustain injuries. Notably though, as del Amo points out, "the visibility of difficulty and success is entirely different in dance." Dancers are much less likely to be rewarded for showing pain or incapacity and will often dance on stoically after a stage injury, hiding their agony. On the other hand, sporting matches are sometimes closer to gladiatorial contests; spectators love a bit of biffo and will valorise a player who fights on despite a dislocated joint, tendon strain or a spray of blood and mud.
Imagine this…
As the lights go down on Champions in Carriageworks' enormous Bay 17, exhausted sweat-soaked dancers limp from the stage, a few visibly in pain, blood seeping from open wounds, the odd bone fractured and ligament torn. The audience are on their feet. Some of the volatile crowd are booing, some cheering wildly, chanting their favourite's name amid whistles and catcalls. There is a media scrum backstage. "How did that go for you?" Flash of cameras. "Did you do enough preparation?" "Was it tougher than you expected?" There is sweat and there are tears. Reporters question the breathless dancers and the overwrought director before speaking directly to camera with their analysis of the performance. The forensic examination of dramaturgical fault and/or conceptual victory, alongside commentary on the dancers' presence and their gestural virtuosity, continues for days if not weeks in the press and on social media. This is the usual scenario after a contemporary dance work. Isn't it?
photo Heidrun Löhr
Martin del Amo
Sydney Festival, Champions, Carriageworks, Sydney, 17-21 Jan
Champions, director Martin del Amo; Associate Artist Miranda Wheen; performers Sara Black, Kristina Chan, Cloé Fournier, Carlee Mellow, Sophia Ndaba, Rhiannon Newton, Katina Olsen, Marnie Palomares, Melanie Palomares, Kathryn Puie, Miranda Wheen, commentator Mel McLaughlin,dramaturg Julie-Anne Long, composer Gail Priest, video design Samuel James, lighting Karen Norris, design Clare Britton, training consultant Ahilan Ratnamohan, executive producer Annette McLernon, producer FORM Dance Projects
RealTime issue #136 Dec-Jan 2016
© Nikki Heywood; for permission to reproduce apply to realtime@realtimearts.net