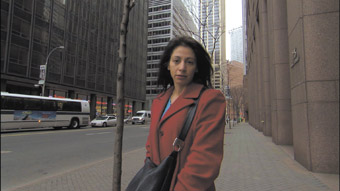 Norma Khouri in New York, Forbidden Lie$
AUSTRALIAN DOCUMENTARY FILMMAKER ANNA BROINOWSKI HAS A HISTORY OF TAKING ON THE STORIES OF STRONG AND CONFRONTING WOMEN. IN HELEN'S WAR (2004 AFI AWARD WINNER FOR BEST DIRECTION IN A DOCUMENTARY) SHE GETS TO THE HEART (AND HEAD) OF PHYSICIAN AND ANTI-NUCLEAR CAMPAIGNER HELEN CALDICOTT (SHE'S ALSO HER NIECE). WITH FORBIDDEN LIE$, SHE HAS AN ENGROSSING READY-MADE MYSTERY AT HER FINGERTIPS: WHO EXACTLY IS NORMA KHOURI? IS SHE A CON OR AN ARTIST (AS THE PROMOS ASK THE AUDIENCE)? AND DID THE EVENTS THAT SHE DETAILS IN HER BESTSELLER FORBIDDEN LOVE—AN APPARENTLY TRUE STORY ABOUT A JORDANIAN 'HONOUR KILLING'—REALLY
HAPPEN?
Forbidden Love reads like a Mills and Boon romance of two star-crossed lovers: a dashing army hero and a pretty damsel in distress. It never sat right with me as autobiography or even as a recreation of real events. Stylistically it's a Hollywood blockbuster transposed to a hairdressing salon in Jordan, dressed up as melodrama and, finally, horror as Dalia (the damsel) ends up murdered by her brothers and father. The dialogue is excruciating and the descriptions fail to create any real sense of place, but there's no doubt it's a page turner, and that many readers loved it. It also worked to fuel a sense of outrage—that women are still being treated this way—and fed into the current Western trend of positioning the Islamic community and their beliefs as morally and spiritually questionable and/or Arab Muslim men as embodiments of evil. Through all the drama, Khouri places herself firmly in the middle of the story—as the loyal friend willing to risk her life so the lovebirds can escape and live happily ever after—which, judging by Broinowski's observations, is Khouri's favourite place to be.
At the start of the film, we are introduced to Norma Khouri as she reads from her book, sitting in a white minimalist set where the windows have been painted on. As her words and voice linger, we zoom through the faux-glass into windswept desert sand. High-blown and arch, her narrative of Dalia—best friend since childhood—soon begins to drift, like those quickly disappearing footsteps wandering up into the sand dunes. From this brilliant beginning, Broinowski plays with poetic devices and metaphor throughout, and uses a great selection of music, like Sade's classic 80s hit Smooth Operator, to highlight the possibility that Khouri might not be all that she appears.
But this ambiguity just seems to add a dollop on top of the woman's already intense charisma. It helps that she's gorgeous and gregarious, a natural in front of the camera; she looks straight down the barrel of the lens. Footage from the Byron Bay Writers Festival shows her treated like a rock star; the crowd want to touch her—"if there'd been music, I would have been in the mosh pit." But with Broinowski now playing the detective you sense Khouri's met her match. This filmmaker knows all about layers of manipulation and it's intriguing to watch her tread a careful line between encouragement and scepticism as she tries to get to the nitty gritty, find some grain of truth. Like her subject Broinowski is in a gradual process of hiding and revealing what she knows (both to Khouri and in the way she structures the film) and at its best the film becomes a kind of bike race, the women hovering just in and out of each other's sights, taking off in spurts and starts, slowing then waiting for that split-second moment to start the Olympic sprint.
As Broinowski convinces Khouri to travel back to Jordan to help sift fact from fiction, the filmmaker starts to get the upper hand. We meet a parade of historical experts, human rights activists, journalists (like Australian novelist Malcolm Knox, who initially exposed Khouri as a fraud) and Jordanian women going about their daily lives, who reel off lists of dates, locations and local beliefs that start to jar: a woman would never cut a man's hair at a unisex salon; a certain brand of cigarettes hadn't then been introduced into the country; the hotel chain, Hyatt, was still under construction; many women can travel alone without male escort—revealing Khouri's writing to be, at best, historical fiction; at worst, a series of cliches wrapped up in great packaging in a bid to make a quick buck. On the ground in Jordan and increasingly under pressure on camera, Khouri says, "I don't want her [Dalia's real] name in the limelight. Everything here is smoke and mirrors."
But, still, Khouri refuses to admit that her work is faction, or to call it a novel. Her refrain is that it came out of a promise to Dalia (at her gravesite) that her death would not be in vain. Khouri repeatedly states that her vision is to increase international awareness of the mistreatment of women in Jordan and encourage political pressure so that it does not keep happening. But although Khouri claims to send funds received from her book to charities fighting for women's rights in Jordan, as with all her other leads, Broinowski can't find proof of any philanthropy either. It's all about controversy—and controversy sells. In a poignant moment, the killing is recreated for us with Dalia in bed repeatedly stabbed by her brother, a mindless knife attack in a frenzy of blood and chaos. And just as the horror has reached its peak, the girl sits up and laughs, pulls out a pillow that's borne the brunt of this violent act, throwing us from real life to artifice in a split second. Just another actor working for the camera.
Which brings us to Norma Khouri's 'Oscar-winning' performance. As she takes us and the filmmaker into her labyrinth of hidden lies and half-truths, we leave the book behind on the shelf, a curiosity to ponder along with Helen Demidenko's The Hand that Signed the Paper. A Chicago cop on Khouri's case reveals that a con artist likes to rub their victim's face in the faeces of the crime; if Norma Khouri admitted her book was a fake there'd be no more story to tell. So here she is, still smiling for the camera as she strides down a New York street, bright red coat wrapped around her as if she's just stepped off the set of Sex and the City—confident in the knowledge that while we may not know what's fairytale and what isn't, if she keeps this up she just might get away with it. And if Broinowski knows any diffferent, she's not letting on.
Forbidden Lie$, writer, director, producer Anna Broinowski, cinematographers Kathryn Milliss, Toby Oliver, editors Alison Croft, Vanessa Milton, producer Sally Regan; nominated for the 2007 AFI Award for Best Documentary.
RealTime issue #82 Dec-Jan 2007 pg. 21
© Kirsten Krauth; for permission to reproduce apply to realtime@realtimearts.net