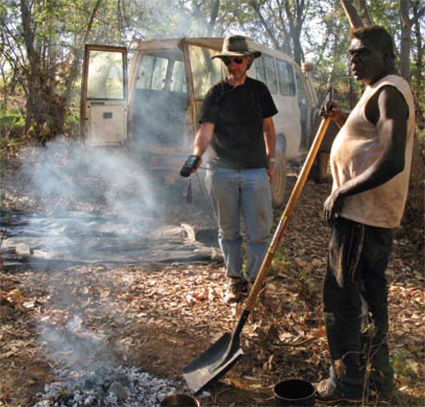 photo courtesy the artist
Philip Samartzis and Gabriel Nodea, field recording near Warmun
AFTER THE EPIC SCALE OF WARMUN'S DISASTROUS FLOODING EARLIER THIS YEAR, PHILIP SAMARTZIS' SITE-DETERMINED SOUND WORK, DESERT, OFFERED AN OPTIMISTIC ACCOUNT OF A COMMUNITY RE-BUILDING. SAMARTZIS AND HIS ASSISTANT MADELYNNE CORNISH'S SUPERB FIELD RECORDINGS RETAINED AN IMMEDIACY THAT DERIVED FROM THE RAPID SEQUENCE OF THEIR SOURCING, MIXING AND PRESENTATION WHILE ON LOCATION IN THE EAST KIMBERLY.
Despite the richness of metal and diesel in the work's composition, reflecting the extensive reconstruction that is underway, it was more suggestive of the gentler comforts afforded by the particularities of daily life. Weightier and more ephemeral elements were juxtaposed in a piece that arose out of human apprehension of the recent calamities rather than from any cosmological vantage point. The work's relatively even tempo, warm tone and its indexical rather than metaphorical relationship to its context adeptly drew attention to the sonic pleasures of unremarkable things.
Samartzis' residency was part of Tura New Music's ongoing Remote Artist in Residence Program and was hosted by the renowned Warmun Art Centre. The five-week residency concluded with an evening outdoor presentation attended by not only the senior Gija painters who advised Samartzis and Cornish but also roadhouse staff, police officers, fellow arts workers from Kununurra and local families. The presentation of the work was followed by a barbecue and a ceremonial dance (joomba) led by elder Patrick Mung Mung in a sung and spoken commentary.
Unlike its presentation in Perth as a work for eight spatialised loudspeakers, the work was not presented in Warmun in an immersive way. Rather it was conveyed through a single speaker and accompanied by Cornish's photographs taken during the residency at the request of Art Coordinator Maggie Fletcher who was concerned about providing support for the reception of the work. Samartzis did not hesitate to follow her advice and so this first version was mixed with the images in mind while ensuring that image and sound were not synchronised. At the performance, the audience was attentive and there were many moments of animated recognition with even the dogs responding to the canine sounds in the work. In subsequent days, the painters continued to check with Samartzis and Cornish that they had not forgotten to capture particular sounds before their departure.
Samartzis has undertaken residencies all over the world. Like most Australian artists, he has sought to prove himself in institutions, generally located in the Northern Hemisphere, that have an international reputation for their artform before travelling as a more mature artist to destinations such as Antarctica where the production and presentation of art is less prescribed. Despite his experience, however, Samartzis confessed to some anxiety about going to Warmun. He questioned the timing of the residency knowing that his presence would place demands on a traumatised community. Community members have spent most of the year in an evacuation camp in Kununurra and are now back in construction camp lodgings in Warmun awaiting the completion of housing.
Samartzis also felt the weight of the artistic traditions of the region, of which painting has the highest profile. Warmun is home to artists such as Mung Mung, Mabel Juli and Lena Nyadbi who command the attention of curators and collectors across Australia and beyond. Although Samartzis and Cornish connected with the Warmun school and general community as 'art professionals,' a feature of this residency was that they enjoyed a relationship with artists of a stature greater than their own.
As these factors were shaping his thinking about the project, Samartzis and Tos Mahoney, Tura's Artistic Director, conceptualised the residency as creating alternative spaces for the discipline of sound. By framing the residency in this manner, Samartzis imagined himself working alongside artists who are primarily painters while also envisaging that the artists could potentially make sound works in the future. This transactional approach was underpinned by the intention from the outset of the residency that Samartzis' work would enter the Warmun Art Centre Collection once its extensively damaged paintings have undergone conservation and been restored to the community.
Samartzis also generated his work during a time when there has been a revival of interest in carving and other three-dimensional processes at the Centre. During my visit to Warmun, artists told me of this development and their recent success at the Darwin Art Fair. Accordingly, it is appropriate to consider how Philip Samartzis' presence might have played a part in the re-emergence of the Centre after the floods or even contributed to these artists' approaches to innovation. Once Samartzis' work was presented, the senior artists perceived it as not only confirmatory of their community but of shared artistic concerns. They identified with the representation of their country in the work but also with the sense of place inherent to Philip Samartzis' methodology. Together with Samartzis and Cornish, they quietly acknowledged the sustaining nature of the artistic processes associated with both rendering sound and expressing Ngarranggarni (Dreaming) images and stories and how from the Warmun perspective they have always intersected.
See also Gail Priest's review of Samartzis' surround sound concert in Perth presented as part of Tura's Totally Huge New Music Festival
Philip Samartzis' residency was assisted by Tos Mahoney, Artistic Director,Tura New Music, Gabriel Nodea, Warmun Art Centre Chair and Centre Staff, Gary and Maggie Fletcher, Rosie Holmes and Alana Hunt.
RealTime issue #106 Dec-Jan 2011 pg. 40
© Jasmin Stephens; for permission to reproduce apply to realtime@realtimearts.net