photo courtesy the artist
Julie Rrap, Stepping Out, 2012
IF PLURALISM IS NOW A DEFINING FEATURE OF APPROACHES TO GENDER AND SEXUALITY IN THE WORLD OF ART, PERFORMANCE AND THEORY, CAN THE SAME BE SAID OF THE BROADER CULTURE GENERALLY? IN RECENT YEARS, WE'VE WITNESSED AS A STRONG RETURN TO TRADITIONAL VALUES, PLACING MARRIAGE, FAMILY AND THE DOMESTIC IN THE ASCENDANCY, THAT THE PROVOCATIONS OF ART CAN AT TIMES FEEL AT CROSS PURPOSES WITH LIFE. YET IN SUCH A CLIMATE THESE PROVOCATIONS CAN ASSUME EVEN GREATER IMPORTANCE AS THE DESTABILISING POWER OF THE ARTWORK REINSTATES THE FLUID NATURE OF IDENTITY THAT NORMATIVE VALUES CAN DENY.
It was this desire to highlight the range and breadth of contemporary approaches to gender and sexuality, and their capacity to move viewers into more uncertain, interstitial territory, that defined the SEXES exhibition at Carriageworks late last year. The combined interests of Performance Space curators Bec Dean and Jeff Khan along with an effervescent guest curator, artist Deborah Kelly, produced a smorgasbord of works. In an exhibition of visual art by 17 artists complemented by a Live Art program of talks and performances, the works reflected varying takes on contemporary feminism(s), masculinity studies, queer theory and the challenging of gender constructions through tropes of cross-dressing and drag.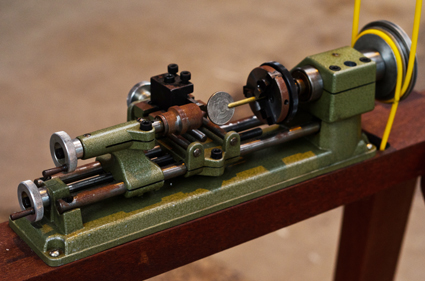 photo Lucy Parakhina
Drive Shaft (2012), Marley Dawson
While a serious interdisciplinary survey of these themes has been long overdue in Sydney, there were some surprises in the shape and form SEXES took. Most striking for me was the decision to go beyond a photomedia approach, which allowed for a broader representation of mediums but also meant that the connection of some works to the theme wasn't immediately obvious, challenging the viewer to think laterally. A number of installations, for example, explored themes of the body via the unconventional route of site-specific architectural interventions. Marley Dawson's Drive Shaft (2012) re-activated the building's defunct line shafts to power a small lathe that ground the sharp tip of a metal rod against a silver coin, obliquely incorporating allusions to capital and industry into a sexual metaphor. Perhaps most successful in this respect was Cigdem Aydemir's Site Occupied 2 (2012), a Christo and Jeanne-Claude style wrapping of a corridor in black fabric that created an immense sculptural burqa. As visitors could literally walk through the burqa, the experience offered an uncanny and demystifying encounter with the bodily interior of the 'other' as movement through the corridor caused the fabric walls to sway gently, rendering the solid architecture fluid.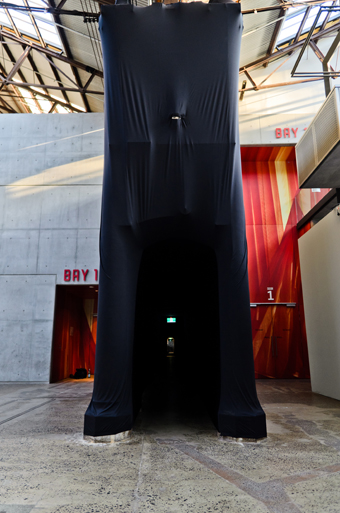 photo Lucy Parakhina
Site Occupied 2, Cignem Aydemir
An arresting visual focal point in the foyer space was Trevor Fry's subversive ceramics installation, Evil Flowers (2011-12), a scabrous array of fertility deities, ritual urns, vessels and phallic plant-like forms drizzled with paint and installed atop a crumbling temple platform. Informed by a queer aesthetic rather than commenting directly upon queer issues, this direct affront to the politeness of ceramics was seductive, visceral and transgressive in its profane elevation of dirt and filth. A low-fi video embedded beneath the platform's rubble presented a parodic documentary of the artist's studio process in which he took sensual delight in his work to a new level as he caressed and fornicated with his ceramic creations.
Other works emphasised the unstable nature of sexual identity as it plays out in performative art practices. This was a key theme in the festival's keynote lectures, delivered by Professors Anne Marsh and Ed Scheer, and became a lively point of conversation when the audience debated an early Kingpins work in which the artists' drag performance as male gangsta rappers at an academic conference alienated a group of American feminist theatre scholars (they walked out, apparently). Those present at the lectures were unable to agree whether the offence taken was about gender, race, class or culture. Similarly, this slippery and multidimensional approach to gender hacking was apparent in the Kingpins' new video The World (2012). In an absurd, pastiched television advertisement for Dubai, the all-female collective cross-dressed as an array of composite 'exotic' characters satirising the stereotypes that permeate the tourism industry and the fantasies underpinning the creation of bloated consumer cities.
If the Kingpins video was provocative but not necessarily confronting, the latter was certainly true of Eric Bridgeman's large-scale floor installation, All Stars (2012). In a cordoned-off section of the public foyer Bridgeman presented a team of free-standing illustrated portraits of naked gay male porn stars with erect penises spliced with the faces of Australian football stars, suggesting parallels between the two as examples of hyper-masculinity influenced by the fantasies of their audiences. Bridgeman sought to emphasise rather than downplay the sexuality of the figures as a rebuke to current efforts to "clean up" sex in sport and "to dispel the myth that sex has no place in sport." In the final weeks of the exhibition, Bridgeman covered the heads of the players with red sacs which made clearer the anti-censorship message yet in making the men resemble torture victims, they also seemed to unleash an atmosphere of latent aggression in the space. Somewhat counter to Bridgeman's intended critique of the curbing of sex in sport as a conservative development, it was also possible to detect in these figures the ease with which hyper-masculine expressions of sexuality can slip towards violence, which arguably bespeaks the need for standards that discourage a misogynistic culture.
Inside Bay 19, the more private exhibition space was sporadically activated by performances in the extensive Live Art program. It was during the last week of the festival that I caught a pair of performances that were particularly powerful in confronting taboos around the female body. In a reprisal of her humorously incendiary monologue My Cunt (1996), Maude Davey channeled a burlesque energy as she addressed the audience in towering stiletto heels and dazzling diamante jewels but otherwise nude. Her stirring tour-de-force delivery of cunt stories and anecdotes succeeded in reclaiming the term from its effaced position. In the dance work that followed, Monster Body (2012), emerging choreographer Atlanta Eke and fellow dancer Emma Kim Hagdahl stalked the space with movements that oscillated between graceful ballet steps and animalistic writhings, their voices filling the air with guttural groans. A daring juxtaposition of the cultural with the primordial, the work drew attention to both the disciplining of the body in dance and the mechanisms of self-control that underpin a woman's identity.
It was fitting that these brave feminist interventions were performed amid works by artists that included two of the towering female presences in contemporary Australian art, Tracey Moffatt and Julie Rrap, who explored themes of the gaze and the body respectively. In Moffatt and Gary Hillberg's Other (2009), charged moments of interracial encounter plucked from cinema history were edited together in a rapidly paced video montage highlighting the role that desire for the exotic plays in the construction of the western sexual imaginary. Nearby, in Julie Rrap's Hair Rail (1992), attached to the wall were two slender plastic tubes encasing a dense weave of human hair that bore an uncanny resemblance to wooden ballet bars, embodying a delicate tension between repulsion and attraction. It was a tension similarly present in Rrap's Stepping Out (2012), a pair of glamorous gold feet rendered achingly deformed thanks to the stiletto spikes jutting from the underside of each heel—a wry comment on the fine line between pleasure and pain in contemporary ideals of beauty.
While it's not possible to cite here all the compelling and saucy works presented in SEXES, it is worth concluding with Paul Knight's photographic slideshow Falling Sideways (2012), an unflinchingly explicit, diaristic record of the artist's relationship with his partner, Peter. Set to a pulsating soundtrack, unaffected snapshots of their private sexual encounters are juxtaposed with images of the banal minutiae of their domestic life which mediate the pornographic aesthetic. The work was a powerful reminder that it is ultimately within daily life and encounters between people that sexual identities and gender relations are negotiated.
If I left SEXES feeling that any singular overarching statement had been diffused by the event's pluralistic approach, it also seemed this diversity was its strength. The challenge is for these provocations to cross over. For it is within the realm of day-to-day life, where sexually conservative policies and attitudes are barely batting eyelids right now, that broader, more open and progressive approaches like these are most urgently needed.
SEXES by Performance Space, curators Bec Dean, Deborah Kelly, Jeff Khan,
Carriageworks, Oct 26–Dec1, 2012
RealTime issue #113 Feb-March 2013 pg. 46
© Ella Mudie; for permission to reproduce apply to realtime@realtimearts.net