Something Something Video Something
Daniel Palmer
Pioneers of the artist-run commercial gallery, the gallerists at Uplands, are proving nifty at packaging artists working with video. A jukebox style, DVD menu of conceptual work screened on an over-sized TV offers a selection of work for viewing. (Tire of one, move on to another). The mix strikes a balance between the slick and game-inspired; Anthony Hunt's Atari-style 1 minute digital poetry composed of every 3 letter word in the English language, or Stephen Honegger's Doom-like virtualisation of the gallery space; and wackier grungier works by A Constructed World (Lane Cormick, Matthew Griffin). Also featuring Melbourne artists DAMP, Daniel von Sturmer and Meri Blazevski, David Noonan and Simon Trevaks, Dion Sanderson, Jacinta Schreuder, Laresa Kosloff, and Marco Fusinato.
Uplands Gallery, 12 Waratah Place, Melbourne, April 30-May 25.
Mary Scott
Diana Klaosen
Hobart-based digital artist Mary Scott currently works with large-format digital prints depicting women juxtaposed with pigs. This motif, whether as a plastic toy animal or, more subversively, as patterns etched or stitched onto skin, effects a (peverse) metaphoric coupling with the female figures. Pigs reference both a perceived lack of personal grace and the animal's historic connections with female sexuality, specifically vernacular descriptions of female sex and prostitution. Strangely witty work.
David LeMay
Anne Ooms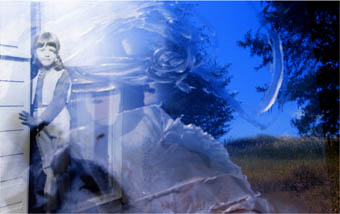 David LeMay, Forgetfulness & Thunder
The intimate distance of memory. Overhead projections throw layered fragments onto gallery walls and floor: text, photos of family and landscape, gestural marks. A row of 'real' photos, a 'real' drawing and a ladder standing on a plastic sheet overlap the projections. This distilled, erotic conjunction of the material, virtual and mechanical is as lyrical as its title. Beautifully just there.
Forgetfulness and Thunder, David LeMay, 24 Hour Art, Darwin, May 10-25. Performance Space, Sydney, June 7-29
Katrina Simmons
Jena Woodburn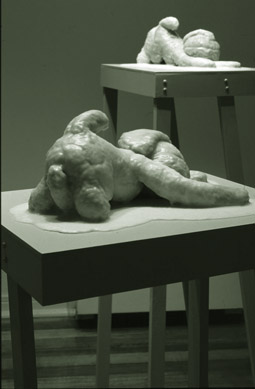 photo Stephen Gray
Katerina Simmons, Untitled (Sleeping Puppies)
Katrina Simmons' sleeping puppies is misleadingly named. The toys, in fact, are masturbating; floating contentedly—if stickily—in pools of hardened icing. Utilising the soft toy, that ubiquitous signifier of childhood, Simmons explores the role of artefacts within the mental process of memory-construction. The subverted objects are presented on spindly-legged plinths reminiscent of high chairs or precarious dream-ladders whose next rung remains always out of reach.
Sue Tweddell Gallery, part of Adelaide Central Gallery, April 5-May 12
Kate McMillan
Bec Dean
One of Perth's most tenacious (and tireless) young visual artists and curators, Kate McMillan is currently beginning a 3 month Australia Council residency in Tokyo. McMillan has taken extended leave from her position as Program Manager at Craftwest, to refocus on a career that has evolved from fine object-making to an installation-based practice that interrogates institutional waste, packaging excesses, and the by-products of cultural production.
RealTime issue #49 June-July 2002 pg. 26
© Daniel Palmer & Diana Klaosen & Anne Ooms & Jena Woodburn & Bec Dean; for permission to reproduce apply to realtime@realtimearts.net