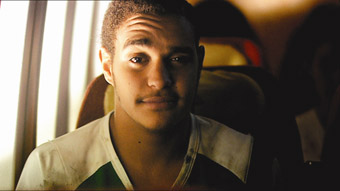 Dayne Christian as Warren, Call Me Mum
Margot Nash's new feature film, Call Me Mum, premiered at the 2006 Sydney Film Festival. Nash is one of the filmmakers who appears in Tina Kaufman's contribution to our feature in this edition on the artist as educator (p17). She lectures in screenwriting at the University of Technology Sydney (UTS).
Nash started out as an actor in theatre and television, moved into photography and then cinematography and editing in the independent film sector. She's made short films and documentaries and in 1994 she wrote and directed the feature film Vacant Possession. With Pamela Rabe in the lead role, this intense film about race and dispossession premiered at the 1995 Sydney Film Festival and was nominated for Best Directing and Best Original Screenplay in the AFI awards that year. From 1996 to 2001 Nash ran documentary workshops in the Pacific for Island women.
Engagingly intimate, Call Me Mum requires its audience to listen as attentively as it looks as a string of interlocking monologues addressed to camera unfold, alternating between locations: an aeroplane cabin, a hospital ward and a suburban home. The audience becomes confidante for the protagonists, but in discretely different ways for each of them.
Nash sticks adroitly to her formula—the protagonists never come face to face. We glean meaning from their recollections and expectations, overlapping narratives and symbolic parallels, for example around the word 'mum.' Even on the plane mother and stepson sit separately, occasionally glancing in each other's direction, refusing to answer yelled slights.
Kate (Catherine McClements), white and formerly a nurse, and foster son, 18-year old Warren (Dayne Christian), are on a plane to Brisbane. He's determined to be returned to his Torres Strait Island mother, Flo (Vicki Saylor), but risks being seized by the state and institutionalised. Kate rescued him from one such place when he was a child and condemned as irredeemably brain-damaged. She gives him a life for which, with his tunnel vision, wicked wit and abrasive sociability, he is never grateful, announcing to a TV news show that Kate stole him.
Kate addresses us frankly and assertively; she has nothing to hide, neither her love for Warren nor her anger at his betrayal. She is determined to keep him free. However, she is caught between Warren's fantasy of reuniting with his real mother and her struggle with her own parents, Dellmay (Lynette Curran) and Keith (Ross Thompson), who live in a fantasy world of conservative righteousness (which has no place for familial loyalties).
If the aeroplane cabin looks real enough, Dellmay and Keith's home is all floral prints and pastel lighting, cozy and self-contained, though there are moments of pained reflection and bickering over social class and bog Irish origins as well as dismay at their "mad" daughter's adoption of Warren.
Meanwhile, Flo, propped up in a hospital bed gradually and quietly reveals to us the appalling story behind Warren's condition, growing more honest as she goes, admitting guilt over years of alcoholism and sexual betrayal. There are moments of respite as she sings songs from her island home. She hopes to bond with Kate, to offer her a sea shell symbol of sisterhood, though she fears she will be once again be seen as 'that rubbish.' Finally, the hospital room around her turns lushly tropical as she yearns for her birthplace. But does the son she's not seen since he was a baby have any place in this fantasy? Even if he does, we have just witnessed the conclusion to his journey, a nightmarish vision out of David Lynch, a cinematic jolt that removes us momentarily and shockingly from our intimate attentiveness and the pleasant cutaways to tropical island waters.
The writer of Call Me Mum is Kathleen Mary Fallon. An adventurous practitioner in experimental fiction and writing for performance, Fallon wrote the bracing, feminist novel Working Hot which won the Victorian Premier's Prize for New Writing in 1989. Her opera, Matricide—the Musical, with composer Elena Kats Chernin, was produced by Chamber Made Opera in 1998 and in the same year a concert work for which she wrote the text, Laquiem—Tales from the Mourning of the Lac Women, was produced, composed and directed by Andrée Greenwell and performed at The Studio, Sydney Opera House. Fallon teaches writing in the Department of English at the University of Melbourne.
Fallon originally wrote Call Me Mum as a stage play, the much workshopped but unproduced Buy-back: Three Boongs in the Kitchen based on Fallon's 30-year experience as the foster mother of a disabled Torres Strait Islander boy. The tough content and Fallon's penchant for the surreal and the overtly political seemed to have scared off directors and producers. What was next intended as a set of 4 discrete monologues based on the same material for SBSi thankfully became a feature film in which Fallon's vision has been subtly shaped by Nash's own, closing in on the characters and defining their realities through Andrew de Groot's camera and Patrick Reardon's production design and their carefully scaled gradation of these worlds from the real to the almost illusory. This nuancing is inherent in the writing, in Kate and Warren's stubborn directness, Flo's lyrical, confessional musing and the bitterly and wickedly funny dueting of Dellmay and Keith.
The performers handle the language more than ably with Christian and Saylor excelling and Curran and Thompson capturing the curious poetry of righteousness with admirable restraint (Thompson's "not sorry" tirade is both in writing and performance unnervingly beyond satire). McClements has the hardest job, the plainest and most expository text and, in delivery, sometimes borders on the theatrical. But eventually she draws us in, especially in the rare moments when her love is glimpsed and we learn how fighting for her foster son has made her "the monster Warren says I am today."
Margot Nash is to be applauded for taking on Kathleen Mary Fallon's unique story and giving it a very special life. The apparent simplicity of the multiple monologue structure belies many subtleties and transformations, most markedly in Flo's growing revelations and DellMay and Keith's developing motivation for their betrayal, while Kate and Warren appear the sorry if sometimes obtuse victims of others' fantasies and failures. These complexities can be read in many ways. In a narrow, naturalistic feature film culture it's critical that other voices be heard, other visions seen. Call Me Mum is a finely crafted and disturbing venture into the politics of race and the possibilties of filmmaking.
–
Call Me Mum, director Margot Nash, writer Kathleen Mary Fallon, producer Michael McMahon, director of photography Andrew de Groot, editor Denise Haratzis, production designer Patrick Reardon, composer David Bridie, Big and Little Films, 76 minutes.
RealTime issue #74 Aug-Sept 2006 pg. 23
© Keith Gallasch; for permission to reproduce apply to realtime@realtimearts.net