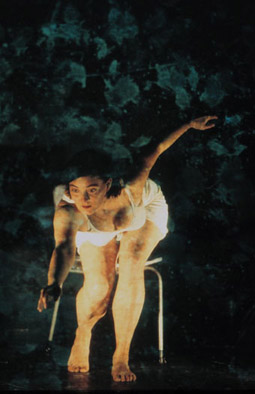 photo Heidrun Löhr
Leisa Shelton, The Inhabited Woman
It is a frequently overlooked truism that the primary elements that performance shapes are time and space. Like the watery realm evoked in the protagonist's dream, The Inhabited Woman represents a floating world, a disconnected place in which both audience and on-stage figures drift into dreamy, atemporal states, before one suddenly catches one's breath and lightly steps forward into the next, deliberately artificial, theatrical realm.
Richard Murphet is primarily responsible for the text of this production. He claims that the piece depicts "the space that a woman makes and fills" and asks "how can that space exist as a core of its own from which the other aspects radiate?" This confusion about where and how feminine identity is centred is rendered dramaturgically by Ryan Russell's stage design, a giant framework cube bordered by Mondrian-like, discontinuous squares and light mesh screens, fixed on a central pivot. Early in the production there is a key transition from the completely timeless, disconnected, almost fog-like experience of the protagonist's dream, to a point where she emerges from her bedroom to find her domestic space already scripted for her. Like Kim Novak in Vertigo finding James Stewart marking out her new identity, or Gregory Peck and Ingrid Bergman finding identity and memory suddenly opaque and difficult to determine in Spellbound. At the moment of this crucial thematic change, the entire set rotates, lights and all, morphing into yet another gilded cage of slight signs and slants of light that define this new world. In each of these places, the protagonist is disturbed, off-balance, ill at ease. She cannot find a firm centre in her own spatiotemporal existence akin to the one that the literal performer (Leisa Shelton) keeps crossing over within Russell's stage design.
The spatiotemporal plasticity of this work makes it disconcerting for the audience as well. There is no central organising rhythm to the piece, no primary dramaturgical style (installation, projection, physical performance, poetry) to fix your attention. No sooner do you find a wisp of 'narrative' to follow, than the box rotates and Shelton moves from speaking, to building a cairn from river stones and flowers on a table.
Like tide lapping at a shore, the production beckons and captures the audience before releasing its grip to leave us resting again on the soft surface of a dramaturgical shoreline. In the finale, the journey of the work is revealed. The protagonist has not been seeking her true self, but rather her double, her shadow, her alternate life, led in sordid 1950s style motel rooms and on the crest of a great, ocean wave. As Katie Symes' beautiful, immersive 4-way sound design coalesces into a heightened field-recording of a cataclysmic crashing of salty waters and its blue-green visual textures pour over Shelton's inhaling body, the character reaches a consummation that seems to evoke both death and a contented, centred return to life. A female Christ or Buddha perhaps, who had to gaze into a watery film screen to find her centred state.
The Inhabited Woman, performance/concept Leisa Shelton, text Richard Murphet, projection Ryan Russell & Elspeth Tremblay, sound Katie Symes, Jethro Woodward, stage design Ryan Russell, lighting Matt Britten, North Melbourne Town Hall, June 27-July 19
See interview with Leisa Shelton in RealTime 55.
RealTime issue #56 Aug-Sept 2003 pg. 10