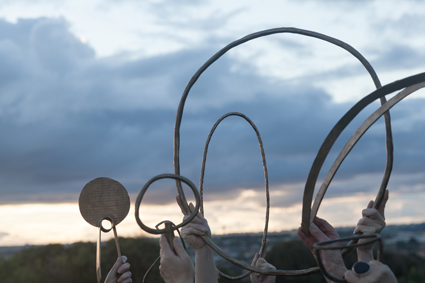 photo Sam Nightingale
Bianca Hester, Sonic Solar Objects, The Cinemas Project
An old-time country cinema, still standing despite floods, fires and hard times; immersive films that question representation itself, drawing viewers into mysterious depths; the literal 'moving images' of historical figures across Port Phillip Bay; spinning hoops that raise sonic spectres of sites now lost…All are part of The Cinemas Project, curated by Bridget Crone, which paired five artists with former cinema sites to make new, site-specific works in Mildura, Warrnambool, Geelong, Bendigo and Gippsland.
Crone conceived The Cinemas Project while travelling with photographer Sam Nightingale, who was documenting lost or now-hidden Victorian cinemas and drive-ins. Finding these early spaces of cinema, Crone says, meant talking a lot with locals; their recollections fuelling her rationale for what became the project's sub-title: "Exploring the Spectral Spaces of Cinema."
"What struck us both about these conversations was the vividness of people's memories but equally, at times, the inexactness of memory, and its imaginative license. It seemed that this approximated somewhat the activities that had taken place in these old buildings…the cinemas were used as community centres for debutante balls, for community meetings and other 'live' events, as well as being places where you could imagine another world—so they were of this world as well as part of another."
Crone is keenly aware that regional centres often see touring exhibitions, but have less frequent access to work created in, with or for their own communities. She deliberately commissioned contemporary interdisciplinary artists for the project, because "they work so flexibly between terrains of live, tangible form and mediation—the projection of images—and the intersections of these modalities.
"The activity that has taken place in the cinema buildings also neatly evokes this slipperiness between images and material forms—or, in other words, live bodies and projected images."
The artists commissioned were Brook Andrew (Bendigo), Lily Hibberd (Yarram, Latrobe Valley – see In Profile), Mikala Dwyer (Mildura), Bianca Hester (Warrnambool) and Tom Nicholson (Sorrento to Geelong). Bianca Hester's performance/film—titled sonic objects, solar objects: variously—included large, spinning, wailing metal hoops, spun on the ground at sites of now-lost cinemas. "The hoops reacted very specifically to the material of the ground upon which they were spun—concrete, wood, asphalt," says Crone. "They therefore give a very particular reading of a place."
By contrast, Lily Hibberd, working with Gippsland's Yarram community (RT Profiler 4, 2 July), created an exhibition including recovered cinema artefacts, a play and film performed by community members, drawing out memories, unearthing lost relics and exploring themes of displacement and resilience.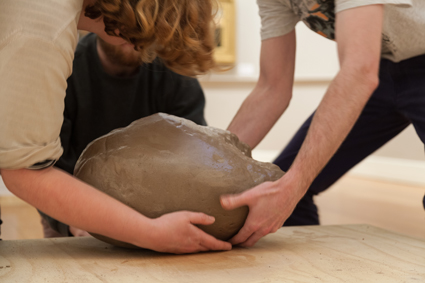 photo Sam Nightingale
Tom Nicholson, Indefinite substitution The Cinemas Project
Tom Nicholson's Indefinite substitution—in which unfired wet clay busts of prominent colonial figures William Buckley and John Batman were carried (and ferried) from Sorrento to Geelong over four days—referenced film's analogue nature and extrapolated the 'moving image' to its most physical form. Also relying on community input, Indefinite substitution's busts were carried, substituted and exchanged by local volunteers whose hand-marks on the clay gradually altered the busts, which also left their mark on the handlers.
Bridget Crone gave each artist thematic 'free rein,' but sees definite cross-connections in the works. If community engagement links Hibberd's and Nicholson's works, Brook Andrew's and Mikala Dwyer's contributions share a fundamental concern with the question of image-making, Crone says. She mentions the "materiality" and "magic" of Dwyer's work, which includes both haunting, locally shot film images and mysterious clear-plastic sculptures. "Both material and magic have a direct relationship to the image if we think about early image technologies developing from forms of magic and spiritualism," she says, "making things appear and disappear." Spectral threads connect Dwyer's Underfall to Brook Andrew's large-scale video installation, De Anima, which simultaneously explores the concept of the soul and the politics of representation. Both works, says Crone, evoke "a strong sense of the immersive, sensory, experiential nature of cinema; therefore focusing on the affective nature of the medium."
She also points to the ways the five artists have drawn attention to specific materials or environments—extant or lost—of the cinema sites themselves.
"There are many tangents and commonalities…One interesting thing I have noted is that the cyclic movement of film—the film reel—is evoked in Bianca Hester's spinning hoops and also in Mikala's three-channel video installation, Underfall, with one screen devoted to a swinging pendulum that forms part of the mechanism of the town clock. This is just an odd aside, but shows that there are so many different connections to be seen through the works—which is amazing considering they have been produced so independently of each other."
The Cinemas Project: Exploring the Spectral Spaces of Cinema, curator Bridget Crone; commissioned by NETS Victoria, April-August, www.thecinemasproject.com.au
See our In Profile on Lily HIbberd's Twin Cinema: Four Devils and a Woman in Red
RealTime issue #122 Aug-Sept 2014 pg. 30
© Urszula Dawkins; for permission to reproduce apply to realtime@realtimearts.net