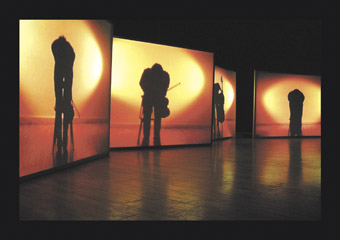 Hannah Wasileski, Virtuosic, courtesy of NRLA
THE SIZEABLE GLOOM OF A DARKENED TRAMWAY 1 FRAMES FOUR SMALL VIDEO PROJECTIONS, HUNG JUST BELOW EYE LEVEL AT THE CENTRE OF A PROSCENIUM ARCH FORMED BY BRICKWORK PILLARS. ON EACH SCREEN, ONE OF FOUR SEPARATELY RECORDED MEMBERS OF A STRING QUARTET PLAY THROUGH THE SENTIMENTAL CADENCES OF THE ALLEGRO FROM SCHUBERT'S DEATH AND THE MAIDEN.
The bowsmiths appear in silhouette from a variety of angles. They play consummately, no small feat given that they are all—in the first instance—playing alone. The 'quartet' is only manifest once edited together—and at first it appears that this rendition of Schubert will be a conventional one, albeit mediated by the pixel and the projector beam. Sure, there's an oddness to the interactions of tones and harmonics, something akin to some of the weirder sonic experiments of the 1970s when overexcited studio engineers attempted to multi-track entire orchestras rather than have them play in unison. But these subtleties are nothing compared to the glitchy cadenza that follows.
Cello notes are suddenly bent into foghorn moans. The fireside glow of the projections abruptly slams on and off; the sound follows suit. Wasileski edits the living crap out of Schubert, chopping phrases, repeating strokes, warping the score into passages which resemble a whistle-stop tour of modern composition, sliding through serialism, rattling around in the new complexity for a bit, bouncing around in the silliness of Zappa or the phase shifts of Reich. All of which suggests a primarily musical exercise; but the tiny details within Virtuosic manage to nudge the proceedings into another arena altogether. Its staging, for instance (projections angled slightly, human in scale) recreates concert conditions. At first I find the silhouetted images of the performers something of a disappointment, almost a cliché, with Disney's Fantasia springing to mind; but as the figures flash unpredictably from screen to screen with increasing rapidity they morph into another type of animation altogether—the scratchy tone poems of Norman Maclaren or Len Lye, speaking of something organic, something imperfect; far from sleek and mechanical, as you might expect from such blatant digital splicing.
So here's the interesting question: once we've emerged from the final barrage of mashed-up strings, once the projections finally fall back into the last, bittersweet moments of Schubert proper, and the virtual performers silently lay their instruments down, what do you think the audience does? A ripple passes around the scattered assembly, a few nervous giggles—are we going to applaud? Is it really called for? Would it be rude not to? The players stand. Bow. And of course we applaud.
Hannah Wasileski, Virtuosic, National Review of Live Art, Tramway, Glasgow, Feb 7
RealTime issue #84 April-May 2008 pg. 5
© Tim Atack; for permission to reproduce apply to realtime@realtimearts.net