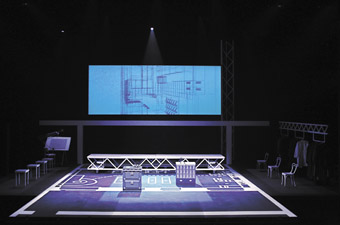 photo Kate Mcrostie
Architektin set, designer Mary Moore
DELIVERING THE BIENNIAL WAL CHERRY LECTURE ON THE SET OF ARCHITEKTIN, HER PLAY FOR THE STATE THEATRE COMPANY OF SOUTH AUSTRALIA, ROBYN ARCHER EXPRESSED ADMIRATION FOR THE FLAT-PACK INGENUITY OF IKEA DESIGN. THE VALUE OF INDUSTRIAL CREATIVITY, ARCHER EXPLAINED, IS WELL-MEASURED BY ITS ECONOMY, EFFICIENCY AND FUNCTIONAL DESIGN. BUT EMPHASIS ON THE CREATIVE INDUSTRIES SHOULD NOT DISTRACT US FROM THE VALUE OF NURTURING ARTISTIC PRACTICE BEYOND COMMERCIAL IMPERATIVES FOR PROFIT.
Margarete Schütte-Lihotzky (1897-2000), the Viennese architect and biographical subject of Archer's play, was an early exponent of functional design. Her 'Frankfurt Kitchen' from 1926, inspired by the space-saving constraint of railway dining cars and designed along Taylorist principles for energy-efficient labour, is the precursor to the prefabricated kitchens of today with their activity-based layout and their laminated surfaces of wood, glass and steel.
Two reconstructed pieces from Schütte-Lihotzky's kitchen make an appearance in Architektin. A model of the entire kitchen is projected as a three-dimensional animation on a screen above the stage. Archer's passing reference to Ikea is a reminder that, despite its ubiquity as a global corporation like so many, harnessing Chinese labour to the mass production of western living styles, the impulse to disseminate functional design for the working masses was well-born of socialist ideals.
Architektin celebrates the life and work of Schütte-Lihotzky. Her contributions in designing spaces for communal life—kitchens, homes, kindergartens, schools and community facilities—were only recognised later in her life. Helen Morse, as an elderly Margarete, enjoys enacting the architect's satisfied exhaustion at rising repeatedly to receive yet another honorary doctorate or award.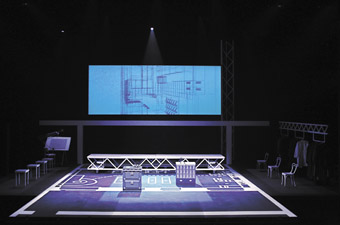 photo Kate Mcrostie
Architektin set, designer Mary Moore
There's an irony in this restrospective gesture of recognition, which Archer recognises as a dramatic device. The younger Margarete is played by Ksenja Logos, although the two appear on stage together several times—the older Margarete offering the advice of hindsight, the younger trying to stay focused on the work at hand.
The plot of Architektin follows the building projects of Schütte-Lihotzky's working life. The play moves deftly from her work on council housing in Vienna in the 1920s to her invitation to join the architect and urban planner Ernst May (Michael Habib) in Frankfurt, where she met and married fellow architect Wilhelm Schütte (Nick Pelomis). In 1930, Margarete and her husband travelled with May's team of architects to Russia, where they worked to realise the new cities of Stalin's five-year plan, even as the regime's promise began to sour.
Schütte-Lihotsky's decision to stay on in Russia, long after her colleagues had migrated to the USA, is a pivot to which the play returns. Another pivot—used by Archer to transition her central character from Logos to Morse—is Margarete's decision, as a member of the Austrian Communist party, to visit Vienna in 1941 on a resistance mission. She is arrested by the Nazis and imprisoned for the duration of the war.
Schütte-Lihotsky's life story is both epic and episodic. These two pivots provide the impulse to propel the drama through the latter, productive yet relatively peaceful, decades of the architect's long life. Architectural labour is not inherently dramatic. Rather Archer dramatises the architectural vision—as in Margarete's stirring speech on women's work and children's future, delivered at the 1968 international women's confederation in Vienna and, here, by Morse with grace and heartfelt wisdom.
The drama in this production is directed with warmth and clarity by Adam Cook. Mary Moore's design, lit by Geoff Cobham, realises the vision of the work. The play provides an ideal subject for Moore's design approach. The set demonstrates the designer's skill in extracting functional significance from dramatic form and realising it with efficient choice of colour, material and form.
An architectural blueprint, painted on the floor, provides a palette for the costumes, hung accessibly on racks. Two long stainless steel tables on castor wheels provide, for most scenes, the necessary furniture. Constructivist principles are realised in a large white beam, which frames the space, and a suspended screen. A stunning white girder descends and then is jaunted at an angle for scenes on a construction site in Russia.
Music has an affinity with architecture, as it does with Archer, but it does not figure prominently in the work. As Margarete's fellow-prisoner, Antje Guenther sings in German a song of peace at their release, and Craig Behenna plays a composer who cannot sing. And there's a final note: at the end of the performance, Archer appears in projected video, interviewing Schütte-Lihotsky in preparation for the play. She asks if sung how Margarete's character should appear—a shrill soprano or a throaty contralto? Margarete answers with a smile.
State Theatre Company of South Australia, Architektin, writer Robyn Archer, director Adam Cook, designer Mary Moore, lighting Geoff Cobham, music Stuart Day, performers Craig Behenna, Duncan Graham, Antje Guenther, Michael Habib, Ksenja Logos, Helen Morse, Nick Pelomis, Playhouse, Adelaide Festival Centre, Adelaide, Aug 29-Sept 20
RealTime issue #88 Dec-Jan 2008 pg. 41
© Jonathan Bollen; for permission to reproduce apply to realtime@realtimearts.net