The Chinese Year of the Wooden Horse (so the internet tells me) promises high-energy adventure, off-beat travels and production over procrastination. To get the year galloping I asked emerging and established arts experimenters what they're up to and what we can look forward to in 2014. Their responses reveal an astonishing diversity of ideas, methodologies, technologies, venues, sites, destinations, resources and bold new ways of engaging with audiences. I'm grateful to these adventurous artists for finding time and the words to share their idiosyncratic visions and plans with us. 2014—see how it runs!
Gail Priest, Editor, RealTime Profiler
Natalie Abbott | Keith Armstrong | Narelle Benjamin | Brown Council | Chamber Made Opera | Clocked Out | Nat Cursio | Tim Darbyshire | Martin del Amo | Nadeena Dixon & Rhonda Dixon-Grovenor | Djuki Mala Company (the Chookie Dancers) | Ashley Dyer | Atlanta Eke | Ensemble Offspring | Caitlin Franzmann | Michaela Gleave
Click here for Part 2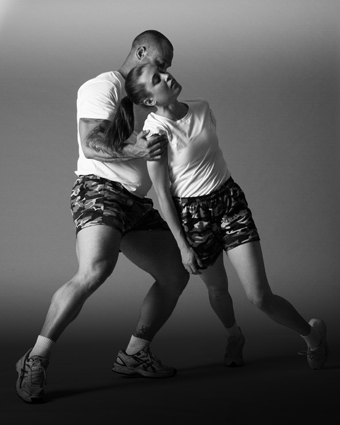 photo Tin & Ed
Donny Henderson-Smith, Natalie Abbott, MAXIMUM
Natalie Abbott
I am currently interested in endurance-based practices and have been researching the limitations of the body through performance experiments. I am interested in the relationship between performing bodies and how perception can shift and change. Currently I am engaged in various projects that involve non-dancers—a bodybuilder, a football team—in an attempt to find a physical language that is not burdened by the associations and expectations that usually emerge when considering 'dance.'
In 2014 I will perform an endurance based solo, SWEAT, for Melbourne NOW at the NGV [National Gallery of Victoria] on February 16. I'll also present my new work, MAXIMUM—a duet between a dancer and bodybuilder—at Arts House for Next Wave Festival in May, which will then tour to Avignon, France.
I am also developing various new projects that stretch into the realm of live art. At the initial stages is a collaboration with Luke George and Rebecca Jensen looking at how to tap into the collective unconscious and create a performance that is a holistic experience for both performer and audience. I am also working on a new piece with Jensen and Sarah Aiken exploring possibility through extreme limitation—the work will occur entirely in traverse. Further to these projects, I have begun experimenting with sound in my choreographic practice. I will collaborate with a sound foley artist to begin work on a cinematic dance experience inspired by Dario Argento's horror films.
www.natalieabbott.net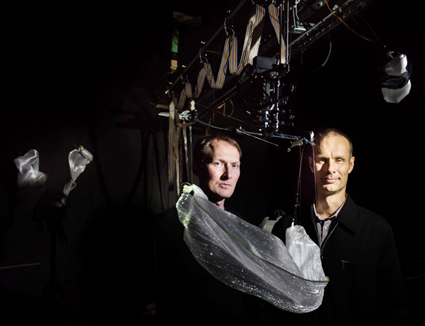 photo Alex Wisser
Lawrence English, Keith Armstrong, Night Rage
Keith Armstrong
This year I'm working with composer, media artist and curator Lawrence English and collaborators developing a series of Seasonal Media Art works—dynamic installations and site-specific interventions that are directed and choreographed by environmental cycles. By recording, reading and reinterpreting both long and short-term environmental cycles at each site, along with related cultural layers, seasonal artworks become progressively tailored to and reflective of their location. This is then expressed through dynamic, generative audiovisual and kinetic outcomes.
These works build upon the prototype, Night Rage, shown at ISEA 2013 in the ANAT Synapse retrospective at the Sydney Powerhouse (see Keith Gallasch's review). The new works will draw upon biological and environmental research data, particularly nocturnal activity, night field recording and phonography and real time 3D sound manipulation. It will also use visual/illusionary approaches that employ custom robotics and light-controlled objects and forms to create powerful, responsive and experiential works drawing attention to the ultimate outcome of reduced biodiversity—an 'extinction of human experience.'
Starting at the Queensland Museum, the series will then appear at Kickarts Cairns (Feb 2014), thingworld: International Triennial of New Media Art, National Museum of China, (June-July), Siteworks, NSW (Sept) and Bundaberg Gallery in early 2015.
www.embodiedmedia.com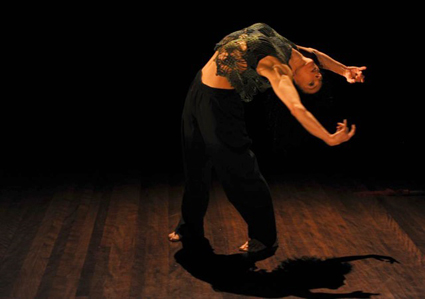 photo Heidrun Löhr
Narelle Benjamin, IOU 2012
Narelle Benjamin
I've just received the Australia Council Dance Fellowship for 2014-2015 which allows me the amazing opportunity to develop as an artist, study and to continue my long held commitment to teaching.
The main activity during my fellowship will involve taking advantage of the extremely rare opportunity to work alongside Sidi Larbi Cherkaoui (Morocco/Belgium), one of the most influential international choreographers. The second strand is my immersion in somatic studies, which while collaborative in nature (working with highly respected practitioners in their respective fields), will perhaps entail a more private or internal processing of new information and knowledge. The third strand involves the delivery of workshops as part of a professional relationship with institutions such as Australian Dance Theatre, WAAPA, Macquarie University, Strut Dance, The Chrissie Parrott Studio in Perth, the new Sydney Dance Company pre-professional course and the VCA.
During 2014 I will also be choreographing a solo for Expressions Dance Company and in August 2014 Performance Space will present my new work, a duet made for Kristina Chan and Sara Black.
www.artfulmanagement.com.au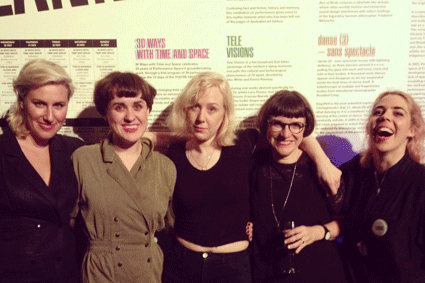 courtesy the artists
Kate Blackmore, Frances Barrett, Lucy Phelan, Diana Smith and Kelly Doley, You're History at Performance Space, Nov 2013; 2) This is Barbara Cleveland , 2013, Brown Council, production still
Brown Council
This year we'll be working on a number of new collaborative and solo projects. In February we will be part of Trace: Performance and its Documents at the Gallery of Modern Art, Brisbane curated by Bree Richards, in which we'll present our latest work, This Is Barbara Cleveland, a filmic tribute to the life and work of the mythic Australian performance artist Barbara Cleveland, with original score by Lucy Phelan (see interview in RT117). In February we are part of Video at Sullivan+Strumpf; in March we will be curating MCA's Art Bar and in May we will be part of Subject to Ruin at Casula Power House. By June we will be back at the MCA presenting a new work as part of the MCA's Bella Commission in conjunction with the National Centre for Creative Learning. For this project, we will be creating an interactive work in the MCA's Bella Room specifically designed to engage young people—who have special needs—with contemporary art.
Also this year we are each focusing on solo projects. Diana is busy completing her PhD on Feminist Performance Art in Australia at COFA, UNSW while working on Performance Perspectives, a new archive of video interviews on Australian Performance Art. Kate is working with Campbelltown youth as part of a commission at Campbelltown Art Centre. Kelly is presenting new work at Level and Boxcopy in Brisbane, and Frances is making a new endurance performance at Performance Space as part of the Mardi Gras program Day for Night. Kate, Kelly and Frances will also present new works for SafARI in March.
http://browncouncil.com/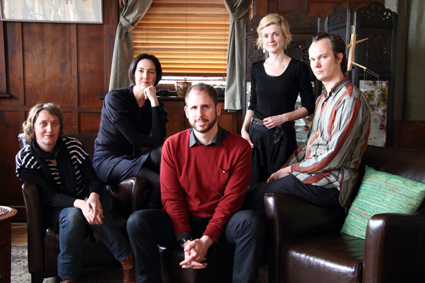 photo Daisy Noyes
Sarah Kriegler, Tamara Saulwick, Tim Stitz, Christie Stott, Erkki Veltheim, Chamber Made Opera
Chamber Made Opera
In 2014 Chamber Made Opera will continue to operate at the very edge of opera with its new artistic team headed by Creative Director Tim Stitz working with Artistic Associates Erkki Veltheim (music), Tamara Saulwick (performance), Christie Stott (digital) and Sarah Kriegler (The Venny).
There will be exciting new works developed by each of these Associate Artists, with inspiration ranging from the essays of Susan Sontag to the work of graffiti artist Banksy. Works will occur in and around grand arts venues and other exciting 'chambers,' continuing to take up the operatic and the epic while simultaneously focusing on intimacy and non-traditional modes of performance. The company is being commissioned by the Limerick City of Culture Festival to make a new work in Ireland and Sarah Kriegler's new piece will lurk under the stage of one of the Melbourne's best known theatres.
The company will also produce a stand-alone digital artwork in conjunction with every new live work created, a companion piece if you like. All works will link to a central aim: to create, develop and present contemporary chamber opera that challenges and inspires audiences, nationally and internationally. New CHAMBER Music. Intimately MADE Performance. Epic and virtual OPERA.
www.chambermadeopera.com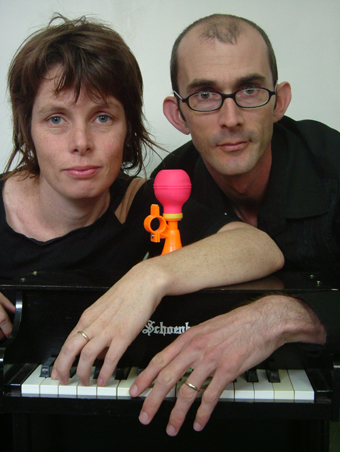 courtesy the artists
Vanessa Tomlinson, Erik Griswold, Clocked Out
Clocked Out
In 2014 Clocked Out [Erik Griswold, Vanessa Tomlinson] continues to weave our way through diverse practices, activating new and unconventional ways of listening, accessing and participating in experimental music, sound and multimedia. This year we put an equal emphasis on creating new work, finding new contexts for old work and collaboration.
Clocked Out Duo will record and tour our latest piece, Time Crystals, which explores symmetries between phenomena of quantum physics, sound and musical patterns (see review in RT113). Later in the year we will develop a new piece titled Dingo Kisses which uses toy instruments and inspiration from our recent trip through the Australian outback.
Percussion group Early Warning System—an ongoing collaboration with Michael Askill—continues to explore relationships between percussion and environment. In June we perform new and recent compositions by Kate Neal, Anthony Pateras, Askill, Tomlinson, Griswold, alongside George Crumb's Songs. In August, we will present an interpretation of Michael Gordon's Timber using reclaimed Australian hardwoods.
In September and November Vanessa returns to solo percussion with a massive new program called Eight Hits premiering new works by Natasha Anderson, Rosemary Joy, Cat Hope, Kate Neal, Griswold, Peter Knight and herself.
Filling out the picture for 2014 are collaborations with the New York-Montreal Quartet (who will premiere Griswold's Julian Assange statement "Mendax Redax"); poet and sound artist Klare Lanson (Wandering Cloud, see review in RT118); author Rodney Hall and artist Glen Henderson (producing Fairweather, a poetic homage to artist Ian Fairweather).
www.clockedout.org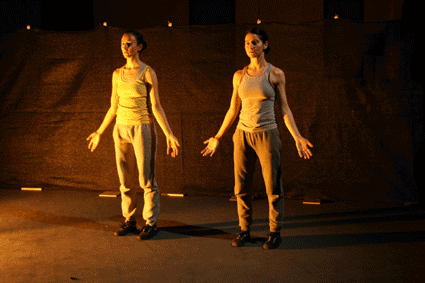 1) Recovery, photo Pete Brundle; 2) Nat Cursio
Nat Cursio
In 2014 I have this peculiar feeling that I am only just starting to be an artist, odd given the many years that I have been busy with dance. One of the things that attracts me to working with bodies in a small, unadorned and often low-tech manner, is the light tread that the work exerts on our natural resources. Dance is such an elemental form and I love that it takes us away from conventional logic.
In March I present The Middle Room, a "ceremonial playdate," at my home for one visitor at a time, a commission from Theatre Works for the inaugural Festival of Live Art. I'll continue developing a screen piece, a commission for Carriageworks' 24 Frames Per Second in collaboration with media artist Daniel Crooks and a treasure of movement practice, Don Asker. The Substation will house me for a second year as choreographer-in-residence for the rebooting of Recovery, a slow-cooker of a project about grief and resilience with collaborators Shannon Bott and Simon Ellis. I'm also privileged to be working on separate projects with three exceptional performance makers, Roslyn Oades, Nicola Gunn and Fiona Bryant.
www.natcursio.com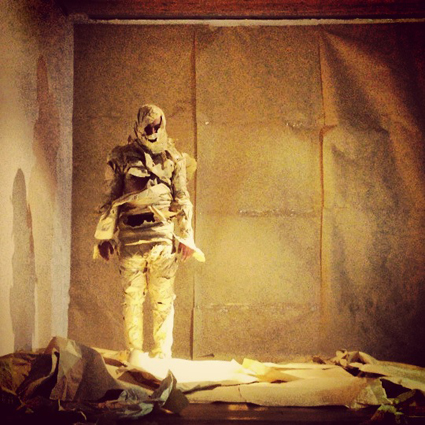 courtesy the artist
Tim Darbysire, Asialink Residency 2013
Tim Darbyshire
In 2014 I will be developing several projects across different contexts. I'm in the middle of developing a new performance project Stampede the Stampede, a volatile work extending the choreographic form through mechanical and theatrical apparatuses connected to the body.
I'm planning to travel further abroad to present More or Less Concrete and connect with new audiences (see video interview from Dance Massive 2013 and reviews by Keith Gallasch and Carl Nilsson-Polias). I will be spending time on residencies in Europe, researching, collaborating and developing new work and networks through an IETM residency program I was very fortunate to receive.
As a performer and collaborator I will be working with Matthew Day on some of his new projects/research, which both extend and depart from his solo-based Trilogy series into explorations of duet forms. I will also be involved in an exchange project between Australian and Finnish choreographers, a collaboration between Campbelltown Arts Centre and Zodiak Centre for New Dance in Helsinki.
I will be driven by movements, sounds, lights, colours, machines, objects, tones, voices, bodies, collisions, spaces, languages, relationships… timdarbyshire.blogspot.com.au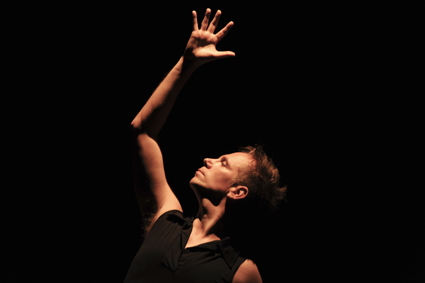 photo Heidrun Löhr
Martin del Amo, Little Black Dress Suite, 2013
Martin del Amo
I am currently rehearsing for Performance Space's Mardi Gras event Day for Night (Carriageworks 13 -15 February). I very much enjoy being in the studio again and working on a new solo. It's been a while… During the last few years, I have mainly been focussing on choreographing works for others so I'm very excited to be reconnecting with my solo practice. There will be more of it this year, I suspect, with a couple of residency spaces lined up and a few ideas for future projects in the pipeline.
Later this month, Julie-Anne Long and I are going to Perth to present Benched as part of Fringe World 2014. The piece was commissioned by Performance Space for their Microparks series and premiered at last year's Sydney Festival (see review in RT113). It's set in a park, on and around a bench and involves us having a picnic with audiences in between performances. We can't wait to see how this is going to be received by Perth audiences. In addition to performing more, my other priority will be to look into opportunities to remount and tour works I have created in the last few years. I am also very excited to be mentoring young dance artist Natalie Abbott through the JUMP mentoring scheme.
martindelamo.com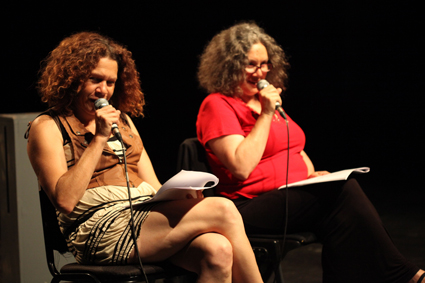 courtesy the artist
Nadeena Dixon & Rhonda Dixon-Grovenor, The Fox and The Freedom Fighters (development)
Nadeena Dixon & Rhonda Dixon-Grovenor
The vision and compelling need to tell this story, The Fox and The Freedom Fighters, has come from us, daughter and grand-daughter of Chicka Dixon. We felt it vitally important to document and develop the work of our father and grandfather's story, as a form of reclamation and revitalisation of contemporary Indigenous culture. This is a story that must be told, a story that belongs to all Australians, both black and white. The Fox and The Freedom Fighters, to be presented at Performance Space in November, will be told by four generations of the Dixon family, through our eyes and experience with him.
Chicka was a charismatic and engaging storyteller, with a wicked sense of humour. He told us all to speak up for what we believe in. Several years have gone by since his passing and now we, as the family, are empowered to share this chronicle so that current and future generations of Indigenous people learn the 'untold' story—how a skinny young black fella from Wallaga Lake Mission went on to become a leader of an army of underground resistance fighters who changed the Australian social and political landscape. This includes voting rights for Aboriginal people in the 1967 referendum.
Our aim is to research and document Australia's political history through Chicka Dixon's journey. We want to share this history so it can educate and inform all Australians, both Aboriginal and mainstream, encouraging us to pursue leadership goals, empowering us to believe in what is possible. The family sees its role as harnessing this story to impart his legacy to our children and grandchildren and to the community at large. The time for this work is now because the oral history of the time is still alive. The mission is for our young people to have this history at their fingertips and in their memories. We want everybody to know about their place in the history of the resistance and expression of Aboriginal people. The Fox and the Freedom Fighters is an innovative and highly important work the outcome of which will be a significant Indigenous theatre work. It is a vital next step towards the development of contemporary story telling.
foxandthefreedomfighters.com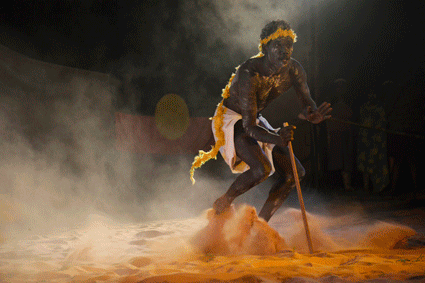 1) Djuki Mala, photo Wayne Quilliam; 2) photos Ben Healy
Djuki Mala Company (the Chookie Dancers)
Djuki Mala (previously known as the Chookie Dancers) are used to camping it up in the traditional sense, being lads from Elcho Island, but camping it up at the Opera House as part of La Soiree is a different (sequined) experience all together. But they are loving the tight confines of the sexy ensemble season.
After the five weeks it's back to Elcho to develop their next show. No longer at the mercy of underfunded projects or struggling shows, the Djuki Mala Company is thriving, doing more commercial tours and drawing a new but no less enthusiastic audience. Their new show directed and produced by Joshua Bond sits midway between a retrospective and an autobiographical narrative and will feature works from the Djuki Mala 'canon,' such as Zorba and Bollywood numbers but also new numbers and new styles.
Refreshing the mix is guest choreographer Nikki Ashby. Nikki brings to Djuki Mala a wealth of knowledge—traditional and hip hop genres from the 70s and 80s that is—locking, popping, new jack swing and many more, as well as deep knowledge of contemporary Indigenous dance, a genre all to itself. Despite all these new-fangled influences, Djuki Mala boys are still driven by a strong sense of their own community life on Elcho. And their work is very clearly a response to the world around them. Their humour and irreverence yet deep groundedness is a given.
www.thechookydancers.com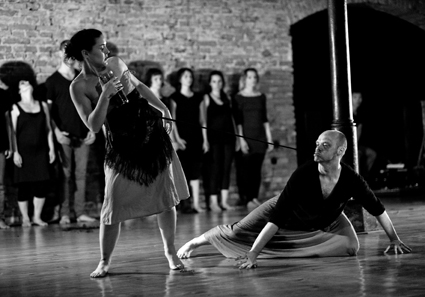 Carolina Palacios, Ashley Dyer, Karol Jarek, Studio Matejka, Brezinka, Poland, July 2013
Ashley Dyer
For the first half of the year my major focus will be on a new series of works called Tremor. I'll work with a large team of collaborators, mainly in isolation and one on one, and begin playing with how vibration might be used as a material to create objects, installations and performances. We hope to poetically and technically reveal the most compelling, beautiful and unsettling aural, visual and haptic aspects of vibration. We'll play with all kinds of ideas and existing objects: speakers, bass shakers, tactile transducers, sex toys, shake tables, massage chairs, vibration exercise equipment, earthquakes, liquefaction and trampolines to name a few. By the end of the year, I think that we would've created and/or prototyped a series of works that may exist by themselves or come together in a final performance.
As I'm beginning and undertaking a number of new projects, collaborations and practice exchanges this year, it feels very busy. In brief, I'll be working with great people: James Brennan, Amy Spiers and Catherine Ryan, Deweydell, Studio Matjeka, Ingrid Hedin Vahlberg, Martin del Amo and Tony Osborne in places as diverse as Melbourne, Fairfield, Wroclaw and Göteborg.
https://vimeo.com/70168912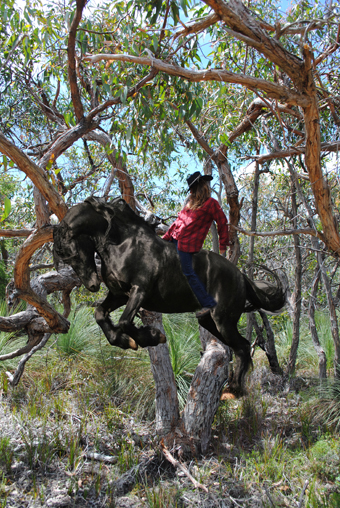 courtesy the artist
I've Got A Bone For You, Atlanta Eke
Atlanta Eke
I have a voice to speak for myself and I have things to say. Perhaps the irony is that when working in the medium of dance, as a dancer, it is almost totally impossible to express my ideas with any amount of specificity. This is a challenge that excites me as I prefer that audiences who see my work leave the theatre with more questions than when they entered.
Right now I am working on multiple projects. In February is the Melbourne premiere of I've Got A Bone For You (first presented at Mona Foma Hobart 2014 as part of Faux Mo). This is a performance concerned with the complexity of the cowgirl. It is a western romance grappling with the devastation of production, celebrating the joyousness of community and questioning the social forces that define symbolic identities (Melbourne Now, NGV Ian Potter Centre, Indigenous Art Gallery, 15 February 12pm).
In March I will be performing a very special one-off performance of a new work titled VOLUME at the Kings ARI Flash Night series Melbourne (3 March). The performance installation has been made in collaboration with up and coming architect Tim Birnie.
2014 also brings the development of a new solo titled I CON, a performance interrelating the themes of Death and Illusion and asking the question, "What Is Contemporary?" In Comrades of Time Boris Groys writes, "Contemporary Art deserves its name insofar as it manifests its own contemporaneity." The first developmental phase is The Death of The Artist and will be supported by Arts House North Melbourne through CultureLab and Lucy Guerin Inc. Studio Residency program. This will involve developing methods of impersonation—artists who have died, artists that in dying have become iconic.
I wish to use death as a metaphor for transformation; the process of impersonating something from the past produces the possibility of finding something new for the future. The resulting movement material can oscillate from the original iconic dances to new transformative by-products, perhaps an allegory of how the present is continuously corrupted by the past and future.
http://atlantamaryeke.wordpress.com/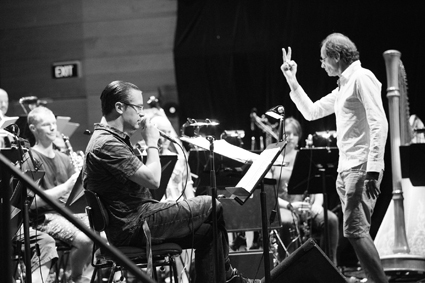 photo Chris Frape
Ensemble Offspring with Lee Ranaldo and Mike Patton, Sydney Festival 2014
Ensemble Offspring
Ensemble Offspring is presenting an ambitious program of events in 2014. Opening with Berio's Laborintus II and ending with our very own Secret Noise, this year's program explores the otherworldly corners of the classical music tradition. Featuring multiple premieres and international work seldom heard in Australia, 2014 is characterised by collaboration with other music genres (installation and improvised music) and other artforms (dance and video).
We've already begun the year on a high following our Sydney Festival performance with iconic rock figures Lee Ranaldo and Mike Patton. Next we'll hit the road in March with a quirky and engaging touring program, Three and Under. In May we decorate a Surry Hills park in a performance-installation as part of Performance Space's Micro Parks.
June brings avant-garde entertainment and beers with our relaxed Sizzle at the Petersham Bowlo. July and August include some heavy-hitting chamber music in Xenakis' Plekto followed by the world premiere of Ghan Tracks, a multimedia exploration of Australia's iconic railway created by music maverick Jon Rose. In October we begin spawning offspring with the culmination of our inaugural Hatched academy program and in November, we present The Secret Noise, the premiere of Damien Ricketson's surreal production about music and secrecy.
http://ensembleoffspring.com/
Caitlin Franzmann
2014 is going to be a year of travel and experimentation. March-April I'll be participating in the second iteration of the Instrument Builders Project, in Yogyakarta, Indonesia, an ongoing collaborative program between Australian and Indonesian artists and musicians, curated by Kristie Monfries and Joel Stern. In addition to exploring different approaches to instrument building in a shared workshop, I'm looking forward to the experience of collaborating in such an experimental and organic format. (See Malcolm Smith's report on IBP1.)
With the support of Asialink and Arts Queensland, I will also be undertaking a three-month residency at Torna Gallery in Kadikoy, Turkey. Torna is a small contemporary art space run by Merve Kaptan that encourages possibilities of exhibiting in a non-white cube space. In collaboration with Merve, I'll be experimenting and producing work to be exhibited primarily in public spaces and engaging in the critical discourse occurring in Turkey around art merging into the everyday and life flowing into art.
For me, collaboration and discussion create an important space to be less self-focused and to develop my understanding of situations and ideas. I hope to discover new forms of cross-cultural collaborations during my time in these two cities while extending my ongoing engagement with somatic experience, urbanism and social interaction.
www.caitlinfranzmann.com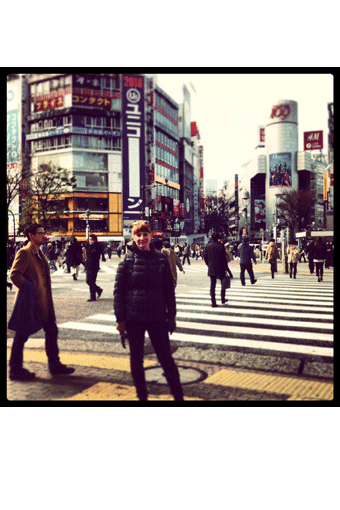 courtesy the artist & Anna Pappas Gallery, Melboure
1) Michaela Gleave, Shibuya crossing, Tokyo, 2014; 2) Michaela Gleave, Eclipse Machine (Blue, Red), 2013
Michaela Gleave
At the time of writing I'm sitting in my residency room in central Tokyo, listening to a radio documentary about the aftermath of the Fukashima earthquake, tsunami and nuclear power station breakdown. The word that the Japanese use to describe the three-fold disaster was 'souteigai,' meaning 'beyond imagination.' Events like these destabilise our worldview, challenging the permanence we take for granted and reminding us of the fragility of our own existence.
Impermanence is often a key element in my work and affecting a solubility of matter, time and space is always at play at the edges of what I do. My activities in 2014 are structured around experiences of just that. The year is starting for me in Japan, with a research residency at Tokyo Wonder Site. From here I travel to the US where I'll be based in New York City at the ISCP (International Studio & Curatorial Program) for several months. The complex social and philosophical heritages that continue to play out in these locations will no doubt influence my work and thinking over this period, and I suspect it will also reinforce the need to create work that takes the audience beyond this direct experience of human activity.
During 2014 keep an eye out for performative and durational projects I have planned for Brisbane, New York, Newcastle and online; installation-based works in Melbourne and Sydney; works about space and the universe exhibited here and there; and pop-up projects from wherever else they might find me. (See Urszula Dawkin's review of Universal Truths). The Eclipse Machine (pictured) will be exhibited as part of the Free Range, curated by Anna Pappas, at Anna Pappas Gallery, Melbourne, 7 Feb – 12 March.
www.michaelagleave.com
Click here for Part 2
RealTime issue #118 Dec-Jan 2013 pg. web
© RealTime ; for permission to reproduce apply to realtime@realtimearts.net