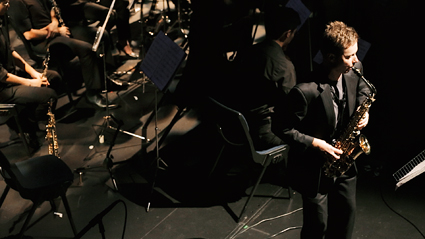 courtesy Aurora New Music Festival
James Nightingale, Voyage Through Radiant Stars, Aurora New Music Festival
The first half of the opening night of the 2014 Aurora New Music Festival in Sydney's west sparkled with variety and invention while the second half introduced us to a major new work, Brian Howard's Voyage Through Radiant Stars, which shone obsessively with cosmic aspirations.
The immediately engaging concert opener was Marcus Lindberg's Ablauf (1983/88; Finland) featuring clarinettist Jason Noble in rapid vertiginous flights from raw depths to lucid heights while positioned between the emphatically slow-paced boom of two bass drums (Claire Edwardes, James Townsend). In the end, after a moment of silence there emerged sibilants, sharp consonants, soft drum beats, like distant thunder, final flourishes and a single full-breathed exhalation from Noble.
Ekrem MuLayim's Sonolith (2014, Australia) is an aural and visual response to the Universal Declaration of Human Rights for piano (Roland Peelman) and projections (MuLayim, Mic Gruchy): "certain pitches are ascribed to certain letters, certain chords to certain words and certain melodic phrases to key words or word groups" (composer's program note). On three long screens, the words appear in various patternings almost simultaneously with the notes, as if the pianist is typing them (an impression reinforced by recurrent dings, piano slaps and cries). The outcome is a flexible minimalism now and then powered by a fluent, assertive stride (from 20s American jazz pianism) or disintegrating into near discordancies.
The inclination of composer and pianist (who is given room to freely interpret) is not seemingly programmatic although Clause 5 on Torture is stressfully fast and high pitched, Clause 7 on Discrimination threatens to break up, 11's Presumption of Innocence strides proudly and in 14, on Asylum, the loud pedal is held firm on deep notes beneath those rushing on above, as if hope is disintegrating. Associations are fleeting but inevitable in an ambitious and audio-visually potent work (convincingly played by Peelman) although the composer's commitment to illuminating all the clauses of the charter with a limited sound palette and a lot of reading proved a tad taxing in the long run.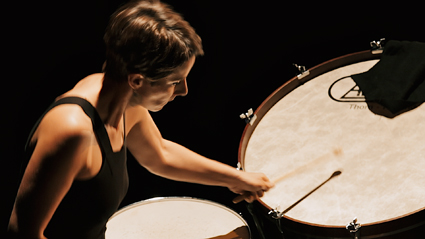 photo courtesy Aurora
Claire Edwardes, Aurora New Music Festival
Iannis Xenakis' Rebonds A/B (1987-89, France) is a work for percussion in two resonating movements. The first, A, has a dance-like compulsiveness, its deep beat soon overlaid with a multitude of improvisation-like, increasingly rapid-fire flourishes until it finally slows to a hesitant if emphatic halt. B feels less complex with its open pattern on drums and then on woodblocks; then it's back to the drums at a steady pace but with some fast counterpointing. Pause. The woodblocks chirrup and are joined by the drums in a race to the finish. Both movements are finely articulated, played as ever with Edwardes' capacity for finesse and passion—Xenakis' music might be conceived in part algorithmically but she makes its beauty self-evident.
Sydney composer Alex Pozniak paired virtuosic dijeridu players Mark Atkins and Gumaroy Newman in his new work Blow by Blow, focusing on the drone potency of the rich sonic textures offered by these traditional instruments. Alongside the anticipated sounds of animal and bird cries, cars and aeroplanes, soft sssh-ings and Atkins' vocals we hear strikingly high, long sustained horn-like notes, pulsating deep beats and surprising (and recurrent) glissandi. Each player handles three instruments, swapping from one to another, introducing new layers of sound at once familiar and strange—as if not coming from dijeridus at all. At the end the players slip into improvisation, merging with the distant offstage strings of two members of the Noise Quartet.
Brian Howard's Voyage Through Radiant Stars (2013, an Aurora Festival commission) with its constant ascending flights felt more often cyclical than linear, each star (one per movement within its "radiant constellation") evoked as if like any other—save in degrees of luminous intensity or aural mood, including passion or awe as brass and percussion repeatedly and thunderously grounded the work with an emphatic motif often at the beginning of movements and then later in each. Against this deep tremulousness, as if in flight from it (or like lines of radiating light), is the saxophone (James Nightingale), variously solo, placed within the 18-strong ensemble or before it as in a concerto—which the overall work is not, at least not conventionally.
The compositional motifs in the sax solos and 'concerto' movements evoke the traveller more than they do the stars. There's a greater freedom than felt in the gravitational pull of the brass. Indeed there are movements when the saxophone seems to draw the ensemble up with it—the drumming accelerates, oboe, clarinet and brass scale upward, the strings echoing the saxophone's ascending dance.
Howard and Nightingale exploit much of the saxophone's range—pure, whistling, staccato-voiced, jazzy, guttural and striving and soaring to ever increasing heights before commencing its flight yet again, but with little suggestion of fall or defeat despite the ensemble rumblings beneath. It is the characterful saxophone, in a work of some 60 minutes, that keeps Voyage Through Radiant Stars luminous, in a journey in which the saxophone is itself a star or, elsewhere, part of one or even absent, just listening, when one star is solely represented by a sinuous string quartet. This is an epic work, needing firmer acquaintance and perhaps greater concision, but on first hearing superbly realised by James Nightingale, conductor Daryl Pratt and the Sydney Conservatorium Modern Music Ensemble.
The Aurora New Music Festival's opening night proved to be memorable, programmed with fascinating new Australian works that innovated with text and piano, the dijeridu and the relationship between saxophone and ensemble. The long first half of the concert did put Voyage Through Radiant Stars at risk; my attention certainly wavered, partly because the work's patterning became hypnotic however varied it was in the detail. If deserving a stand-alone outing, its premiere performance was nonetheless welcome and highly significant. Thank you, Aurora.
Aurora New Music Festival 2014, Opening Night, Aurora Artistic Director James Eccles, Riverside Theatre, Parramatta, 30 April
RealTime issue #121 June-July 2014 pg. 46
© Keith Gallasch; for permission to reproduce apply to realtime@realtimearts.net