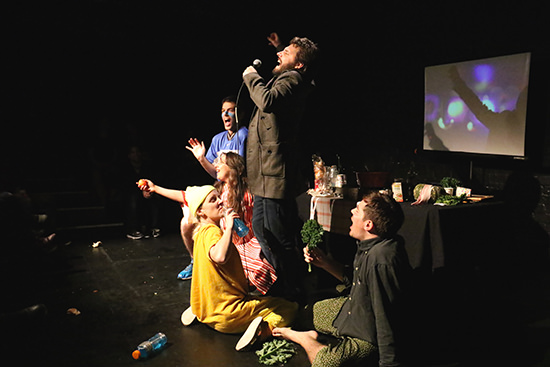 Rapid Response Team, 2016 PACT
In his performance-lecture This Filthy World, filmmaker John Waters suggests an exercise for film students. He recommends reading a newspaper in the morning and making a film inspired by an article that very day. He imagines the joy this would bring to people when driving home from work when they see a poster on a billboard for a film that only entered their consciousness that very morning. He cites his own movie, based on a death, as an example. Waters was screening The Diane Linkletter Story before the funeral had even taken place.
Rapid Response Team
This form of instantaneous making is the starting point for Rapid Response Team, one of the projects at the core of PACT Director Katrina Douglas' current programming for PACT Centre for Emerging Artists in Sydney. Inspired by the ways that journalists were responding to the incarceration of colleague Peter Greste in Egypt, Douglas devised a program in which a cohort of young artists came together to present performative monthly "bulletins" in response to a news story—after a mere 48-hour devising process together.
The program began in 2015 and has continued with a new team in 2016. In this time the Rapid Response Team has staged theatre events including a tutorial in piracy, a town-planning meeting in relation to the Baird government's lock-out laws and a premature funeral for corruption in the wake of the Panama Papers. These and others have taken place in theatres, town halls and at art fairs. Not that the outcomes are paramount. The project privileges process and the product is there to facilitate the development of resilience under pressure, as well as critical and creative thinking and collaborative modes of working, skill sharing and cross-pollination. With this in mind, the outcomes always have a fun sense of risk at play, in a supportive environment.
Talking survival
Earlier this year the members of the 2016 Rapid Response Team found themselves having to respond to news of the defunding of PACT by the Australia Council, which means the loss of operational funding for the company for four years. They organised a gathering at 107 Projects in Redfern for members of the PACT community past and present to discuss what the defunding meant and what could be done about it.
Conversations triggered by this event have carried on ever since. The recent launch of the Save PACT campaign, with a barbecue at the PACT theatre in Erskineville, included speeches from alumni including entertainer Graham Bond, writer-performer-comedian Zoe Coombs Marr and Greens parliamentary member for Newtown Jenny Leong. Coombs Marr talked of the formation of her performance group post (with Mish Grigor and Natalie Rose) through their involvement with PACT over 10 years ago, and regaled those present with hilarious anecdotes of some of the worst performances of her life—made in this theatre. This pointed to the importance of a space in which young artists can work on process, leading them towards future success. Such a space persists at PACT in the Rapid Response Team and other programs.
Other PACT programs
Vacant Room, in which artists are paired with mentors in short-term residencies, has long been central to PACT's programming and will continue says Katrina Douglas. Longer-term investment comes with a three-year residency; the inaugural recipient is interdisciplinary artist James Nguyen. Then there's the PACT COLLECTIVE, formerly ImPact Ensemble, which in 2016 comprises an ensemble of 16 emerging artists, half of whom will be Aboriginal or Torres Strait Islander.
Not all of PACT's program is process-based. There are also presentation avenues for work that is ready to go. AFTERGLOW is an annual season of curated productions in which the space is free for the artists and they receive a cut of the box office. The AXIS scheme provides a subsidised rental fee for PACT alumni. As well, PACT also offers its theatre for hire to independent and experimental theatre artists at accessible prices; it's already booked out for the year, indicating demand for this humble space and also highlighting how access to performance space continues to decrease across the sector.
Lachlan Philpott & Katrina Douglas during rehearsals for Listen I'm Telling You Stories, 2015
Communal strength
As Douglas puts it, "everyone should have access to make and experience art." Her resilience in the face of the defunding of PACT is testament to what is at the core of the company: advocacy and community. She recognises that "a company like PACT is only as strong as its community" and points to the audience numbers who return to each Rapid Response Team event as demonstrative of that strength, as was the incredibly well attended AFTERGLOW season, comprising dance works from the 2016 Next Wave Festival. Douglas sees the engagement of dance artists with PACT as a trend, noting that in recent years Caroline Garcia, Natalie Abbott and Rebecca Jensen have all passed through the organisation's programs and gone on to present work nationally and internationally to much acclaim.
Furthering the sense of community and advocacy around PACT, Douglas now invites artists to return to curate and assess programs, keeping them part of an ongoing conversation in a peer review-type process.
The breadth of PACT alumni is vast and includes artists such as Agatha Gothe-Snape, who was commissioned to create the 2016 Biennale of Sydney and City of Sydney Legacy Artwork. But Douglas is quick to stress that PACT should not be assessed solely on the achievements and profile of alumni in the art world. There are many in the Sydney community and beyond who may not practise as artists but who carry with them the impact of the programs facilitated by PACT over the past 50 years. Jenny Leong at the Save PACT campaign launch said, "It is not just the incredible artistic practice and skills and experience it offers to emerging artists; it's that the community involved in PACT understands the intersection between this artistic work and the broader society around it."
Douglas has created her current program with what she describes as careful consideration of the needs of emerging artists for support and for opportunities, for a sense of process and its outcomes for both themselves and their audiences. Despite the funding loss, the plan is for the current program to continue, which also includes hosting the Stephen Cummins Bequest residencies for queer performance practitioners (facilitated by Performance Space) and a resident photographer residency with mentor Heidrun Löhr.
Powering on
Douglas feels that "great things emerge in times of crisis; they make us stronger. PACT has always been ambitious, always doing a lot with nothing." Nevertheless, when comparatively little money means so much to PACT, the sense of her frustration is evident. The defunding of this company, and others like Next Wave, is a shortsighted dismantling of the training grounds for the artists of the future.
Katrina Douglas remains ambitious, even cooking up international collaborations for the 2017 Rapid Response Team. Above all, emerging artists need advocacy like this and the will to fight to save communal spaces like PACT where training in process and production are finely balanced.
–
PACT Centre for Emerging Artists, Sydney www.pact.net.au; Save PACT
RealTime issue #133 June-July 2016
© Malcolm Whittaker; for permission to reproduce apply to realtime@realtimearts.net