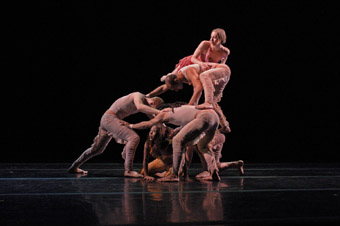 Pilobolus, Aquatica
PILOBOLUS DANCE THEATRE HAVE NEVER BEFORE PERFORMED IN AUSTRALIA, ALTHOUGH YOU MAY RECALL THEIR INTRIGUING SHADOW-PASTICHE OF MOVIE ICONOGRAPHY FOR LAST YEAR'S ACADEMY AWARDS. FOR THEIR AUSTRALIAN DEBUT, PILOBOLUS PRESENTED FIVE WORKS FROM THEIR REPERTOIRE AT ADELAIDE'S HER MAJESTY'S THEATRE, AS PART OF THE ADELAIDE FESTIVAL CENTRE'S PIVOT(AL) PROGRAM OF CONTEMPORARY DANCE.
Pilobolus traces its origins to Dartmouth College in Hanover, New Hampshire, where artistic directors Robby Barnett, Michael Tracy and Jonathan Wolken were students in the early 1970s. The company's choreography—which, in this showing, included works from each decade since then—bares the traces of a counter-cultural kinaesthetic of collaboration, cooperation and closeness.
The look is quite distinctive. Whereas ballet's velocity and poise emphasise the dancer's lift and jazz's presentational pizazz displays the dancer's front, Pilobolus's ensemble kinaesthetic rests upon contact, weight and curve. Cooperative weight-bearing and weight-sharing bind the dancers into evolving, shape-shifting, organic forms. With torsos in close contact, spines enrolled and limbs entwined, the seven dancers slide and morph across each other through each dance.
The effect is smooth as skin-tight lycra, meticulously styled yet evocative of natural forms and life processes. The most recent work, the collaboratively choreographed Aquatica (2005), depicts an underwater world of ebb and flow as delightful in its play of colour, form and movement as a well-stocked tropical aquarium.
The oldest work in the program, Wolken's Pseudopodia (1973), is a solo study in embodied locomotion, performed with dignity by Jun Kuribayashi. A pseudopod is a temporary foot-like projection which certain amoeboid organisms use to move around. The company itself is named after a certain kind of fungus which Wolken studied as a student.
Tracy's Symbiosis (2001) uses the biological concept of organisms living together in a mutually dependent, life sustaining relation as a metaphor for heterosexual coupling. Danced with intense physical interest by Jenny Mendez and Manelich Minniefee, the work pivots around conventional gender distinctions—small and large, slight and muscular—but with a consistency that is smooth, sliding and sweet.
Gnomen (1997) is a more unstable work. Ostensibly it's a lyrical study in homosocial relations, its four male dancers—Andrew Herro, Jun Kuribayashi, Manaelich Minnieffee and Edwin Olvera—wearing nothing but tight black lycra shorts. There is intimacy and care amidst bravura, lifts and balances, but these near-naked male bodies read perhaps too readily as universal signifiers for relations of race.
The fifth work, Day Two (1980), directed by Moses Pendleton, features a striking soundtrack by Brian Eno and Talking Heads. The four male dancers are joined by Jenny Mendez and Annika Sheaff who perform topless and ride upon sticks in this ensemble exploration of the primitive sentiment of group dynamics.
The Pilobolus dancers cruise the soft borders of eroticism. Since the mid 1970s, nudity has been a controversial aspect of their work. But today the sensuality of their work is more akin to the romantic eroticism of greeting cards or the nude photography in fashion magazines.
The free-wheeling, free-flowing movement of the 1970s is perhaps best remembered in the unpredictable practice of contact improvisation. In the Pilobolus of 2008, the ooze and flow of bodies are given corporate form and what might once have been excessive is now channelled and contained. The company's commercial arm, much in demand after the appearance on the Academy Awards, has since made television advertisements for the likes of Mobil, Ford, Toyota, Hyundai and Volkswagen.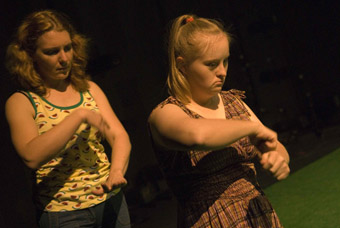 photo David Wilson
Zoë Barry, Anastasia Retallack, Safe From Harm
Safe From Harm, from Adelaide-based youth dance company Restless Dance, is also an experiment in form and the containment of excess. With this work, artistic director Ingrid Voorendt launches the company's new professional ensemble. James Bull, Lorcan Hopper and Anastasia Retallack from the youth ensemble make their professional debut as performers alongside Stephen Noonan, Zoë Barry and Mario Spate. Previously Voorendt's work with the company entailed harnessing the energies of youthful casts of twelve or more.
This work sits well within the generous breadth of the X Space Theatre at TAFE SA's Adelaide Centre for the Arts. Gaelle Mellis' design is spacious: the work is played upon a green expanse of artificial turf. Sounds of crows and planes fly overhead. Golf balls are scattered here and there between a few red flags. It feels as if we've woken up in some suburban park.
A wounded man (Noonan), an arm encased in plaster and a brace around his neck, lies sprawled at the bottom of a ramp. He stirs, climbs the ramp, looks around then falls. He does this several times in different ways. On the other side, there is movement inside a bright red tent. A woman (Retallack) crawls out and walks around, doing something intricate with her hands. Another woman (Barry) emerges, trundling an amplifier, saw and bow. Three other men soon follow and a set of games begin.
They run to pick up balls, from tent to flag and back. They play chasings, tag and Blind Man's Bluf, Noonan plays with a radio-controlled car. Barry plays the saw. Hopper plays leapfrog with soft plasticity. Spate plays at being Marina Abramovic stabbing between his fingers with a knife. There are quiet games with pillows lit sweetly from within. There are also sentimental games with mirror balls, big group hugs and violent games with stabs and screams, gangs and bullying. The work passes through each game with an even rhythmic flow.
According to Voorendt, the work set out to pitch the "dignity of risk" against the "duty of care." The polarities of 'safe' and 'harm' are clearly charted, even if their actualities are not explored for real. While duty of care is an age-old concept of the common law, the idea of dignity of risk, like Pilobolus, dates from the early 1970s. The phrase was coined by advocate Robert Perske to describe the right of people with or without disabilities to learn by taking risks and making mistakes. Reflecting on Pilobolus and Restless Dance, the phrase recalls for me the dignity of risking the excesses of collaborative encounters.
Adelaide Festival Centre's Pivot(al), Pilobolus; Her Majesty's Theatre, May 6-10; Restless Dance Co Professional Ensemble, Safe From Harm, director Ingrid Voorendt, performers James Bull, Lorcan Hopper, Anastasia Retallack, Stephen Noonan, Zoë Barry, Mario Spate, designer Gaelle Mellis, sound Zoë Barry, Catherine Oates, lighting Govin Ruben; X Space Theatre, Adelaide, April 18-24
RealTime issue #85 June-July 2008 pg.
© Jonathan Bollen; for permission to reproduce apply to realtime@realtimearts.net