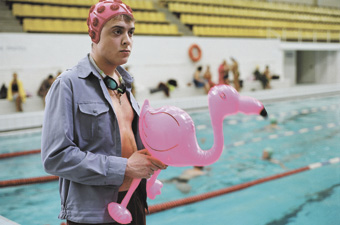 Yuri Chursin, Playing the Victim
RUSSIANS SEE THINGS A LITTLE DIFFERENTLY FROM WESTERNERS. TO THEM, LIFE IS BLEAKER, STUPIDER, DEEPER, FUNNIER AND ALWAYS MORE 'HUMAN.' THEIR FILMS REFLECT THIS PERSPECTIVE. THERE IS ALWAYS AN AUDACITY IN RUSSIAN CINEMA. EVERYTHING SEEMS TO BE HANGING, TENUOUSLY ABOVE AN OCEAN OF CHAOS. IN AUSTRALIA, WHERE LIFE IS TOO SAFE AND EASY, IT'S LIBERATING TO OBSERVE SUCH ARTISTIC RECKLESSNESS. RUSSIAN FILMS CAN SHAKE OUR BENEVOLENT PLATITUDES, REAWAKENING OUR SENSE OF COLD, INVIGORATING REALITY. FORTUNATELY, THE 2007 ADELAIDE FILM FESTIVAL WILL BE SHOWCASING SIX DIVERSE EXAMPLES OF NEW RUSSIAN FILMMAKING TO REMIND US OF THE POWER OF THIS INIMITABLE NATIONAL CINEMA.
At the top of the list in this year's season is Alexander Sokurov's The Sun (2004). For the uninitiated, Sokurov is the most accomplished filmmaker working in Russia today, largely known in Australia for his single-shot historical panorama Russian Ark (2002). The Sun presents the third instalment in his Men of Power series. Following depictions of Hitler in Moloch (1999) and Lenin in Taurus (2001), The Sun focuses on the life of Japanese Emperor Hirohito in the days leading up to his capitulation to the US led invasion in 1945. A biography of sorts, it follows Hirohito (Issei Ogata) through the twisted layers of his character, through its defects and peculiarities, towards the moment when he will renounce his sanctified divinity as a sun god for the sake of international peace and personal happiness.
A controversial work, Sokurov's film has generated considerable hostility in many countries, particularly in China where its sympathetic depiction of Hirohito has been received as an insult to the victims of Japanese atrocities. Indeed, as historical record, The Sun is at best problematic. But history is not the film's real interest. What Sokurov captures is not the life of a man as normally understood, but rather the bare emotional imprint of a life, of a human animal clothed in an illusion of ritualised power and sickness. The style reflects this concern. Green-brown sepia images and warped, fluctuating proportions conjure disease or hallucination. Hirohito himself notes an ever-present "bad smell and bad taste", sensations exacerbated by the score's remarkable arrangement of music and noise into a low intestinal drone. Like the best of 19th century Russian literature, Sokurov reveals the aura or tone of each scene, isolating the human experiences within it. Perhaps the film's greatest asset is the actor Ogata. His performance as Hirohito is quite unlike any I have ever witnessed, not so much that of a psychology as of a soul: anguished, silent and invisible. These qualities give The Sun an artistic value rarely matched in contemporary filmmaking.
Pavel Lunguin's The Island (2006) belongs to the same school of Russian filmmaking (one traceable to the influence of celebrated director Andrei Tarkovsky). A less complex film than The Sun, The Island is a character centred study of sin and redemption. Having washed up on the shores of a remote monastery, Father Anatoly (Petr Mamonov) spends his life segregated from the rest of the order as an eccentric prankster and mystic. He administers to the sick, plays tricks on other priests and makes a general mockery of Orthodox ritual, all to encapsulate a genuine example of Christian faith: devotion to God and nothing else. But the pain of his past sins will not go away. Impressively shot on a lavish budget, The Island is propelled by a wonderful performance from Mamonov, whose Anatoly humanises the script's religious concerns with compassion and warmth. It's a serious film, but accessible.
In a totally different realm is Kirill Serebrennikov's black and dry comedy, Playing the Victim (2006), recently voted Best Film at the Rome Film Festival. Previously anonymous as a filmmaker, Serebrennikov has experienced considerable success over the past ten years as a theatre director of contemporary and usually scandalous Russian plays. His new film sees him bringing one such work to the screen, Playing the Victim by brothers Vladimir and Oleg Presnyakov. It begins unabashedly: "Russian cinema is in big shit. Only Fedya Bondarchuk is a cool guy. Fedya is cool. His father got an Oscar. And he'll get one. He'll get stronger and get one for sure."
To those in the know the message is clear. This is anti-Tarkovsky, a film concerned only with this life. It is the story of Valya, a near thirty-year-old boy, university graduate and emblem of a new way. Valya works for the police. His job is to stand in for the dead during re-enactments of homicides. It's cushy work and pays enough for his new toys and clothes. But Valya's real interest is in revenge: on his mother and uncle who now share his dead father's bed, and on an entire generation of Russians busy reacquainting themselves with national arrogance. He endorses something else entirely, the cultural ambivalence of anything and everything. Valya practices his gangsta moves, eats blackberries with chopsticks and embraces suicide chic with the best of them. To generations X and Y his stance will be a familiar one. "Ideals don't exist", the film's director has claimed, "and it would be good to have a great deal more common sense…I don't think we have our own special path or destiny" (The Moscow Times, June 9, 2006). The Russian cultural elite will be rolling in their graves.
Everyone knows that Slavs are the best at being seriously idiotic and First on the Moon (2005) proves it in spades. A mockumentary by Alexei Fedorchencko, it lets us in on a big secret. While many of us are aware that Neil Armstrong's famous giant leap was filmed in a television studio, few of us have known the whole truth until now. The real, bona fide Moon landing was an unadulterated Stalinist invention. Encased within a prototype interstellar projectile, a small handpicked elite of heroic workers, athletic beauties and limber midgets shot to the Moon on March 16th 1938, returning to Earth one week later as a meteor that landed in a remote alpine region of Chile. The crew survived, its superhuman leader Ivan Kharamalov evading Soviet authorities by assuming multiple identities. He eventually became star of a popular regional circus troupe in a vibrant retelling of Alexander Nevsky. If you don't believe me go and see First on the Moon yourself. This is a brilliant and hilarious film with fantastic black & white imagery. It won best documentary at the 2005 Venice Film Festival.
At the other end of the truth spectrum is Sergei Loznitsa's documentary Blockade (2005). Winner of 6 international prizes, Blockade comprises newsreel footage from the 900-day siege of Leningrad (1941-44) during which up to 800,000 Russians died. Choosing to let the footage speak for itself, Loznitsa couples the images only with a minimal soundtrack of effects. For 52 minutes we watch silently on the domestic consequences of war. It is a harrowing and starkly pertinent experience for anyone still unsure about the viability of military invasions.
Finally, Andrei Kravchuk's The Italian (2005) fulfils an all too often neglected role in festival programs. It's a children's film, most suitable for 12-15 year olds. It tells the story of Vanya, a five-year-old living in a dilapidated Russian orphanage. Vanya is lucky. From the dozens of boys surrounding him he has been chosen for adoption by a childless Italian couple. In only a month it'll be beaches and gelato. But Vanya doesn't feel lucky. He wants what is his. With a gritty resolve and a knack for language he escapes the orphanage and embarks on a journey to find his real mother. Like the best children's films, The Italian layers its adventure story with a sophisticated social analysis, presenting a cross-section of Russia's past and present through the lens of Vanya's unclouded eyes. It won Best Children's Film at the 2006 Berlin International Film Festival.
Adelaide Film Festival, Feb 22-March 4,
www.adelaidefilmfestival.org
RealTime issue #77 Feb-March 2007 pg. 19
© Tom Redwood; for permission to reproduce apply to realtime@realtimearts.net