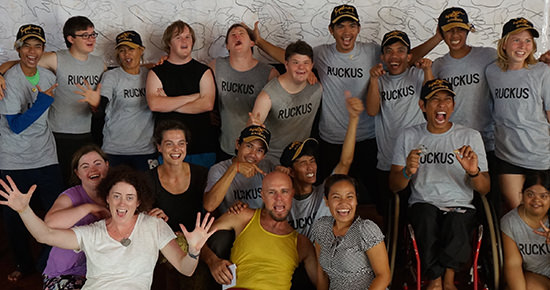 Members of Ruckus and Epic Encounters, Cambodia, 2016
Sydney-based RUCKUS describes itself as a "disability led theatre ensemble" determined to "smash stereotypes and challenge audience's preconceptions of what people with disability are capable of achieving." For their latest production, Speed of Life, RUCKUS is addressing how, in an impatient society, people of differing abilities engage with time.
RUCKUS asks, intriguingly, "Could tuning in to other people who share a similar nature hold the clues? Does nature itself show you the way? Perhaps the answers are buried in the sands of southern Cambodia? Or scattered in the stars above?" Speed of Life is partly inspired by a trip the ensemble made recently to southern Cambodia.
With a creative team and support crew, RUCKUS travelled to Epic Arts, an inclusive arts centre in Kampot, southern Cambodia, where for two weeks the ensemble worked alongside Epic Encounters, an ensemble of eight dancers who are predominantly deaf or have a physical disability.
"We visited rivers, mountain tops and beaches and used movement and video to explore and discover what it means to connect with others who may navigate their world at a different pace and speed to the busy-ness around them and how we adapt to keep up."
Speed of Life is produced by RUCKUS Director Alison Richardson who co-directs the work with choreographer Dean Walsh.
Walsh is well known in Sydney and beyond as a leading dancer and choreographer and for bringing these roles into play in experiencing and protecting marine ecology. He's worked with Ruckus since 2012 and elsewhere as a mentor for young and emerging artists living with and without disability across Australia.
Alison Richardson has been with RUCKUS since its inception in 2011 after working extensively as a theatre director and tutor for community theatre companies, Powerhouse Youth Theatre, Shopfront Theatre, PACT Theatre and Australian Theatre for Young People. Her interest and passion for working with people with disability goes back to 2007 with a variety of projects. She has been awarded a 2015 Churchill Fellowship which will enable her to research disability-led theatre practice and inclusive training programs in UK arts and disability companies and organisations.
The ensemble members are Chris Bunton, Audrey O'Connor, Gerard O'Dwyer, James Penny, Rachel Sugrim and Digby Webster. O'Dwyer is a Tropfest award winning actor and also the recipient of the Emerging Leaders Award at the 2012 National Disability Awards and four of the six members have been recognised by the NSW Government and asked to be Ambassadors for its Don't DIS MyABILITY state campaign. Members Digby Webster and Audrey O'Connor were the faces of the campaign in 2010 and 2011 respectively. RT
RUCKUS, Speed of Life, PACT centre for emerging artists, Erskineville, Sydney, 25-28 May; book online or phone/SMS 0431 212 585
RealTime issue #132 April-May 2016