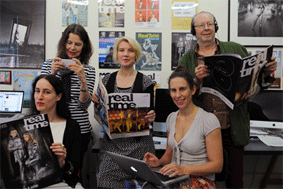 photos Heidrun Löhr
The RealTime team, 2014: standing, Virginia Baxter, Gail Priest, Keith Gallasch, seated Katerina Sakkas, Felicity Clark
We celebrate our 20th birthday with reports on our first and second decades, messages of support from well-wishers and a RealTime cover decrying the Howard Government Budget cuts of 1996 alongside a 2014 Budget update.
Prominent choreographer Paul Selwyn Norton, the new Director of STRUT—now refurbished as The National Choreographic Centre of Western Australia—reveals his program for 2014 and into the future, building on his international connections
Deborah Ely, CEO of Bundanon, outlines her vision for the former Arthur Boyd estate which offers artists creative inspiration while she and her staff work closely with local communities and agencies to benefit the region with distinctive workshops and very special events that draw on the local environment and Aboriginal heritage.
Gail Priest ventures to Muttama in regional NSW for The Wired Lab's Wired Open Day to experience projects by artists, ham radio operators and the Harmonic Overtone Community Choir.
Keith Gallasch applauds 'We're People Who Do Shows,' Back to Back Theatre, a very special new book which combines informal history, interviews, scripts, academic essays, personal statements, excellent photographs and fine design. It's a tribute to a great company, an excellent resource for audiences and students and the kind of book that is all too rare in its documentation of Australian performance.
RealTime issue #121 June-July 2014 pg. 3
© RealTime ; for permission to reproduce apply to realtime@realtimearts.net