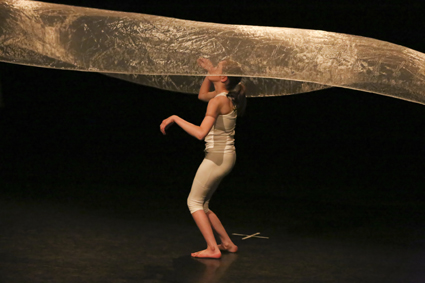 photo Gisella Vollmer
Stella Barton, Accessible Arts NSW, Catalyst Dance Masterclass Series, Second Skin
Enabling Art, our first feature to focus on art and disability reveals a burgeoning field of diverse practices, intensive collaboration, innovation and divergent opinions about aims and terminology. Our coverage reaches from Sydney and Wollongong to Melbourne, Adelaide and Perth, just some of the centres where performance and visual art studio practices and networks are emerging.
While a handful of Australian feature films thrive at the box office, most don't. Those without Hollywood-style clout are likely to have limited seasons and are unlikeley to reach suburban let alone regional cinemas. Funding has been extensively invested in production but not enough attention paid to distribution. Tina Kaufman concurs with Lauren Carroll Harris' argument in Platform Paper No 37, Not At A Cinema Near You, that current criteria for funding distribution are outdated and that digital opportunities need to be addressed and supported by funding agencies. Dan Edwards agrees, seeing distribution as even more problematic for documentaries, a field where makers, he feels, are having to play safe to get their work shown.
Our regional coverage continues to develop with a report on Mildura's Palimpsest Biennale #9, an interview with idiosyncratic Riverina artists The Ronalds and a full guide to what you can find in print, online and video about other Riverina artists and organisations like The CAD Factory's SunRice project bringing together workers and visiting artists in a spectacular event.
RealTime issue #118 Dec-Jan 2013 pg. 3
© RealTime ; for permission to reproduce apply to realtime@realtimearts.net