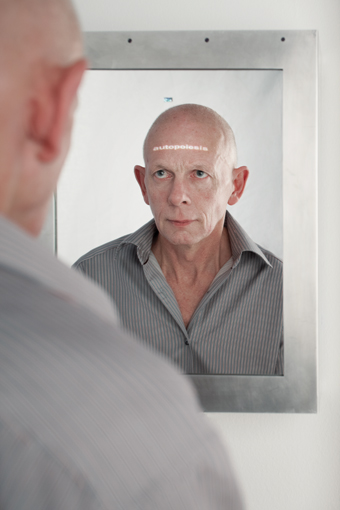 photo Peter Mallet
Rafael Lozano-Hemmer, Autopoiesis 2010, mirror, surveillance camera, laser projector, proximity sensor and computer, image courtesy and © the artist,
Mexican-Canadian electronic artist Rafael Lozano-Hemmer (www.lozano-hemmer.com) illuminates our reality in many fascinating ways, testing our sense perceptions and offering interactivity in large-scale public works and intimate installations (see interviews with and articles about the artist in RT89, RT97, RT99). Lozano-Hemmer is featured artist at Sydney's MCA Dec 16-Feb 12 in a free exhibition, titled Recorders, of 12 recent works including two made for Sydney. The artist is asking visitors to leave traces of themselves—voice, heartbeat, belongings, questions—hence the show's title.
Autopoiesis (2010), one of the works in Recorders, involves a mirror, surveillance camera (running face-recognition algorithms), laser projector, proximity sensor and computer. So take a look at yourself and muse over self-creation and the participatory nature of art—it's that contemplative time of the year. All at RealTime wish you a Merry Self-reflective Xmas and, in these doggedly oppositional times, a Happily Nuanced 2012.
RealTime issue #106 Dec-Jan 2011 pg. 2
© Keith Gallasch; for permission to reproduce apply to realtime@realtimearts.net