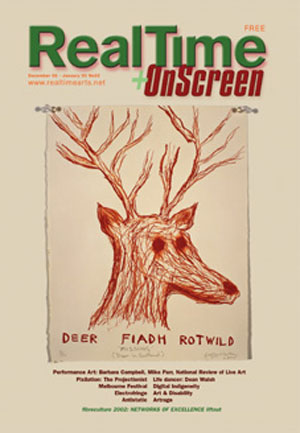 Reproduced with the kind permission of the artist
Missing (Deer in Scotland), 2002, Lithograph on paper, 38cm x 28cm.
While the deer on our cover may signal Xmas, he's actually with us because Greg Fullerton's drawing has been staring at us in the RealTime office with those deep, dark eyes for most of the year on the card announcing the winners of the 2002 City of Hobart Art Prize where Missing (Deer in Scotland) was Highly Commended (judges Peter Timms, Benjamin Gennochio, Grace Cochrane). We've grown very attached to this deer and thought we'd share him with you. The artist aptly describes the lines in his drawing as frenetic and the antlers as almost like trees: it's this organic quality which appeals to us, as well as admirable fusion of cartoony vigour and something more serious.
Greg Fullerton is currently based in Melbourne, though he's lived in many places and was Visiting Artist at the Edinburgh Print Workshop in 2000 when he created Missing (Deer in Scotland) as an anonymous intervention, protesting the diminution of the deer population, printing it in poster format and sticking it on trees and buildings in Scotland, Ireland and Germany. He describes Missing (Deer in Scotland) as "a protest, satirical, and a bit personal." Part of the personal is Fullerton's great admiration for Joseph Beuys, artist and interventionist, in whose adventurous life and work the stag magically figures.
To our readers, subscribers, advertisers, editorial team members, our many writers, funding bodies and the innovative artists whose works thrill and propel us, have a Merry Xmas and a Happy New Year. See you in 2003!
Virginia Baxter, Keith Gallasch, Gail Priest
RealTime issue #52 Dec-Jan 2002 pg. 3
© RealTime ; for permission to reproduce apply to realtime@realtimearts.net