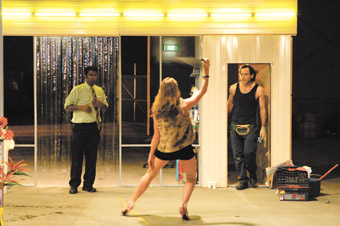 photo Heidrun Löhr
The Last Highway
WE'VE BEEN DRIVEN TO A QUASI-INDUSTRIAL ESTATE IN BANKSTOWN, A DISTANCE ALONG CANTERBURY ROAD AND INTO A BACK STREET OF ANONYMOUS WAREHOUSES. URBAN THEATRE PROJECTS' THE LAST HIGHWAY IS SET IN A MAKESHIFT URBAN SERVO: THRUMMING CRICKETS AND YELLOW STRIP LIGHTS MAKE THE NIGHT SCENE HERE PALPABLY DESOLATE. MIRABELLE WOUTERS' DESIGN, A PETROL STATION FRAME FLANKED BY A KEBAB STAND, SITS ON THE EDGE BETWEEN THEATRE AND STREET, FILTERING THE SMOG OF OUTSIDE DARKNESS INTO THE INTERNAL AUDIENCE SPACE. BEHIND IT, CARS—BOTH ACCIDENTAL AND PRE-ARRANGED— SHADOWILY PERUSE THE NIGHT.
The Last Highway is a rendition of the kind of night inhabited by people who experience it as bleak and unrelenting routine. Using UTP's well-established community consultation process, director Alicia Talbot and seven performers have tapped into the lives of society's invisibles: the taxi drivers, service station attendants, sex workers and kebab sellers who make up Sydney's nocturnal tribes.
The gender line in this piece is noticeably drawn. Female sex workers (Yana Taylor, Suzannah Bayes-Morton, Kathy Cogill) haunt the servo waiting for a job. The men (George Kanaan, Rajan Thangavelu, Adam Hatzimanolis) are their varyingly antagonistic, sympathetic, violent or disinterested counterparts. The women pace out a slow and despairing process. They are picked up by clients and return (pelted with eggs, often bruised, shaken); the men (fixing an engine, making a kebab) reveal their sorry life stories: migration, a child who suicided, depression, humiliation, racism, contest, defeat. The dramaturgical logic of the piece stems from the internal logic of the characters. The only way to make yourself feel better, it seems, is to make someone else feel worse.
Spats that begin as jokes escalate into violence or disarray. A blow job in the gutter hints at the tortuous depravity to come—a sordid scene of quiet rape for one character who is on the nod between jobs and drugs. Before this, a joyously sick Bollywood-style love dance dedicated to "Pussy" from the service station attendant (Thangavelu) is both comic and crude, and when he ends with a sober "I love you" we somehow believe him. The play with cultural stereotypes is possibly thorny, but brave. Service station attendants come from "Sri Lanka? Pakistan?" "Nah mate…Quakers Hill", he winks.
What is striking about The Last Highway is its studied depiction of inaction. Everything happens in the corner of one's eye. Talbot's blocking is important in this way—it makes a point of physically shaping the stillness and emptiness in the characters' lives. As an audience we are lulled into accepting this version of 'normality'—partly because it is a little too familiar, partly because it is a little too strange. The rigour with which the performers sustain this tension is commendable. For all that didn't happen across the arch of the night, my eyes were wide open.
Urban Theatre Projects, The Last Highway, director Alicia Talbot, performers/devisors Suzannah Bayes-Morton, Kathy Cogill, Adam Hatzimanolis, George Kanaan, Yana Taylor, Rajan Thangavelu, performer Ahilan Ratnamohan, design Mirabelle Wouters, lighting: Mirabelle Wouters, Neil Simpson, sound Carl Polke, dramaturg Deborah Pollard, consultant Lee Wilson, community liason Iina Katsoumis; Bankstown, Jan 16-19, 22-26
RealTime issue #83 Feb-March 2008 pg. 12