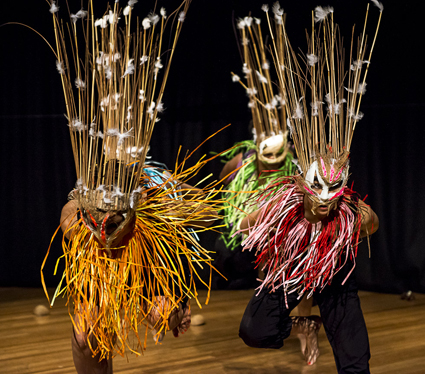 photo Gregory Lorenzutti
Winds of Woerr, Ghenoa Gela
Next Wave is an ambitious festival—a major, well-funded biennial curatorial project which commissions and develops innovative work by young artists (notably through its Kickstart program). The final works, unveiled only at the festival, are often variable in their execution. This, I have come to realise, is legitimate. The level of risk involved in working with very inexperienced artists on extremely ambitious projects is extremely high, and it is part and parcel of the project that the whole experience can feel very hit-and-miss. As the statement of intent for 2014 said: "We support what is attempted over what is achieved."
2014 Next Wave, however, was the most even I have yet experienced. Not only was the quality of the work high overall, but the program was presented in a very cohesive manner, thanks in no small measure to Emily Sexton's strong curatorial steering. This was Sexton's second Next Wave, and her customary attention to detail was visible at every step: in day tickets tailored to various audience profiles, a well-considered talk program and two excellent publications. The heart of the festival was BLAK WAVE, a festival within a festival, incorporating seven works by Aboriginal artists that in various ways questioned the place of Aboriginal art, a series of talks and its own book.
BLAK WAVE
Perhaps the most notable thing about BLAK WAVE is that it happened in the first place. Sexton's foregrounding of Aboriginal art and artists in the context of new, emerging, urban and experimental art made a very strong statement about the place Aboriginal artists should occupy in Australian culture. Through talks and the book, BLAK WAVE also created its own critical and analytical commentary, forging a nuanced, discursive context not likely to manifest in mainstream media. The entire project was simply extraordinary in its scope, both educational and emancipatory.
The inclusion of so many Aboriginal events radically changed the feel of the festival, and, in a certain sense, our expectations of contemporary art and performance. In Melbourne, a southern city, Aboriginality is not very visible. Yet at Next Wave we were introduced to an alternative reality, in which every evening we were welcomed to country—did you know how varied is the traditional ownership of inner-city Melbourne?—with elders praising young artists and speaking about the importance of contemporary art—when is the last time you have seen an elderly Australian of stature, a non-artist, speak from the heart about the importance of contemporary art for our culture? Here a performance was first and foremost a social event, a gathering, where we were welcomed as guests, not simply as paying customers. For a little while, BLAK WAVE created an alternative Australia, an Australia that could have been, and may still come to be, in which hatred, ignorance and fear were bridged over by gestures of generosity; in which silent gaps in our history were filled with stories; and in which our own history of art expanded to connect ancient traditions and the cutting edge of the present. It offered an immense gesture of healing.
Winds of Woerr
Ghenoa Gela, an accomplished dance performer, devised Winds of Woerr to introduce a traditional Torres Strait Islander story of the four winds, whose influence shapes the climate more than the notional four seasons. It opens with a greeting, a cup of tea and the voice of Gela's mother Annie correcting her daughter, instructing her on how to properly conduct the performance. The dance theatre piece unfolds with four performers (two Indigenous, two not) each representing a wind with a mask and a prop. They are the four sisters Kuki, Sager, Naigai and Ziai. It is impossible to critique Winds of Woerr through the prism of Anglo-European performance history because it is not yet integrated into that experience, but is here brought to life as pure cultural material, to be shared, spread and saved from extinction. The beauty of the work is primarily in the texture of its culturally specific material: a yarn from Creation Time, narrated through Islander movement, sound and costume.
White Face
Carly Sheppard's White Face, a predominantly abstract duet between Sheppard and non-Aboriginal dancer Ryl Harris, was easier to read as a dance piece in the conceptual/formalist Anglo-European tradition. It explores the experience of a fair-skinned Aborigine—the cultural dislocation and gaps, the ungrounded sense of identity, the loss, the insecurity. Sheppard covers her face, rubs her skin with white powdered sugar, wrestles with Harris and compares their shades of fair skin side by side in a powerful gesture of uncertainty. At the height of tension, the work breaks out of solemn silence and abstraction. Sheppard becomes 'Chase,' and tells us how, "When I discovered I was an Abo I was bloody ropeable…But, like, I thought about it 'n I realised that it all makes sense coz I've always been real spirichulle…After I found out I went straight down to Cenners to claim me cultural heritage…you know like free house, free car, free Abo money." The extremely harsh caricature is powerfully accusing, reclaiming discursive ground without ever becoming complicit.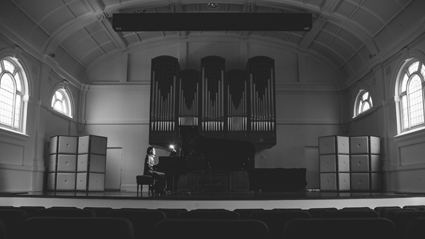 courtesy the artist
Jesse Hunniford, Concerto No. 3. Sarah-Jane Norman
Concerto No. 3
Sarah Jane Norman's Concerto No. 3 moved away from Aboriginal identity to address failure. Norman, formerly a prodigious pianist, sets an impossible task. Rachmaninoff's Third Piano Concerto is considered one of the most difficult piano pieces ever written (even the performer for whom the work was originally composed refused to perform it in public). For 12 hours straight, six non-virtuosic performers (former pianists, post-prodigies) attempt to sight-read the concerto, one at a time, in a dark and solemn Melba Hall at the University of Melbourne Conservatorium of Music.
Immediately on arrival, I realised what a mistake it had been to assume I could see other shows around this performance. Next Wave 2014 is for me marked by regret at not having spent 12 hours in Melba Hall. For spectators without classical music training, this was a work of incidental sound art. But for spectators aware of the intense physical training and sports-like culture of classical music, Concerto No. 3 was like watching an extreme sport in which all our anxieties were realised: like seeing a tightrope walker endlessly fall and climb back up, or a high-jumper repeatedly dislodge the bar—and, say, break an arm. The intense focus and effort of pianists struggling through "Rach 3" put this performance on a par with some of the most involved dance improvisation pieces I have seen.
New Grand Narratives
The theme of the 2014 festival was New Grand Narratives, somewhat vaguely described as "potent visions of a new world, and the relationships within it." Sexton accurately noted the cracking of old institutions and old ideas. However, the artists did not respond with the same political perspicacity. Indeed, the most overtly political works were not very interesting, reflecting the broader problem the new generation of young Australians has with envisaging possibilities for political engagement. The biggest offender, however, was Dutch outfit New Heroes with Club 3.0, a combination TEDx talk and Fight Club.
Club 3.0
There were four parts to Club 3.0. It opened with a list of well-known collaborative, creative, make-world-a-better-place initiatives that sit halfway between urban design and performance: Reclaim the Streets, local currency initiatives, Park(ing) Day and one very entertaining spoof. It launched into a full-blown retelling of Fight Club, culminating in an actual tournament between audience members. Amazingly, even the hipster, late-night Next Wave audience was inspired to fight amongst themselves, roused by the two performers' passionate call for action and finding meaning. Had it all ended there, it would have been the best work of the festival. Instead, we were then encouraged to renounce literature and philosophy (this did not work well, probably because the weight of culture is lesser in Australia than in Europe) and were finally sent out into the cold, to receive a non-committal phone message about already knowing all there is to know. I have rarely seen a work rise to such powerful rousing of emotion and agency and then fall into such non-committal disappointment. Club 3.0 managed to deploy all the neo-fascism present in Fight Club, with the very neo-liberal, free-market fallacy of choice that it purported to resist.
New feminism
However, a new grand narrative did emerge at Next Wave 2014: new feminist performance. There has been an undeniable renaissance of feminist thought and activism in the last few years globally, but more so in Australia than elsewhere (probably fuelled, in part, by the horrific treatment of Julia Gillard and the murder of Jill Meagher in 2012). Combined with strategies to increase the presence of women in theatre roles, undoubtedly the most interesting work around Melbourne in the past few years has been made by women. Female performance-makers at Next Wave presented work that was not only thematically, formally and politically world-class, but exceptionally innovative, original and deeply imbued with Australian sensibility. In fact, its major innovation is that it transcends the label of 'feminist performance.' It is unmistakably made by women and politically progressive, but it is not overtly 'about' gender anymore.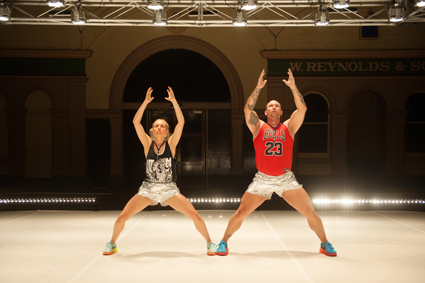 photo Sarah Walker
Natalie Abbott, Donny Henderson-Smith, MAXIMUM
MAXIMUM
Natalie Abbott's MAXIMUM exemplifies this shift most thoroughly. It starts off as a unison dance of two bodies: Abbott's young and dancerly and Donny Henderson-Smith's that of a bodybuilder. There is running: circular, across corners; the performers are already visibly exhausted by the time they move onto squats, which expand into lunges, push-ups, twerking, and a whole series of other actions not found in classical ballet. MAXIMUM is conceptually extremely simple: an endurance work stretching two dissimilar bodies to their limits. Halfway through the 60 minutes, the audience is already uncomfortable. In the last section Henderson-Smith lifts Abbott, who assumes the dignified, supplicant pose of a Greek statue; yet both of them keep falling. It is almost unbearable to watch. (The person sitting next to me started shaking uncontrollably.) However, the concept is executed so thoroughly that its meaning comes from a formalist contemplation of how the material (body) is reacting to form (physical stress). At the start, it appears to be a confrontation between an artist and a sportsman. As little signs of fatigue add up (millisecond delays, beads of sweat), it becomes increasingly clear that Abbott, while smaller, is the stronger of the two, foregrounding the invisible labour inherent in art-making. However, as both bodies reach their limits, confrontation becomes camaraderie, and the central question not so much which one will win, but can they push through. A ballsy, yet humble work, which will soon be performed at the Avignon Festival in France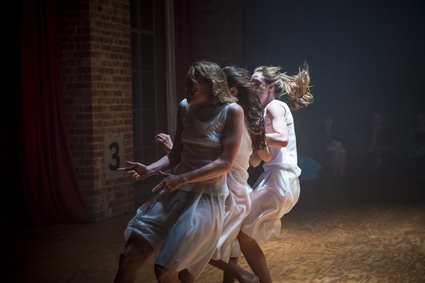 photo Gregory Lorenzutti
OVERWORLD, Sarah Aiken and Rebecca Jensen
OVERWORLD
Sarah Aiken and Rebecca Jensen, young choreographers associated with Abbott, presented the other dance highlight: OVERWORLD. It is an extension of their work Deep Soulful Sweats (which I missed): a participatory, audience-centred combination of dance, yoga and ritual. It brings together movement vocabulary, visual and thematic references and performance practices spanning Kundalini yoga, neo-pagan rituals, contemporary witchcraft practices (à la Buffy the Vampire Slayer), elements of the Zodiac, bush doofs, creation myths and unabashed silliness. OVERWORLD has a gleefully sprawling structure like the beginnings of multi-cellular life: the four performers dividing the audience into elemental groups based on the horoscope; dressing-up and tearing each other's clothes off in a beautiful, intelligent reference to creation myths across the globe; guiding a meditation session; and finally, as traces, disappearing into a screen, singing and dancing in preparation for a night out.
In the central sequence, once the performers have torn each other's clothes off while shrieking and wielding their smartphones, one of them remains, totally naked. The lights dim, she lies on the floor and the smartphones are put into glass jars. It turns out they were used to record the action, which is now replayed. The girls' shrieks now sound eerie, resonating with associations of rape and other violence. Amid it all, the naked performer slowly and sexily eats an ice-cream. One does not necessarily have to know that the central moment in most creation myths is the rape of an Earth goddess to fertilise and create life in order to appreciate how masterfully the point is made about the cultural milieu in which we live.
I admired enormously how unafraid OVERWORLD was to claim supposedly trivial, 'girly' concerns and aesthetics. The puzzlement with which it was greeted reminded me of the dismissal of Eleanor Catton's The Luminaries (youngest-ever recipient of Man Booker Prize in 2013) because of its low status genre (Victorian thriller) and its structural basis in something as 'unserious' as the Zodiac. Like The Luminaries, OVERWORLD heralds a new aesthetic in high art: maximalist, freely mixing high and low references, unapologetically feminine, silly rather than stern, but thoughtful.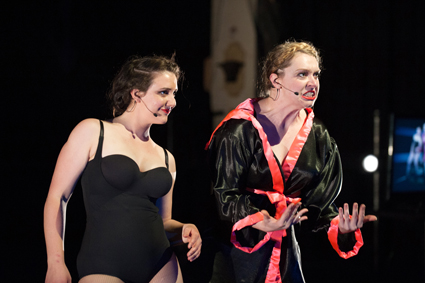 photo Sarah Walker
Madonna Arms
Madonna Arms
The only text-based work among those by women at Next Wave was Madonna Arms by I'm Trying To Kiss You. Critics were extremely confused, calling it unclear, but I thought it was the most exciting staging of new writing I have seen in Melbourne in a long time. Madonna Arms is a postdramatic text. The first half builds a cacophony of overlapping voices, freely blending media messages, small talk, and the subconscious—reminiscent of Elfriede Jelinek's plays in which language becomes disembodied material with its own, depersonalised force ("Sprachflächen" or "planes of language"). Madonna Arms overlaps the sex-and-violence of popular culture with the vicious sublimated misogyny of 'female interest' magazines and celebrity gossip. At one point, we hear the voice of someone fleeing her house to escape danger: "I am running in a/ Bright white nightgown that clings to my/ Firm breasts/ I glow against the burning sky /Flying /A bullet!" The staging goes against the grain of the text, creating its own demented reality: women in bathing suits and boxing robes stand in front of a greenscreen, eschewing character, realistic setting, or dialogue, in favour of an abstracted work of pure theatre.
The second half, however, is a parody of naturalism: an ultra-macho fantasy of world rescue by three bureaucrats all named Martin, performed in drag. Here, again, an initially dark lament against sexism turns into an irreverent, gleeful counter-attack on patriarchal nonsense. It shifts from anger to a very Australian kind of ridicule. Theatrically interesting while clearly text-focused, I thought Madonna Arms signalled a major new force in Australian playwriting, picking up the kinds of inquiry that Black Lung championed in Melbourne a few years ago. Indeed, I am curious as to why Black Lung never met with the misunderstanding that greeted I'm Trying to Kiss you—their aesthetic is very similar.
Smell You Later
One small, humble work deserves a mention. Katie Lenanton's curated installation Smell You Later became, unexpectedly, one of the great joys of the festival as well as one of the strongest devices binding the whole experience. Grace Gamage and Olivia O'Donnell's scent sculptures were pure sensuous joy: sweet-smelling, melting mounds shaped like candy, cakes, sea shells or just pastel-coloured lumps made out of oils, soap, scrub, glitter and occasional edible stuff (glace cherries, for example). These were installed near washbasins in bathrooms of participating venues, which meant that a regular Next Wave audience member constantly ran into them when least planning to encounter art. There was something extremely satisfying in being able to freely touch, mould, scrub and scrape, taste, rub on oneself and wash off, and then offer oneself to other people's noses in the foyer. This repeating solitary game became one of the experiences echoing through the festival, bringing together inner-city galleries, town halls, a suburban substation and other varied venues under the coherent experiential umbrella of Next Wave.
Next Wave 2014, director Emily Sexton, Melbourne, 16 April–11 May
RealTime issue #121 June-July 2014 pg. 34-35
© Jana Perkovic; for permission to reproduce apply to realtime@realtimearts.net