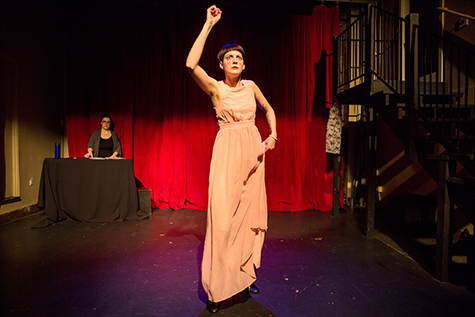 photo Tim Summers
Erin Pike, That'swhatshesaid
Over 300 years of hard-won rights (read AC Grayling's Towards the Light or Lynn Hunt's Inventing Human Rights, both 2007) are being eroded every year by neoliberal governments in the name of endless growth, lower taxes, heightened security and deregulation, the latter creating a new kind of ramped up 'free market' which erodes the likes of copyright and an artist's right to be properly remunerated. Copyright (established in the form of England's Copyright Act of 1709) entails many complications (hence intellectual property lawyers). Here are two stories about rights and complications that we came upon recently.
The first appears to involve a standard problem: the licensee might not have secured the right licence. But the resolution was odd. Publisher Samuel French, the licenser of performing rights for the Harold Pinter estate, informed The Wooster Group that the rights to perform a preview of the writer's first play, The Room [1957], in New York did not extend to Los Angeles where the work was due to be premiered. This was then modified: perform it, but 'it must not be reviewed'—an artistic and marketing challenge for The Wooster Group and a restraint on the freedom of the press.
Read how Charles McNulty handled the 'injunction' in the Los Angeles Times.
The second story, which also involves Samuel French, is stranger. The publisher and Dramatist Play Services [DPT] sent a 'cease and desist' letter to Gay City, producer of That'swhatshesaid. Playwright Courtney Meaker has taken text and stage directions from the most successful plays of 2014-15, all but two by men, and 'cut and pasted' them into a critique of current male writing about women and the challenges for actresses who take on the roles. (Accounts of the performance suggest that Jen Pike is an artist to watch out for.)
Gay City's attorney Jeff Nelson has mounted a fascinating fair use case, stating in particular that the use of the writers' plays is "transformative," that Meaker is not copying or appropriating them.
Australian artists have done battle with the Samuel Beckett estate, as have their international peers, and Belvoir with the Arthur Miller estate over director Simon Stone's changing the end of Death of a Salesman. It's not inconceivable that sooner or later we might have a case like Samuel French and DPT versus the makers of That'swhatshesaid, given an increasing number of theatrical works no longer comprise just storytelling, but make rhetorical, often political statements that draw on the public, governmental, theatrical and literary record. Appropriation grows more complex. RT
RealTime issue #131 Feb-March 2016