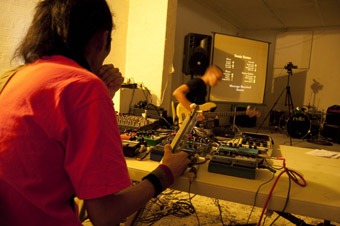 photo courtesy the artists
Hirofumi Uchino, Abel Cross, SMS Interactive Music System (S.I.M.S)
WHAT IS ARGUABLY MOST INTERESTING ABOUT IMPROVISED MUSIC IS THAT IT'S FAR FROM A PASSIVE EXPERIENCE FOR THE LISTENER—YOU CAN'T JUST LET IT WASH OVER YOU. TO GET THE MOST FROM IT YOU HAVE TO LEAP INTO A ROLLING SEA OF POSSIBILITIES ALONGSIDE THE MUSICIANS AND WHEN THEY CATCH A WAVE, YOU HITCH A RIDE, EXHILARATED WITH THEM. WHEN THEY SINK, YOU TOO END UP FEELING SORRY FOR YOURSELF—WATER IN EARS, SAND IN PANTS.
This vicarious and precarious experience was perfectly exemplified by the first ensemble of the evening presented as part of The NOW now fortnightly series. Comprising Aemon Webb, Jack Dibben and Sam Pettigrew each musician explored extensions to their instruments. Dibben created textured feedback by placing cymbals over his guitars laid out on the floor; Webb added staticky features to his elastic-metered drumming; and Pettigrew on double-bass mixed extra-musical sounds—scratching, scumbling and hitting—to minimal melodic lines, which often acted as a coagulant to the mix. At best the three players came together in beautiful soaring swathes of intricately textured drone, at worst we were witness to inward searching which teetered on dissolution, though they always managed to find each other again. As an audience we caught a few waves and then the rest of the time bobbed around looking at the view—not an unpleasant outing by any means.
The SMS Interactive Music System (S.I.M.S) took audience engagement beyond the empathetic to hands-, or rather thumbs-on. The brainchild of Fred Rodrigues, S.I.M.S, allows the audience to control aspects of a concert via mobile phone text messages. While an interesting proposition in terms of audience engagement, I was wary about how this would actually sound. Rodrigues managed to allay some fears in his choice of artists: Adrian Klumpes (keyboard), Abel Cross (bass), Kusum Normoyle (voice and laptop) and Hirofumi Uchino (noise guitar/electronics). With a group of great improvisers, how bad can it get? The answer really does lie with the audience.
S.I.M.S allows the audience to turn on and off a range of effects imposed on each musicians' output. There are four different effects for each artist, chosen one assumes, for maximum impact in relation to the nature of the sound. For example, the bass guitar can have tremelo (sic), crusher, octave up or low shift applied, while the keyboards can have octave down, stutter, looper and jump 'tremelo.' The audience must send a text message with the name of the filter (typed exactly) to the S.I.M.S phone number, to turn on an effect. If it is already on, the effect is turned off. A video screen shows the options with check boxes beside them so we can see what is active at all times. It's a neat little system (co-programmed by Ankur Badhwar and Claire Herbert) which makes the cause and effect perfectly evident.
In order for the audience to get a handle on the system, each musician does a short solo and we all madly text to try it out. Quickly you learn what each filter does and by the time the musicians are playing as an ensemble, you've begun to focus your attention on some specifics. However what an audience finds most satisfying to play with—actions which have dramatic results—is not necessarily the most interesting sonically, in particular the effects that break up the continuity of the sounds, like stutter on the keyboard or split cutter on the voice. An interesting progression within the performance is that at some point, the power of negation becomes more satisfying. Going in and turning off effects is just as much a part of the game as activating them.
Being a performer in the S.I.M.S Orchestra requires a particular level of generous detachment—making musical offers on which the texting masses wreak havoc. Perhaps it is the essential timbral nature of the instruments that dictates how these offers maintain integrity. For example, because we are familiar with the timbre of the voice, it seemed to attract extreme alterations, thus the use of split cutter and random shift was excessive. As Kusum Normoyle reached for her phone to turn them off, you could tell that she did not find this a satisfying effect with which to work. On the other hand we have no idea of the 'dry' sound of Uchino's noise guitar, made up from springs, metal objects and at least 10 effects pedals, thus the play with our controllable effects seemed far less evident. Interestingly it was Abel Cross' bass guitar that seemed to operate naturally within the ensemble. As we are more accustomed to the sound of effected guitars, Cross' beatific flitterings across the strings held firm in the face of our perhaps more considered texting whims.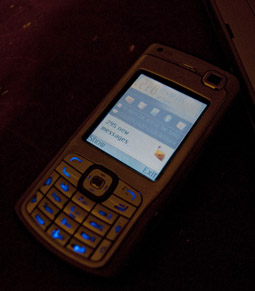 photo courtesy the artists
SMS Interactive Music System (S.I.M.S)
Reflecting on the performances (there were also events in Brisbane and Melbourne), Fred Rodrigues stressed that it was most of all an experiment exploring how the more intellectual end of electronic music can engage with the audience, looking for "the equivalent of the sing-along, or lighters held up at concerts." He was very pleased that, at their best, the concerts became collaborations between performers and audience, and he plans to continue the exploration in future.
But does S.I.M.S make good music? As the nature of 'play' preferences the hyperactive and extreme over the subtle, much of the performance was fragmented and scatty, but it was interesting to see that as it progressed the audience usage of effects thinned out and became more considered, allowing an internal structure to take shape. S.I.M.S at this stage doesn't really make for great music, but it does make for a diverting (and educational) music-based interactive experience. We had fun splashing about even if we never quite caught a wave.
The NOW now series; Aemon Webb, Jack Dibben, Sam Pettigrew; SMS Interactive Music System (S.I.M.S), producer/creative technician Fred Rodrigues, performers Abel Cross, Adrian Klumpes, Kusum Normoyle, Hirofumi Uchino, software engineer Ankur Badhwar, Max/MSP programming Claire Herbert; Serial Space, Sydney, Oct 12
The S.I.M.S software is freely available for download from www.sims-interactive.com. S.I.M.S will be performing at The NOW now 2010, Wentworth Falls, NSW, Jan 22-24, http://thenownow.net
RealTime issue #94 Dec-Jan 2009 pg. 48
© Gail Priest; for permission to reproduce apply to realtime@realtimearts.net