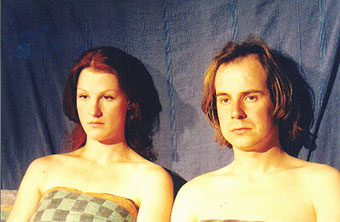 Lovesick
"I'm working on a theory," announced a breathless futurologist in a recent edition of Time magazine. "I'm calling it, 'The Centre is the New Edge'." And, presumably, vice versa. Doubters should glance over the catalogue for this year's Melbourne Underground Film Festival, awash with gunfights, skateboard stunts, Nazis, porn…. Festival director Richard Wolstencroft's semi-literate manifestoes are always good for a laugh, but as an aesthetic provocateur he stands somewhere between Rick the People's Poet from The Young Ones and the serial-killer buff in the comic-book version of Ghost World, unaware that his hip obsessions are pretty much "the same shit the rest of America is interested in."
Value judgments aside, one simple truth is clear: in the age of Johnny Knoxville and Eminem, celebrating trash culture is not a radical act. It's no wonder the festival has resorted to increasingly desperate publicity stunts in order to stand out from the crowd, stirring up "controversies" (amply documented elsewhere) which this year turned the screening program into a virtual sideshow. That promoting the art of cinema was not the main goal was confirmed by the decision to screen almost everything on video rather than film—though to be fair, most of the premieres and all the porn movies, were originally shot in DV format.
Were the new Australian features that screened at the festival "underground"? Per John Howard, a better label might be "aspirational", with most filmmakers plainly less interested in exploring new aesthetic possibilities than in moving up a division in the only game in town. As in previous years, the program was stacked with show-reel Z-movies like Bullet in the Arse and Reign in Darkness; the former kicks off with a shot-by-shot replica of the credit sequence from Once Upon A Time in the West, while the latter is distinguished mainly by having the entire cast perform in cod-American accents. Shannon Young's marginally more sophisticated Razoreaters mocks fantasies of "guerrilla filmmaking" by posing as a series of crime-spree videos made by celebrity-seeking terrorists, like John Waters' Cecil B Demented without the cinephilia. A frame story starring the lugubrious Paul Moder (Sensitive New Age Killer) drains some energy, but overall it's lively though without any real edge—the tough-guy antics are no more threatening than those in West Side Story, the snickering brutalities clearly a by-product of youthful high spirits and eagerness to please.
If Razoreaters allegorises its makers' quest for stardom, 2 "small" but intelligent features stood out by dramatising the circumstances of their own production in more nuanced ways. Scott Ryan's prizewinning The Magician again goes the mockumentary route (a neat dodge to cover a lack of visual style) yet brings an affectionate wit to the normally hateful cliches of the hitman comedy. Ryan succeeds, where others have conspicuously failed, in transferring Tarantino-style banter to an Australian idiom: if the Pulp Fiction formula was Seinfeld plus profanity, here the yakking about hamburgers and Wayne Carey has the pleasing deadpan redundancy of a John Clarke routine. More slyly, the ambiguously evolving friendship between an ingenuous documentary filmmaker and his underworld subject (played by Ryan) allows an ongoing moral interrogation of the genre's love affair with powerful, violent men.
Good as it is, The Magician still seems intended mainly as a passport to the promised land of the "real" film industry (here or in Hollywood). By contrast, Bill Mousoulis' typically intransigent Lovesick might be read as an oblique satire on the romantic bad faith that views 'creativity' as a path to both authenticity and worldly success. In retreat from perceived social corruption, Mousoulis' protagonists lock themselves away to pursue dreams of love and art, but as they soon find out ascetic principles don't equal imaginative achievement and the fulfilment they eventually come to is a strictly private affair. Mousoulis' minimal, eccentric style correlates with his theme of hermetic obsession to the point where the film becomes a gloss on its own lack of commercial potential—not necessarily a bad thing. Of the MUFF premieres mentioned here, Lovesick alone seemed genuinely indifferent (or hostile) to market expectations–even if less influenced by a tabloid notion of "subculture" than by deified auteurs like Bresson and Antonioni. Could it be the canon is the new underground? Only Time will tell…
MUFF, Melbourne Underground Film Festival, George Cinemas and other venues, Melbourne, June 3-13
RealTime issue #57 Oct-Nov 2003 pg. 19
© Jake Wilson; for permission to reproduce apply to realtime@realtimearts.net