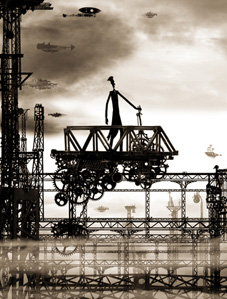 Anthony Lucas, The Mysterious Geographic Explorations of Jasper Morello
The REVelation Perth International Film Festival has been growing in stature since its beginnings in 1997 as a small showcase of independent film, hand-picked by artistic director Richard Sowada and screened, entirely in 16mm format, in the basement of Perth jazz club The Greenwich. Since then, REVelation has developed into a cutting-edge international festival with a strong reputation for innovative programming. Although the festival spans genres, its signatures are political documentaries, music-related films and its linking of cinema with performance (various "microcinema" evenings combine screenings with DJs, guest speakers and, this year, SBS's The Movie Show recorded at the Fly By Night Club in Fremantle).
The 2005 program included some heavy duty works, from the gritty Hungarian film Kontrol and the much talked about 'bio-doc' Tarnation to observational documentaries like Gunner Palace and In The Shadow of the Palms which chronicle the lead up to and aftermath of the war in Iraq.
Archival documentaries with a strong left-wing feel, like Lech Kowalski's punk profile DOA, Sandra Jackson's powerful Negroes with Guns (on civil rights agitator Rob Williams and the rise of the Black Panthers), and The Take, Avi Lewis and Naomi Klein's exploration of the Argentinian economic crisis, dominated this year's offerings. A strong selection of Australian work appeared primarily within the animation and short film programs.
Get Your Shorts On!, held annually since 2003 by ScreenWest in conjunction with REVelation and The Film and Television Institute of WA (FTI), is the premier showcase of local short filmmaking in the state. This year, the program featured a mix of idiosyncratic animation, outstanding Indigenous documentaries and a number of psychologically complex dramatic works with a dark, almost gothic sensibility—a strain that also ran through the animation program.
Short films like Chris Frey's Phaid and Andrew Milner's Sleeper were slickly spooky. Phaid is a grim, surrealist exploration of a young girl's reaction to her father's all-consuming depression and his dependence on medication, while Sleeper examines the blurry line between real and imaginary in the distorted psyche of a young man. Stylistically, these films leave a strong imprint, but they lack the emotional impact of the Indigenous works in the showcase, Gary Cooper's Sugar Bag and Ashley Sillifant's Broken Bonds.
Sugar Bag, which won Best Director for Cooper at this year's WA Screen Awards, is the compelling narrative autobiography of 70-year-old Laurel Cooper, a light-skinned Aboriginal who as a girl was taken from her parents to the Moore River orphanage. Her parents had hidden her in a sugar bag. This beautifully crafted mix of oral storytelling and dramatic reconstruction generates a wealth of meaning and emotion, especially through its focus on the striking faces of the actors playing Cooper's mother and father.
Like Sugar Bag, Sillifant's Broken Bonds is another powerful documentary drama of memory, history and family. It tells the story of a young Aboriginal man whose exposure as a child to his father's abuse of his mother only strengthens his resolve to make something of himself. Many years later, he becomes a successful boxer, but he cannot escape the dark memories of his childhood, or the belief that the only way to escape his past is to literally fight his way out of it.
The gothic noir of Phaid and Sleeper and the psychological density of Sugar Bag and Broken Bonds was paralleled in a number of the animations. The Legend of the Scarecrow, by Spain's Marco Besas, is palpably infected with the spirit of Tim Burton, and its theme of melancholy outsiderdom and visual sense of foreboding are echoed in the intriguing L'Homme Sans Ombre (Georges Schwizgebel, Canada, 2004), the most self-consciously aesthetic, or painterly, animation in the collection. Made up of constantly shifting paintbrush strokes, it references some of the great art movements of the 20th century, from abstract expressionism and the ghostly surrealism of Giorgio di Chirico to the late-60s psychedelia of Alan Alridge. It's less about concrete storytelling than it is about revelling in the purely visual, sensory qualities of the animated form.
Although the highlight of the animation showcase was undoubtedly the sophisticated, computer-generated Canadian Oscar winner Ryan (secured by Sowada before it won an Oscar), there is something to be said for the simplicity of the traditional cartoon animation. Indeed, Sowada seems to have deliberately chosen the quirky and the old-fashioned over the cutting-edge and computer-generated for this year's festival. Works like Handshake (Patrick Smith, USA, 2004) and Herman: The Legal Labrador (David Blumenstein, Australia, 2004) are almost crude in style. The former, in which 2 young people shake hands at a bus stop and become inextricably glued together, has the same SquiggleVision style as late-90s TV cartoons like Dr Katz: Professional Therapist, while Herman: The Legal Labrador relies more on the humour of its premise (a crime-fighting, trouser-wearing dog is able to communicate with humans).
Seeing Ryan (Chris Landreth) halfway through the program prompted the realisation that I had been watching a handful of nicely executed cartoons, not, as I'd hoped, a showcase of boundary-pushing experiments in form. While the Colombian CGI work El Ultimo Golpe de El Caballero (The Knight's Last Blow; Juan Manuel Acuna, 2005) is a triumph of video-game noise and action over substance, Ryan proves that computer-generated animation, despite the 'absence' of the artist's hand, can be mind-bogglingy innovative, making us think while we gasp at its technical wizardry.
Ryan works on a meta-level, as an animation within an animation. Ryan Larkin was a successful animator in the 1960s and 70s who fell prey to alcohol and cocaine abuse. The film begins with Larkin being interviewed in some sort of asylum for the mentally and physically disintegrated. He is creatively dried up, body parts are missing (including a large chunk of his head, and the skin around his arms) and the coloured tentacles of some strange electric shock force spiral out from what's left of his hair.
In chronicling Larkin's heyday as a psychedelic animator, Ryan moves between styles grotesque, sci-fi, apocalyptic and surrealist (in one scene, Magritte's famous businessman with an apple for a head can be seen sashaying down the street). Ryan is an exemplar of the future of 3D rendering in animation.
The other standout in this collection is an intriguing Australian work, Anthony Lucas's The Mysterious Geographic Explorations of Jasper Morello. It fuses early 20th century modernism with Jules Verne Victoriana in its visual style, with sepia-toned cardboard-cutout characters in silhouetted profile, and themes of scientific travel, romance and adventure. Morello is a spindly, buttoned-up figure on an intergalactic voyage to find a cure for the disease plaguing his homeland, accompanied by a spooky scientist with a blacked-out Sigmund Freud profile and a sadistic, overweight captain.
With its heavily stylised combination of Indonesian-style shadow puppetry, expressionism, and a gunmetal grey, black and sepia-toned palette, Jasper Morello is an incredibly atmospheric and original piece of animation, the deserving winner of a number of recent Australian animation awards. It exploits the freedom of animation, the Verne genre and artform references to suggest other times, which now seem like other worlds.
On the whole, neither the animation showcase nor the collection of WA-made shorts proved to be much of a revelation, but a few truly original gems were on show. Indigenous short filmmaking is palpably alive and well in WA, with directors like Sillifant and Cooper obviously ready for the leap into the longer format, while the legions of aspiring Australian animators would do well to take a leaf from the sepia-tinged book of Jasper Morello creator Anthony Lucas.
Animation Showcase, July 1; Get Your Shorts On!, WA Short Film Showcase, July 7; Luna Leederville; REVelation Perth International Film Festival, June 30-July 10
RealTime issue #68 Aug-Sept 2005 pg. 32
© Pip Christmass; for permission to reproduce apply to realtime@realtimearts.net