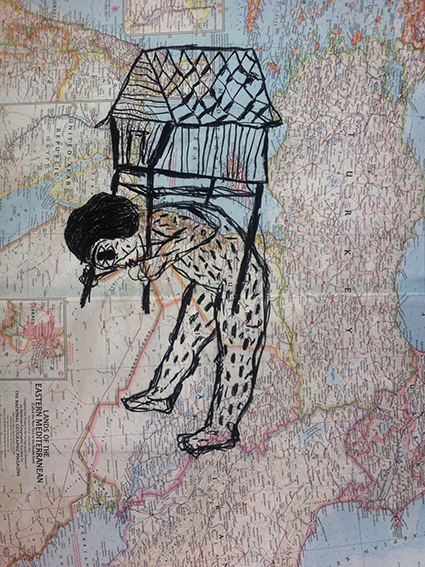 courtesy OzAsia Festival
Jumaadi, Landscape of Longing
This year's OzAsia visual art program foregrounded Indonesian contemporary art, focusing on the reflexive re-invention of the individual in a rapidly evolving world as evident in the works of eminent Indonesian artists FX Harsono, MES56, Eko Nugroho and Jumaadi who all reconsider cultural and national histories. The program also includes the Shedding Light exhibition of artwork by South Australian and Indonesian artists with disabilities, demonstrating the capacity of art to provide a voice for all members of the community.
FX Harsono
FX Harsono's exhibition Beyond Identity focuses particularly on the events of the 1947-1949 killing of people of Chinese descent in parts of Indonesia and on discrimination against minority groups and the consequent loss of personal and cultural identity. The exhibition comprises a video and a set of five rubbings in vivid red pastel on long sheets of cloth. The rubbings, entitled Pilgrimage to History, were made from the tombstones at mass graves and show the names, in Chinese, of those interred. Harsono is researching the history of Chinese Indonesians, the Tionghoa, to produce a documentary and is looking for other mass graves. He learned of the massacre of Chinese Indonesians through photos taken by his father who had excavated and reburied bodies of the victims.
Harsono is Indonesian but also identifies himself as Chinese and Catholic. In his video Writing in the Rain (2011) (see p.2) we view him through a sheet of glass repeatedly writing his name in Chinese over the same spot on the glass. Water, representing rain, then begins to wash the ink down the glass. The artist writes using a calligraphy brush, symbolically representing a tradition that is itself washed away. A 1967 Indonesian law required Chinese people wanting citizenship to change their names to Indonesian. The name he writes on glass is his in Chinese, unused since 1967. As he writes, the ink slowly masks his face from our view. Then the water washes the ink away to reveal him, suggesting a process of personal reinvention. Today, art such as Harsono's is no longer censored, but he notes that Chinese Indonesians were again attacked in the upheavals of 1998 that culminated in the resignation of President Suharto.
Eko Nugroho
Prolific cultural commentator Eko Nugroho's Mooi Anomaly welcomes visitors to the Art Gallery of SA with five gigantic lanterns hung between the neo-classical columns of the entrance, creating a suggestive juxtaposition. The work's ironic title recalls the colonial concept of Mooi Indi or beautiful Indies. The oversized lanterns are decorated with cartoon images of strange composite beings instead of traditional lantern imagery, as if grotesque, hybrid cultures have supplanted colonial and traditional culture.
MES56
The artist collective MES56's evocative exhibition Alhamdulillah, We Made It, examines the universal and highly topical theme of displacement through the plight of refugees in transit. Established in the late 1990s, MES56's experimental photography, which they pioneered in Indonesia, predates the Reformasi period that followed the end of the Suharto regime. This body of work at the Adelaide Festival Centre was inspired by their visit to the Yogyakarta Refugee Centre. The photos show the kinds of ideal locations to which the refugees wish to go, but the images are manipulated to show the refugees as silhouettes, as if they have been excluded or erased from the site. The captions provide just the names and origins of the refugees, and they thus remain distant and impersonal to us. But we can visualise ourselves in their place as we already dwell in their destinations.
Jumaadi
Australia-based Indonesian artist Jumaadi makes paintings and sculptures and also videos of his shadow puppetry performances, examining, blending and reinventing Indonesian traditions and contemporary globalised art forms. His exhibition Landscape of Longing includes his Beehive Mountain, a series of large regional maps on which he has sketched images of people undertaking journeys as if they are mapping themselves onto the world. He states his map series is about travel and mobility, and in his sculpture and paintings he frequently depicts individuals carrying heavy loads or on a journey. The struggle of these individuals seems to be a metaphor for the reflexive process of responding to one's location. The original maps represent the colonisation, control and ownership of territory and its inhabitants, and his appropriation can be read as the reappropriation or re-inscription of that region.
Jumaadi's captivating video Give Me Back My Body and I Will Return Your Soul shows in split-screen format a shadow puppet play devised and performed by the artist with vocalists and musicians, and simultaneously shows the performers at work. The play opens dramatically with the portentous tolling of a gong accompanying imagery of headless corpses in a field. The story is of epic proportions—the dead are carried away; a monster arrives to devour a body; a heroic figure arrives and is angry at the devastation; a woman gives birth. The plot suggests the inevitable cycle of life and death, birth and destruction. Finally, the text references prophets and biblical figures — Adam, Noah, Abraham, Mohammed, Jesus, Jonah. The world is ultimately described as undifferentiated mud, a reference to the 2006 Lapindo mud disaster, which occurred in Jumaadi's hometown, implying that our cultural and philosophical traditions are impotent in the face of environmental disaster.
Jumaadi's bronze, figurative sculptures are collectively entitled 14 Stations. The title references the Crucifixion, but instead of carrying crosses, the figures bear emblematic objects such as a boat or an elephant. One bears his own amputated leg, as if defying any attempt to stop his journey. Another carries a refrigerator, referencing the looting that accompanied the 1998 Indonesian riots.
Jumaadi's Strange Fruit paintings, on shaped sheets of cardboard sourced from fruit cartons, appear abstract but are symbolic, as dots or the outlines of heads in a crowd. Because Belgium was a colonial power, the artist uses cardboard instead of Belgian linen, suggesting the displacement or rejection of colonisation. The work's caption states that Strange Fruit refers to the fig trees at Middle Head, Sydney, a species also found in Indonesia that is significant in Javanese cosmology, while the title quotes the song made famous by Billie Holiday about lynchings of Afro-Americans in the US South. All these ideas, Jumaadi says, coalesced in his mind and his art is an aggregation of disparate themes. By thus demonstrating his own thought processes, he shows how cultural identity is formed, disrupted and realigned through relocation.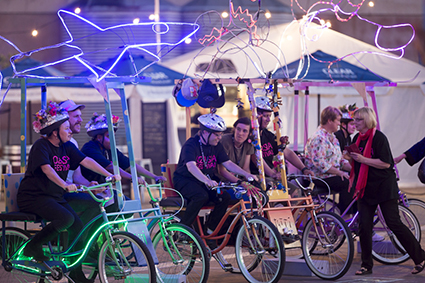 photo courtesy OzAsia Festival 2015
Shedding Light, Tutti Arts/Perspektif
Shedding Light
Adelaide's Tutti Arts, which provides opportunities for people with intellectual and learning disabilities to make art and develop an artistic practice, worked with their counterpart organisation in Indonesia, Perspektif, to produce an enchanting exhibition of work by artists with disabilities from both countries entitled Shedding Light. The collaboration provided the artists with mutual support and the opportunity to travel, and their work ranged across themes from popular culture including images of characters from fairy tales to observations from their travels such as exquisite drawings of shadow puppets and paintings of mobile food stalls. Their paintings and drawings are characterised by vivid colour and imaginative illustration, as each records their insights into their own and each others' lives and cultures. The Perspektif artists included a series of small canvases covered with buttons or painted dots, delightfully balancing colour, form and materials. Each artist has developed a distinctive visual language, and their art is not only an essential form of self-expression, it establishes a unique and perceptive approach to visual culture.
Central to the exhibition is a video documentary, the Story Behind Shedding Light, in which Adelaide artist James Kurtze discusses his work and the genesis of the collaborative exhibition. A mobile stall in the gallery was filled with artworks for sale and there were performances and pop-up installations around the Adelaide Festival Centre.
Shedding Light draws attention to people who are often invisible or suffer discrimination and who are reinventing themselves through their art. Crucially, the artists are no longer identified as outsiders or by their disabilities but as artists. The inclusion of this work in the visual arts program embodies the mutual cooperation that is the raison d'être of OzAsia, and provides a foundation for future collaboration.
2015 OzAsia Festival Visual Arts Program: FX Harsono, Nexus Arts; Eko Nugroho, Art Gallery of South Australia; MES56, Artspace, Adelaide Festival Centre; Jumaadi and Shedding Light, Kerry Packer Civic Gallery, University of South Australia; Adelaide, 24 Sept-4 Oct
RealTime issue #130 Dec-Jan 2015 pg. 8-9
© Chris Reid; for permission to reproduce apply to realtime@realtimearts.net