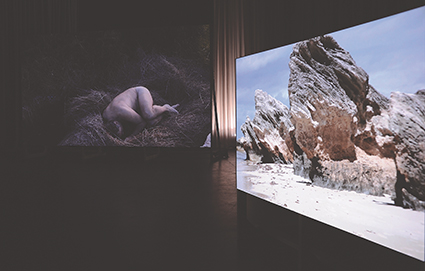 photo Heidrun Löhr
Kate McMillan, from Moment of Disappearance installation
PERFORMANCE SPACE'S BURUWAN SEASON, FOCUSED ON CULTURAL FORGETTING AND RECALL, INCLUDES MAJOR WORKS BY LONDON-BASED WEST AUSTRALIAN KATE MCMILLAN AND CAIRNS-BASED TORRES STRAIT ISLANDER KEN THAIDAY. INTERVIEWS WITH THESE ARTISTS AND IMAGES OF THEIR WORKS CAN BE SEEN ONLINE IN REALTIME PROFILER 7.
Kate McMillan's The Moment of Disappearance elegiacally conjures islands on multiple screens and cardboard rocks in an installation funereally draped with veil-like curtains. These places are 'isles of the dead,' where Aboriginal Australians were imprisoned, perished and forgotten—Rottnest Island (Wadjemup) and Tasmania (Lutruwita), Port Arthur in particular. McMillan also invokes a third island, Pontikonisi, alleged to be the Isle of the Dead featured in Arnold Bocklin's famous 1880s paintings of that name. Here she stages one man's representative flight into madness, his isolation, his ferocious grappling with nature and his ghostly fading. In her interview, McMillan describes the making of the work and her feelings about these islands and their forgotten or repressed histories.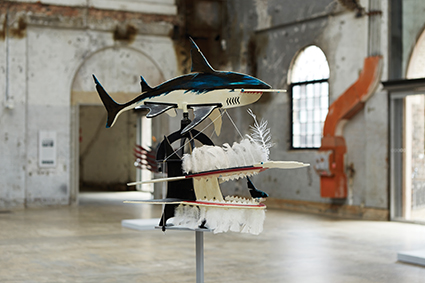 photo Zan Wimberley
Ken Thaiday Snr. Hammerhead shark (beizam) headdress 2001
Ken Thaiday's impressive array of Dhari headdresses—his "dance machines"—are exhibited in the Carriageworks' foyer. Meant to be worn for ritual dancing, they embody the power of Torres Strait Island totem animals—the shark and the frigate bird. Thaiday, a keen innovator, has integrated modern materials (including recycled waste) into their construction, which include moving parts—wire, fishing line, clips and hinges. A giant, three-metre tall Dhari, designed to frame a performance, dominates the space.
Thaiday sustains Torres Strait Island culture with his Dhari and other sculptural works (which include a magnificent, meticulously crafted lobster). In our interview, Thaiday speaks of the purpose of his work, his materials and his fervent commitment to Jesus, who provides him with the inspiration to preserve his traditional culture.
These two shows bring home the power of art as active remembering and reinvention and politics as denial or calculated forgetting.
Carriageworks & Performance Space, Ken Thaiday; Performance Space, Buruwan: Kate McMillan, Moment of Disappearance, curator Bec Dean; Carriageworks, Sydney, 2 Oct-23 Nov
RealTime issue #124 Dec-Jan 2014 pg. 54
© Keith Gallasch; for permission to reproduce apply to realtime@realtimearts.net